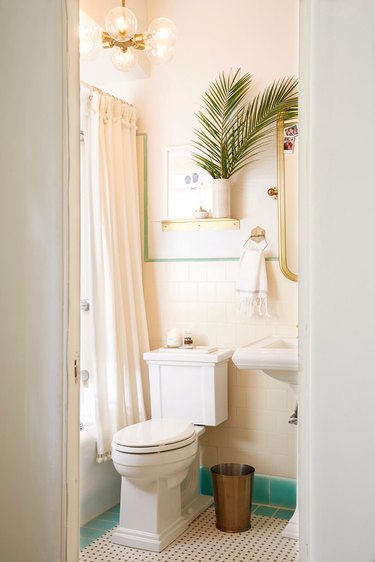 If your rental bathroom seems anything but a relaxing oasis, know that improvement is possible without up and buying the place. Obviously tearing out the shower or vanity are no-gos, but improving the smaller details can make more of a positive impact than you may think. Let us show you: Below, seven ways to update a rental bathroom (without getting evicted).
1. Paint the walls and/or the ceiling.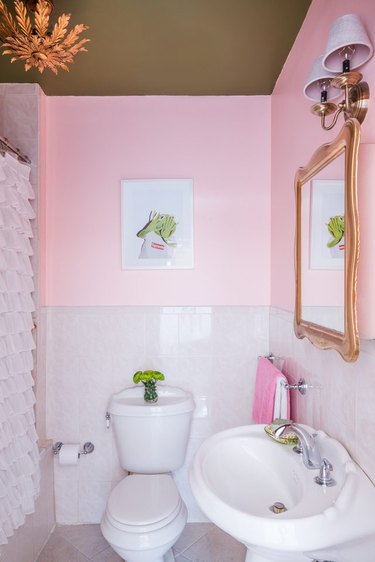 You're going to need to ask your landlord for permission first on this one, but paint is an affordable way to completely transform a space — and especially a space as tiny as a bathroom. If you're looking for a major transformation, consider painting the ceiling, too. This rental bathroom in Brooklyn is painted in Benjamin Moore's Springy Peach with the brand's Avocado on the ceiling.
2. Get creative with peel-and-stick wallpaper.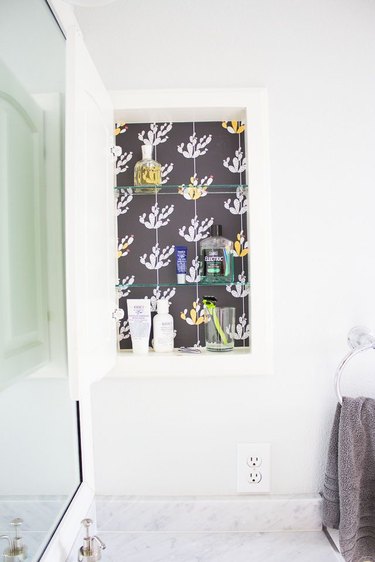 You can go for an entire accent wall, or just deck out the built-ins in your bathroom like Haeley from the blog Design Improvised did. This particular wallpaper by thislittlestreet is sold out, but there are endless options out there to choose from. Peel-and-stick is great because it doesn't damage your walls.
3. Have fun with your shower curtain.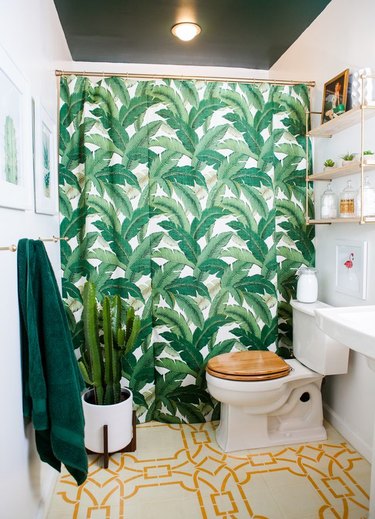 A cheerful shower curtain can distract from and brighten up a drab space. Especially if you're not allowed to paint the walls, we'd suggest making your shower curtain the room's statement piece. This tropical one is from Tommy Bahama.
4. Embrace the retro.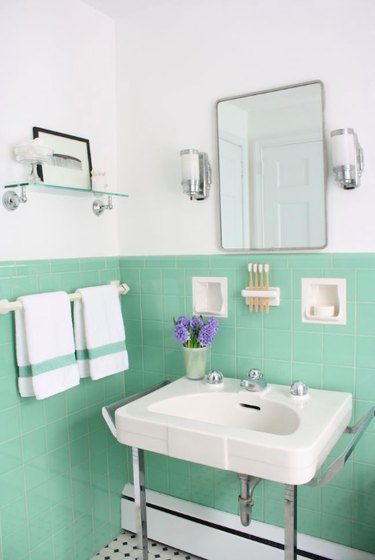 If your bathroom is dated, try going with the nostalgic feel rather than against it. Opt for a shower curtain with retro vibes and decorate with antiques. This makes the space feel more intentional — like you're going for a look — even if in reality your bathroom is just past its prime.
5. Change out the lighting and hardware.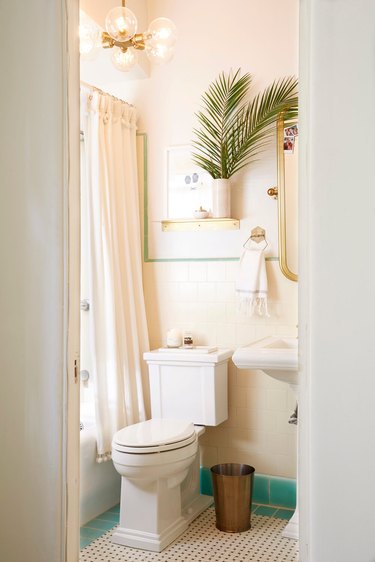 The first thing that has got to go? That horrendous fluorescent lighting. And you may not be allowed to tear out your vanity, but that doesn't mean its cheap-o knobs have to stick around. And don't forget the little details like your towel ring and bar, too.
6. Consider temporary flooring.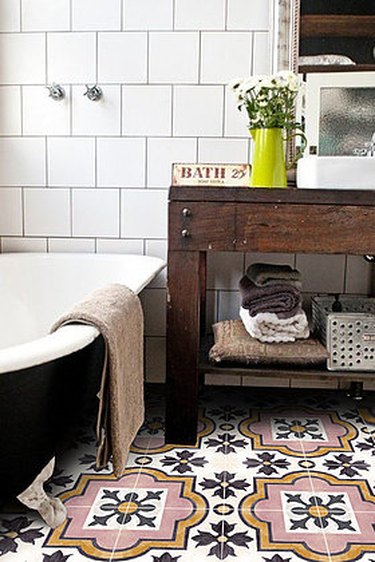 This is actually peel-and-stick wallpaper ... on the floor. Hey, the manufacturer Quadro Style suggests it, so it can't be totally wrong.
7. Switch out your shower head.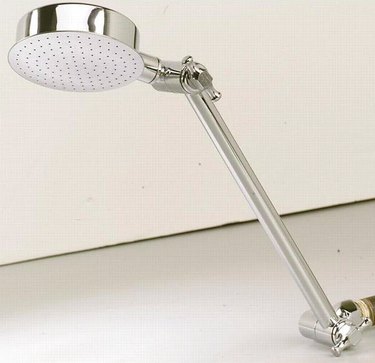 There's nothing worse than a shower head you're too tall for. Or one whose pressure is too weak or too strong. But you know that you can switch your grimy old shower head out and then just re-install it when you move out, right? Such a game changer. The shower head above by Whedon is perfect for y'all tall folks ( $26.37 ).