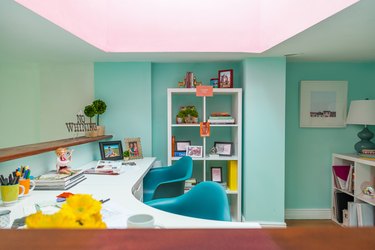 When you're renting an apartment, any change bigger than a new coat of paint is usually off the table. But that doesn't mean that you're stuck with an impersonal space. Designer Lauren Wills's Brooklyn apartment is proof of that. After an ex-boyfriend moved out, Wills decided that she needed to clear the air and turn the sunny 1,100-square-foot rental in Fort Greene into a happy environment. To make the apartment feel cheerier, she gave every room a coat of paint and swapped out the existing light fixtures, which she notes were "nothing to write home about."
The designer used a soft white in the living room to highlight the size and brightness of the space. When it came to the bedroom, she channeled Wes Anderson and chose a bold coral hue inspired by Margot Tenenbaum's bedroom. A loft space that Wills uses as an office got a coat of turquoise. "I work from home a lot," she says. "So in addition to creating a happy home I also wanted a creative space where I can feel inspired everyday." Since her rent had just doubled, budget was a major challenge for the designer, who was also busy with projects for clients. "It turned into an around the clock endeavor with a dear friend who came over after work to paint and replace my light fixtures," says Wills. "It was an adventure to say the least."
---
Elizabeth Stamp is a freelance writer in Los Angeles. Her work has appeared in Architectural Digest, Elle Decor, and CNN Style.