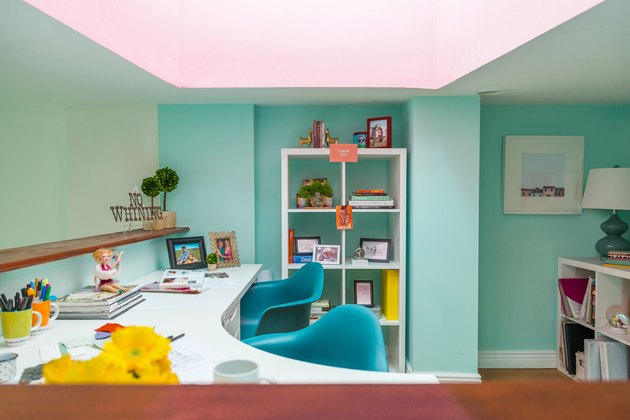 When you're renting an apartment, any change bigger than a new coat of paint is usually off the table. But that doesn't mean that you're stuck with an impersonal space. Designer Lauren Wills's Brooklyn apartment is proof of that. After an ex-boyfriend moved out, Wills decided that she needed to clear the air and turn the sunny 1,100-square-foot rental in Fort Greene into a happy environment. To make the apartment feel cheerier, she gave every room a coat of paint and swapped out the existing light fixtures, which she notes were "nothing to write home about."
The designer used a soft white in the living room to highlight the size and brightness of the space. When it came to the bedroom, she channeled Wes Anderson and chose a bold coral hue inspired by Margot Tenenbaum's bedroom. A loft space that Wills uses as an office got a coat of turquoise. "I work from home a lot," she says. "So in addition to creating a happy home I also wanted a creative space where I can feel inspired everyday." Since her rent had just doubled, budget was a major challenge for the designer, who was also busy with projects for clients. "It turned into an around the clock endeavor with a dear friend who came over after work to paint and replace my light fixtures," says Wills. "It was an adventure to say the least."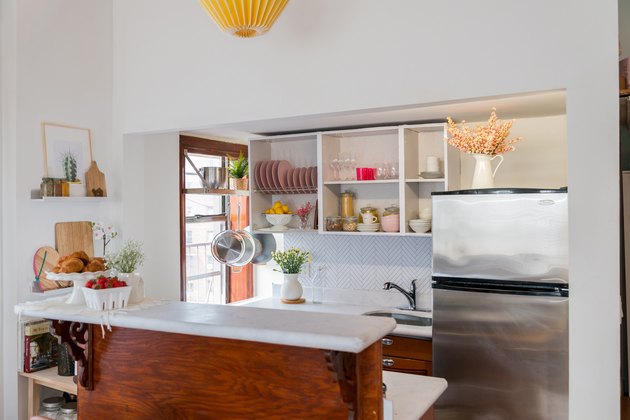 1 of 10
Kitchen
Wills removed the fronts of the kitchen cabinets. "They had little chicken etchings on them, which had to go," she says.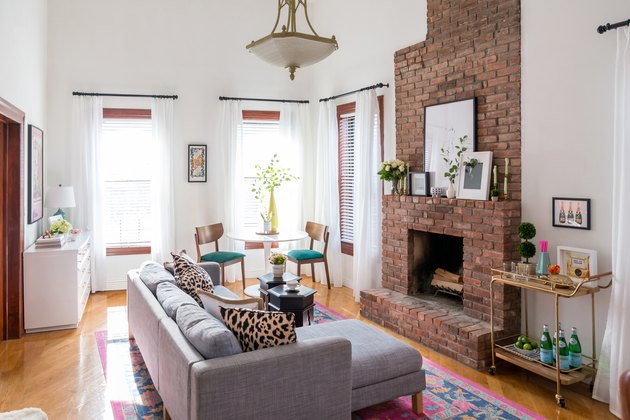 3 of 10
Living Room
Benjamin Moore's Simply White coats the living room. The rug was purchased from Wayfair for a client, who then changed her mind, so Wills adopted it. The designer kept her existing — and extremely comfortable — Ikea sofa.
4 of 10
Living Room
This Royal Tenenbaums poster has moved with the designer to five apartments. It is displayed over a vintage dresser that Wills got from a friend.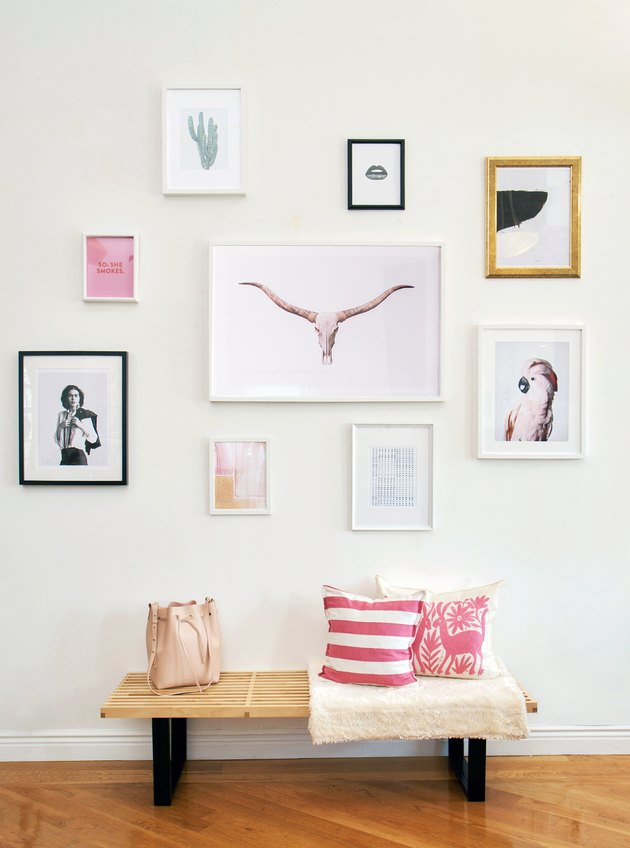 5 of 10
Living Room
Pink pillows from Mexico sit atop a bench in the living room. "I love to travel and wanted to incorporate things like the pillows I bought in Oaxaca, Mexico and my New Orleans Jazz Fest art," she says.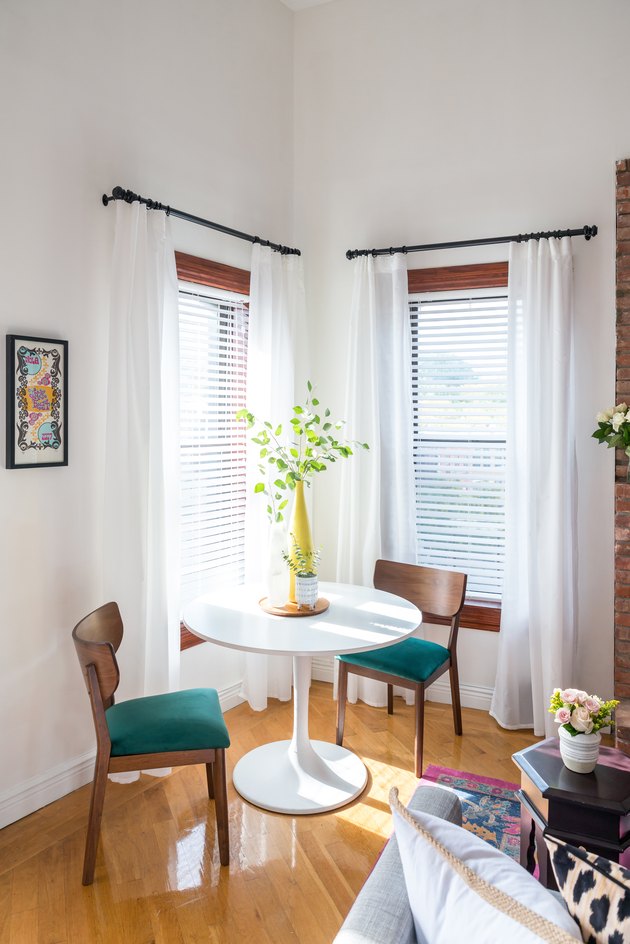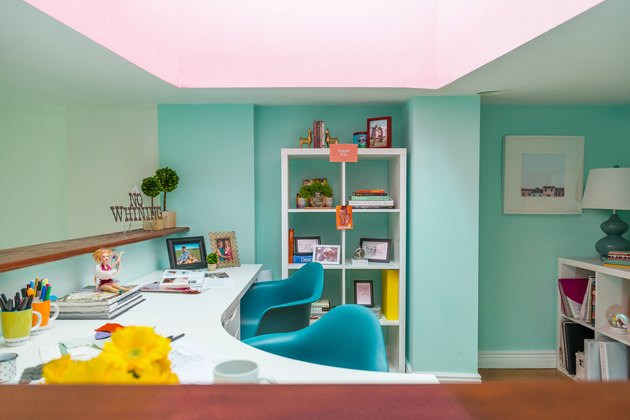 7 of 10
Office
Wills's design office is located in a loft area above the kitchen. She painted the walls in Benjamin Moore's Soft Mint. The skylight was painted in Benjamin Moore's Light Chiffon Pink, creating a warm glow. The space is outfitted with art from Etsy, chairs from Wayfair, and a "No Whining" sign that Wills found at a flea market in Santa Fe.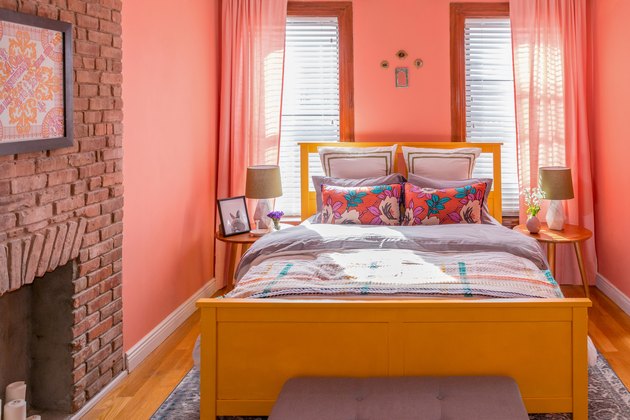 8 of 10
Bedroom
Wills chose Benjamin Moore's Coral Spice for the walls of her bedroom and repainted her existing Ikea bed in a custom yellow. Mirrors from a Santa Fe flea market hang above the bed and a framed 1940s handkerchief is displayed above the fireplace. "The picture on my bedside table is a bunny's butt," she says. "I try to find humor in things when I can."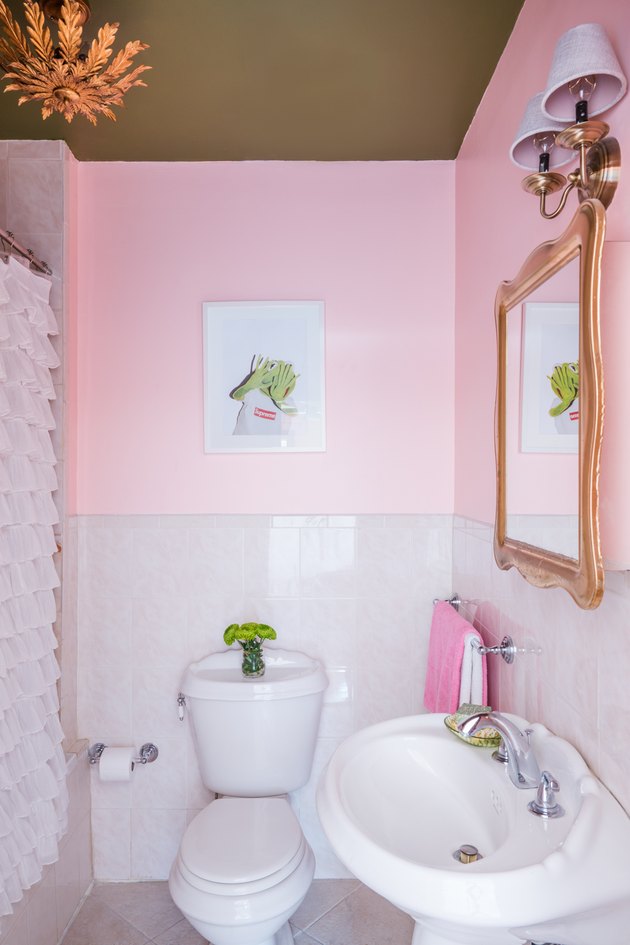 10 of 10
Powder Room
The designer painted a mural in the powder room inspired by De Gournay wallpaper and used a sunny yellow on the wainscoting.
---
Elizabeth Stamp is a freelance writer in Los Angeles. Her work has appeared in Architectural Digest, Elle Decor, and CNN Style.
View Work