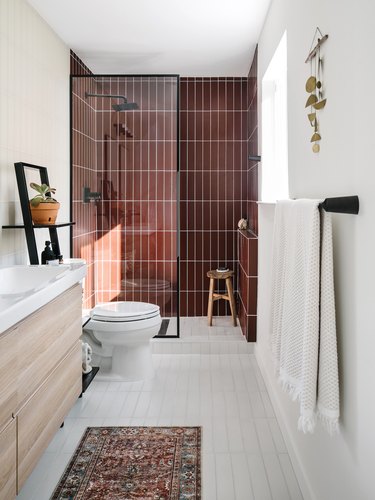 What if you could inject loads of style into a small bathroom without overpowering it or making it look over the top? That's exactly what midcentury modern design can accomplish, even in the teeniest of spaces.
Even though the aesthetic is attention-grabbing, midcentury modern style doesn't actually require tons of space. It may call for a bit more creativity, but you'll still be able to achieve a bathroom design with visual impact even in tight quarters. In fact, streamlined light fixtures, colorful floor tile, and a retro backsplash are all good places to start.
Here are six small midcentury modern bathroom ideas that are sure to get you started.
1. Focus on patterns and colors.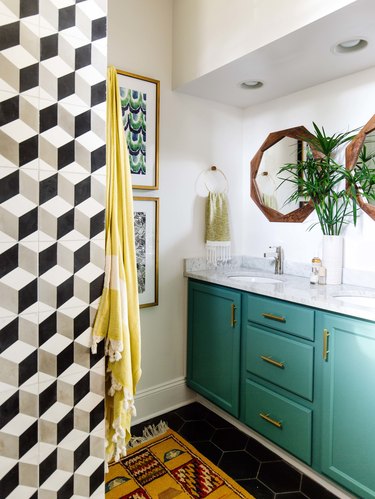 2. Prioritize authentic materials.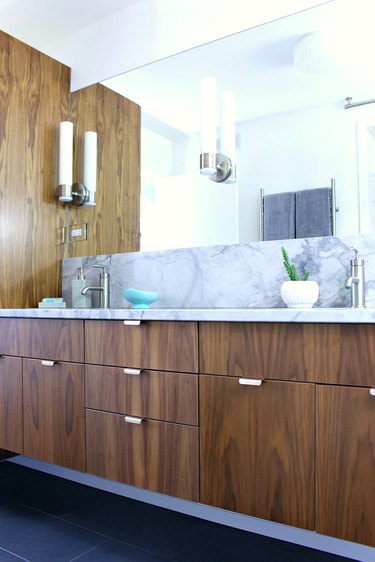 Midcentury modern style tends to focus on the authenticity of materials that would've been used back in the day. For example, in a current bathroom design, walnut cabinets look spot-on since it was used often in the '50s and '60s. That's what Tanya of Dans le Lakehouse did in this small midcentury modern bathroom, and the result is flawless.
3. Keep the lighting simple.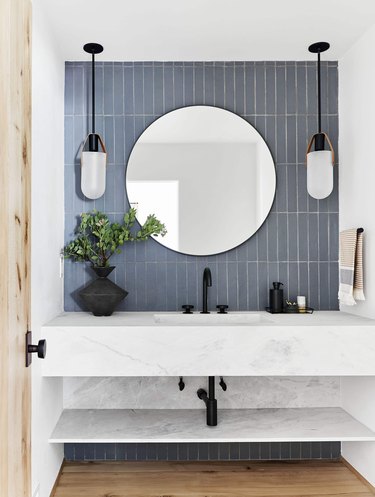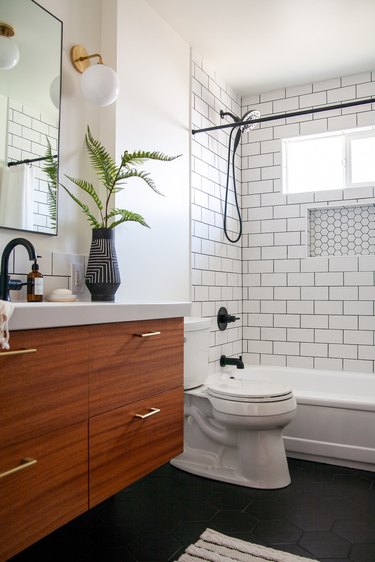 Since midcentury modern design is all about curation, you can apply a minimalist approach to your small bathroom remodel. Instead of opting for lots of decor, stick to one or two focal points so you won't overwhelm your space. Suzannah of Create/Enjoy chose to spotlight a single midcentury vase showcasing a green fern on her countertop.
5. Make the shower stand out.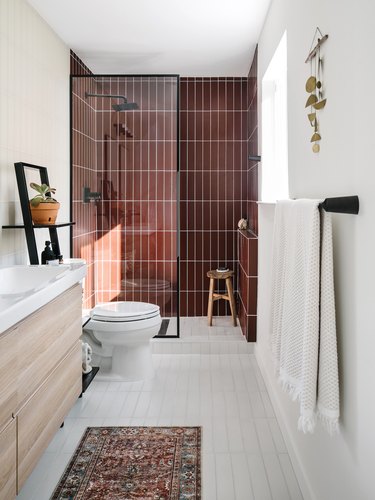 In a small bathroom, you need a shower, right? Even if it's teeny tiny, you can still make it stand out with the help of subway tile. Placed vertically in a rust hue, this design crafted by Jen of The Effortless Chic looks modern and oh-so-cool.
6. Smooth out the visuals.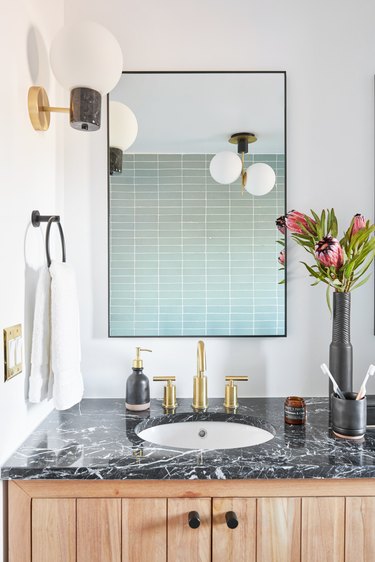 Midcentury design is all about polished lines, which meshes perfectly in a small bathroom where you don't want too many ostentatious visuals. This space belonging to Annette of A Vintage Splendor is uncluttered and flawlessly retro with horizontal subway tile, sleek, globe-style light fixtures, and a streamlined brass faucet. The black marble countertop doesn't hurt either.