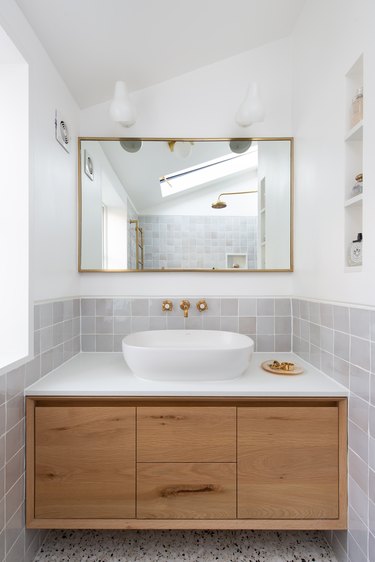 Plenty of small bathrooms go without a backsplash, and that's fine. In compact powder rooms, a backsplash might not be 100% necessary to protect the wall from water damage. But there's an aesthetic purpose to a backsplash as well. The best small bathroom backsplash ideas use color or pattern to draw the eye and define the area. And, in some cases, they make a small space look bigger.
These small bathroom backsplash ideas make a big impression. Check 'em out.
1. Use subtle colors and shapes for big impact.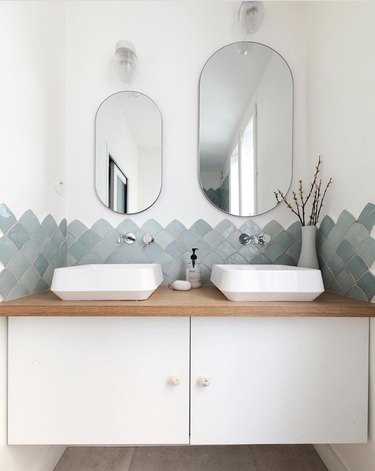 French interior designer Cécile Humbert used Moroccan zellige tile to add subtle flair to this floating modern vanity in a classic white bathroom. The fish scale pattern, in gorgeous shades of grey and green, has a slightly oceanic feel. And the jagged edges of the tile are unexpected because most backsplashes are uniform, at 4 inches above the counter. The mismatched double vanity mirrors make it all feel fresh and new.
2. Take it all the way to the top.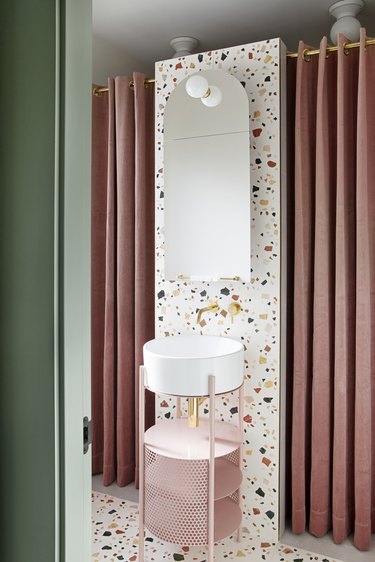 Terrazzo never looked so good. For Carlos Tomás, founder of Estudio Reciente in Spain, the challenge in this small penthouse apartment was to free up bathroom space but still make a statement. The multicolored flecks in the backsplash terrazzo capture the overall palette of the penthouse and make a strong floor to ceiling statement.
3. Try peel and stick for an affordable pop of color and texture.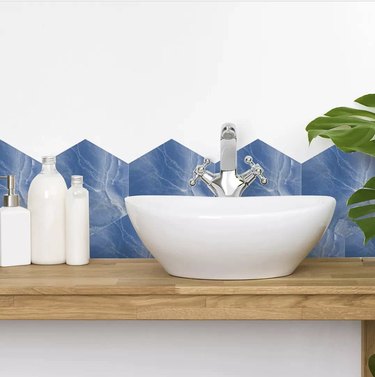 Bold marble backsplashes don't have to cost a pretty penny. This gorgeous small bathroom backsplash idea uses faux marble decals in a delightful cornflower blue. The peel-and-stick tiles still protect the wall from water damage. And you can create a similarly chic (and affordable) accent in an otherwise simple space.
4. Go for a bold pattern.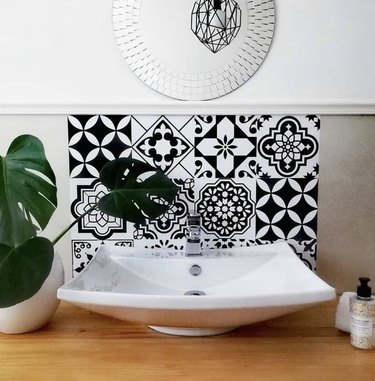 5. Pick a continuous tile to run through the entire room.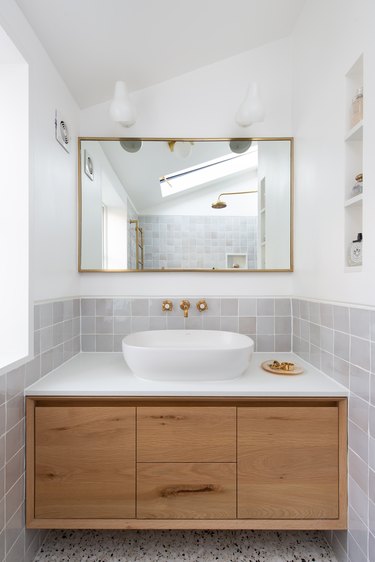 In this renovation of a Victorian home by WER Studios, gray square zellige tile adds a hint of soft sophistication to this compact, modern bathroom. The designers use the tile throughout — not just on the backsplash — for a continuous, cohesive feel. Meanwhile, the terrazzo floor adds some personality, and the brass fixtures make the space feel both feminine and upscale.
6. Let other patterns shine with simple subway tile.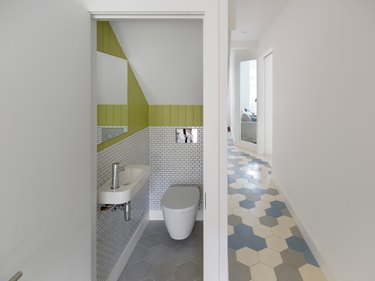 Sometimes less is more, even in the smallest of spaces. In this house by Brian O'Tuama Architects, tile, color and texture are used throughout. So choosing a staid, small-scale subway tile really lets the other patterns shine. In this case, the mini lime green shiplap and large gray hexagonal tiles in the petite powder room take center stage.
7. Use black to make a strong statement.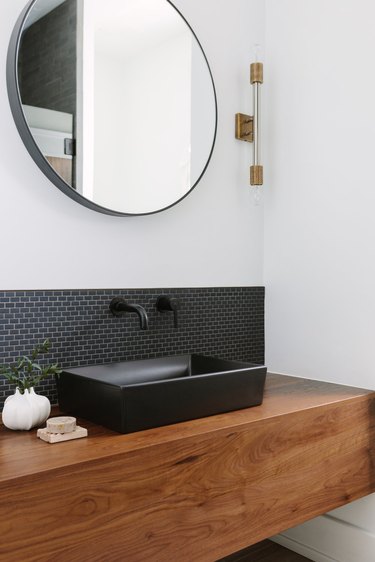 8. Vary your bathroom tile to create added interest.