We asked a few experts and they basically all said actually, yes. There are both practical and aesthetic reasons why a backsplash should definitely be on your design to-do list.
If you're on the fence, here are some key factors to consider, according to the pros.
1. Cleaning the wall will be easier.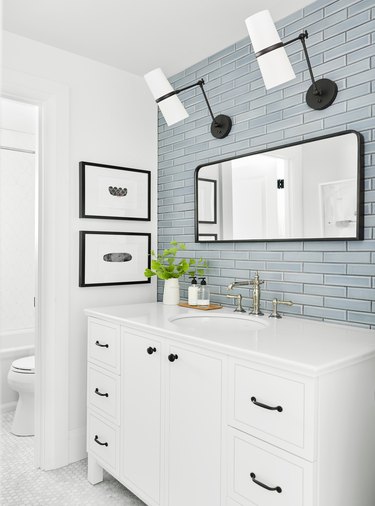 "I would always recommend a backsplash behind a bathroom sink not only for its functionality, which is to keep the wall easily wipeable and prevent water to go behind the vanity," award-winning designer Marie Burgos tells Hunker, "but mostly for the opportunity of design that a backsplash represents. A backsplash is an opportunity for layering the design of the bathroom with color, texture, and shapes."
2. There's more flexibility in materials than you think.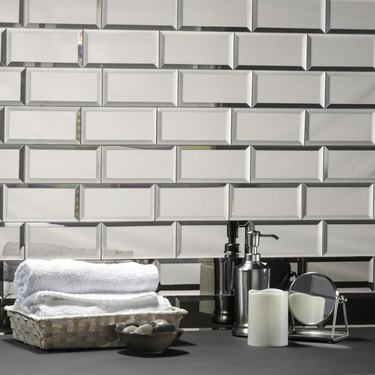 "All kitchens and bathrooms need a backsplash — even if it's a small one," interior designer and creative director Sheila Bridges tells Hunker. "Backsplashes don't have to be ceramic tile. They can be stone, laminate, mirror, tempered glass, or washable wallpaper. There are lots of creative and colorful options that can work."
3. It's important for bathrooms with high traffic.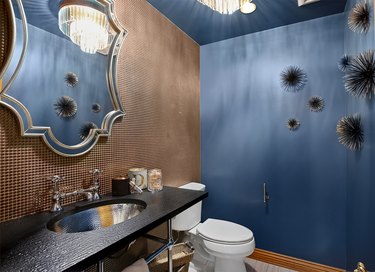 "Although backsplashes are not always a necessity, they are practical against water splashing in a busy bathroom but can also add another layer to the design aesthetic when using options beyond the traditional 4-to-6-inch counter splash," Wendy Yates of Abigail-Elise Design Studio tells Hunker. "Whether you choose a full wall, tile border, or extend the countertop, we suggest thinking big, bold, and implementing something sustainable."
4. It can help your space look bigger.
"Your chosen backsplash material could be focused on texture, color, pattern or, if you are real rock star, a combo of all three. We like to look for two of these three aspects when choosing backsplashes," interior designer and maker Erin Shakoor tells Hunker. "Larger format tiles, like 12 by 24 inches and up, applied to a backsplash in a smaller bathroom, will create a sense of more volume and a larger space."
5. You can get creative with faucets.
"One way to update that boring 4-inch backsplash is to double the height to 8 or 10 inches and install a waterfall faucet," Keita Turner tells Hunker. "If your vanities are floating in the center of the bathroom or are located against a window with a view, then you can forego the porcelain tile or stone backsplash."
6. It serves as a great focal point.
"We like the idea of a tile installation above the vanity with a beadboard chair rail below," Caroline Grant of the power duo Dekar Design, tells Hunker. "But if you're just looking for a visual solution for the space above a bathroom vanity, the wallpaper approach is a great way to add a fun and unexpected twist to the space." (Editor's note: Just make sure it's water-resistant wallpaper. We love this look by The Lily Pad Cottage).