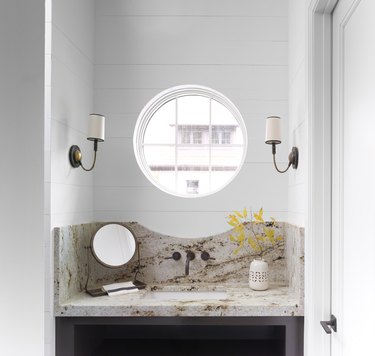 Once upon a time, granite was the stone du jour. But as marble surfaces were on the rise — and home renovations reached Insta-fame — granite quickly became a thing of the past. If we're being totally honest, granite is often associated with the "before" of a home makeover.
But that doesn't mean granite is destined for a life of design doom. Trends come and go, which means that granite is well on its way to coming back in style. If you want to welcome the stone back into your home, why not start off slow with a granite bathroom backsplash? Not only is granite durable enough to handle the occasional splash of water, but it's a small tweak that will make a serious statement in your bathroom.
1. Farmhouse-Friendly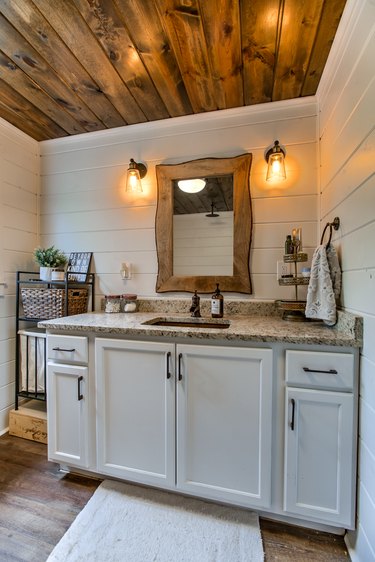 Granite is one of the most sought-after stones around — and for good reason. In addition to being durable enough to withstand wear and tear, it also offers a refreshingly natural aesthetic. And where better to add a granite bathroom backsplash than in a farmhouse-inspired space? In this bathroom from Life on Shady Lane, the granite bathroom backsplash pairs nicely with the white shiplap walls, rustic light fixtures, and contrasting color palette.
The catch? Granite can be prone to stains, so you should treat it with a sealer and reapply every few years.
2. The Textured Treatment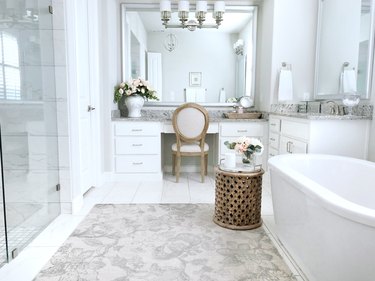 Want to make your granite bathroom backsplash pop? Add the precious stone to your all-white bathroom. Not only will this styling hack add some texture to your space, but it's a great complement to an otherwise blank canvas. Erin of My Texas House ties the granite in with the rest of the space by adding an area rug in a similar color scheme. Wooden accents round of the room, giving granite a glamorous appeal.
3. Curved Creation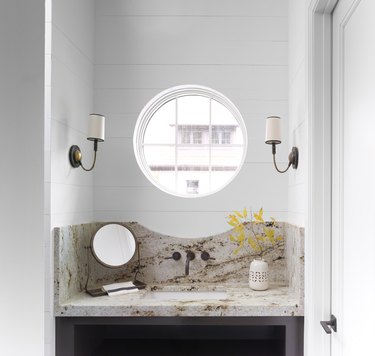 When it comes to granite bathroom backsplash ideas, the precious stone is hardly ever reimagined into pristine tiles. However, that doesn't necessarily mean granite slabs have to be boring. Here, bi-coastal firm Christopher Architecture & Interiors ups the design ante by incorporating a subtle curve to the backsplash's silhouette. Once you find a style and cut that fit your bathroom, you can apply a construction adhesive and thin line of silicone where the backsplash will sit.
4. Honed Granite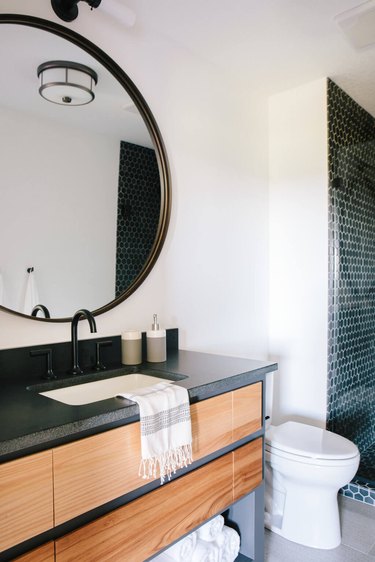 ICYMI: There's more to granite than the colorful, large-grained look that it's known for. If you want a stone that's durable but has a subtle air to it, opt for honed granite over polished granite. Grounded to a smooth, flat surface, this style has the durability of traditional granite, but the versatility and style of a luxe marble. Oh, and did we mention it might be cheaper?
5. Chic and Clean
It doesn't matter if you choose polished or honed. One thing's for sure: It's important to keep your granite bathroom backsplash clean. If your backsplash isn't as spick and span as, say, this honed style from Katie Marker Interiors, your granite will veer into outdated territory. For most spills and smudges, warm water and gentle soap is all you need. However, if you need to call in some reinforcements, add equal parts water and 91% isopropyl alcohol into a spray bottle.