For most design enthusiasts, small bathroom ideas are nothing new. After all, didn't everyone have at least one relative who was the proud owner of an adorable powder room? However, thanks to today's surge in tiny living, you now have the unique challenge of fitting your entire bathroom into the same square footage as the powder room. (And, yes, that includes the shower.)
Sounds like a design disaster, right? Well, yes and no. While making the most of every square inch can be tricky, with a few savvy — and space-efficient — hacks, you can actually turn your tight quarters into a cozy oasis. How, you ask? First things first, check out our comprehensive guide to mastering the art of the small bathroom. Next step: luxurious relaxation awaits.
Small Bathroom Ideas: Design Styles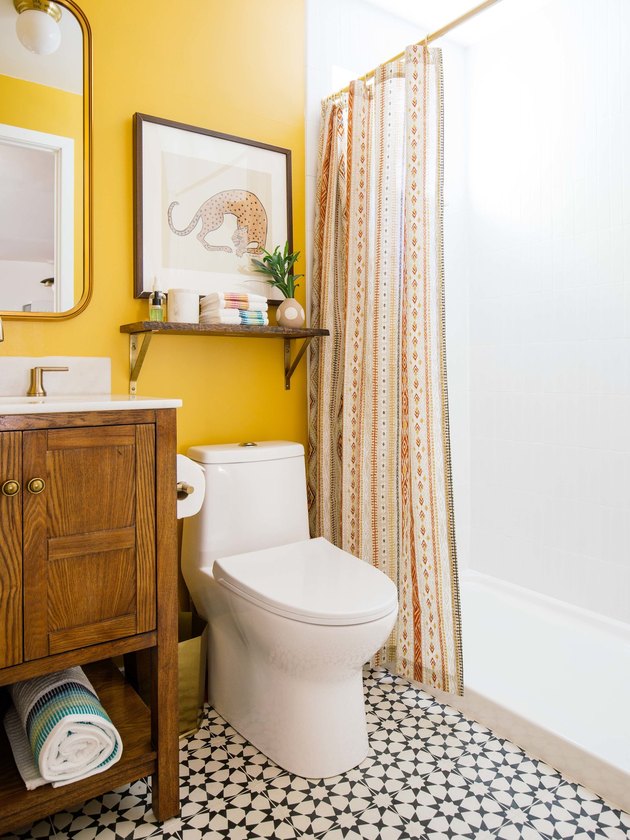 Never underestimate the power of a small bathroom. While your teeny, tiny corners can often be considered an afterthought, a spatially challenged WC is actually a great opportunity to do something totally different from the rest of your pad. It's big enough to try something new, but it's small enough that if you don't love the final result, it's contained to one area. When it comes to the best small bathroom design ideas for your space, the sky is the limit. From modern to midcentury to industrial to farmhouse to contemporary, it'll serve you well to pick a style that piques your visual interest but also feels like you.
Small Bathroom Ideas: Storage Options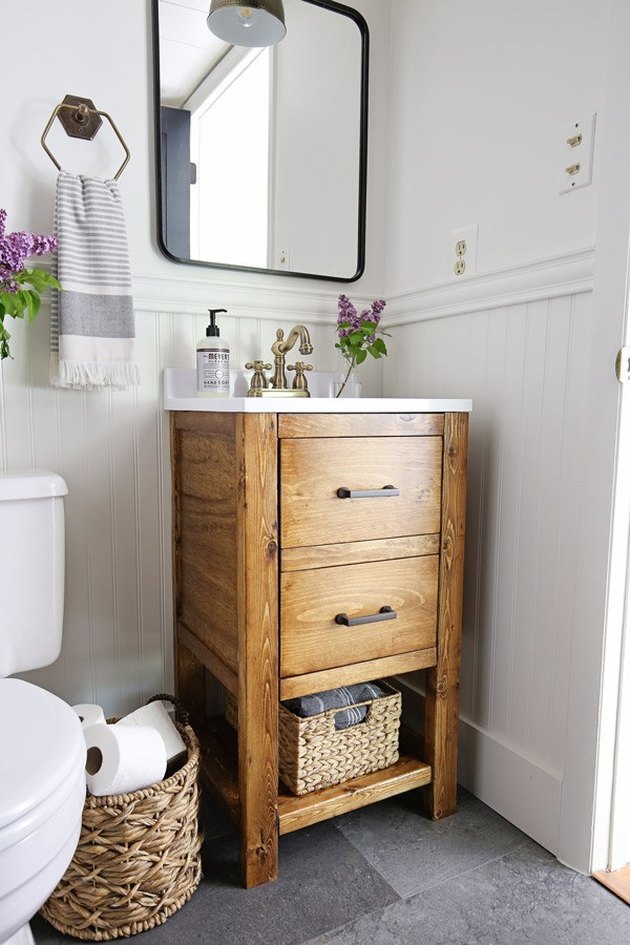 Just because you have a small bathroom doesn't mean you can forget about having storage space. Whether you have extra rolls of toilet paper, a bulky hairdryer, or plenty of hand towels to spare, you're going to need somewhere to place all your stuff. So how do you do it? Where do you put it?
For most small space dwellers, it's all about getting creative — how can you put those blank walls, tight corners, and bare ceiling to use? These often overlooked elements could prove to be instrumental in solving your storage woes. For inspiration, we found 13 genius small bathroom storage ideas that will get the job done in style. Want to flex your DIY muscles? Here is a storage hack that will shine in your small space.
The thing to keep in mind when it comes to small bathroom ideas is that finding narrow, compact storage items is just as important as utilizing every nook and cranny. From a petite vanity cabinet and woven basket like the pair spotted in Angela Marie Made's tiny bathroom, to floating shelves and train racks you can hang virtually anywhere, to towel holders and ladders, there are a whole host of options that will make staying tidy a breeze.
And don't forget to make the best use of the space inside your vanity cabinet as well. Invest in or DIY drawer dividers and organizers to keep the space below your sink organized.
Small Bathroom Ideas: Showers, Bathtubs, and Sinks ... Oh My!
Sorry, freestanding tub, it's going to be a hard pass from us. In a perfect world, your bathroom has enough room for all the indulgent, spa-like amenities your heart could desire. But since you're working with a tiny space, it's important to limit your small bathroom ideas to the essentials. Consider one of these small bathtub options instead.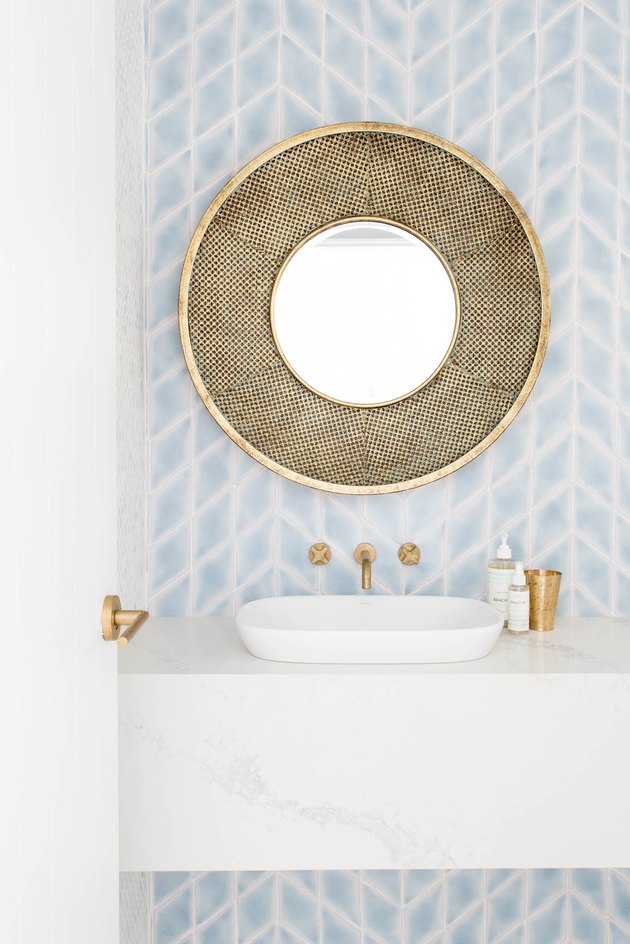 Admittedly, the bathroom's bulky staples can make it difficult to make the most of your small space. After all, your toilet can only be so small. One way to control the size and layout of your small bathroom is to consider a different sink. You see, there are plenty of sink styles that take up minimal counter space and offer an awesome storage area underneath. (Don't believe us? Feast your eyes on these six swoon-worthy styles.)