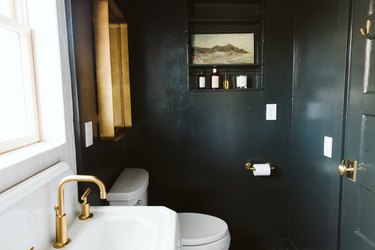 Hunker may earn compensation through affiliate links in this story. Learn more about our affiliate and product review process
here
.
For most design enthusiasts, small bathroom ideas are nothing new. After all, didn't everyone have at least one relative who was the proud owner of an adorable powder room? However, thanks to today's surge in small space living, you now have the unique challenge of fitting your ​entire​ bathroom into the same square footage as the powder room. (And, yes, that includes the shower.)
Sounds like a design disaster, right? Well, yes and no. While making the most of every square inch can be tricky, with a few savvy — and space-efficient — hacks, you can actually turn your tight quarters into a cozy oasis. How, you ask? You don't need to be an interior designer to make a small bathroom sing — however if you are going into a remodel, you'll need a professional contractor, and you might consider hiring an interior designer.
Small Bathroom Decorating Ideas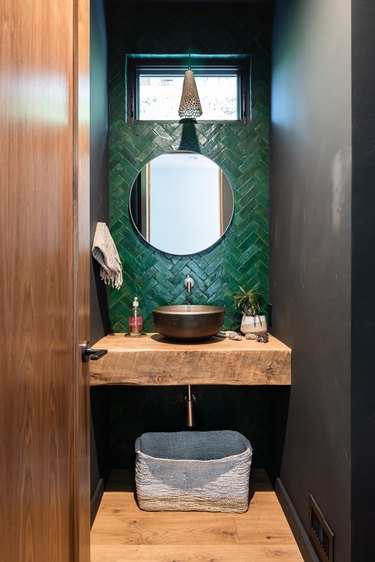 Never underestimate the decorative power of a small bathroom. Sure, you may not have the options that come with a larger space, but there's tons you can do to affect the room feel. The key is to make sure your small bathroom design idea combines function with style, as every inch of square footage is precious. That said, a tiny bathroom is actually a great opportunity to do something totally different from the rest of your pad — think splashy paint colors, wallpaper, art, and bold mirrors.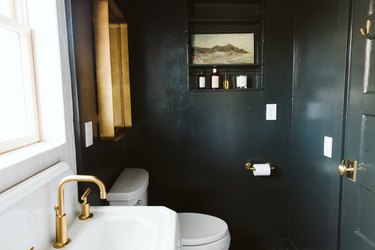 All the typical rules of color go out the window in a small bathroom. You might think they only way to make a small bathroom appear larger is to go with a pristine white, but we think flashy hues can be the way to go. Don't be afraid of darker color schemes — small hunter green or black bathrooms can feel cozy and intimate.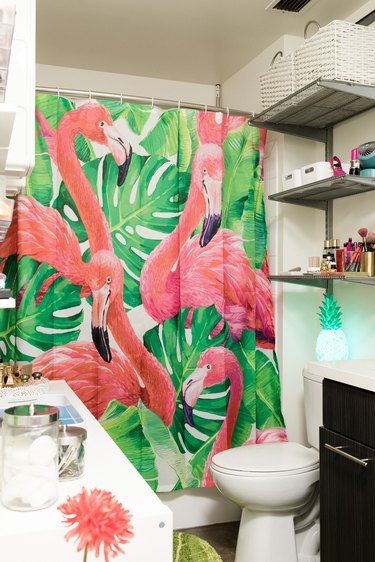 A shower curtain can become the focal point in small bathroom design. In fact, finding the right shower curtain can be a great jumping off point for your new bathroom remodel — a splashy color might just inform how you paint the walls or what kind of vanity (if any) you bring in. (Of course, if you are going the minimalist route, a streamlined glass shower door might be more up your alley.)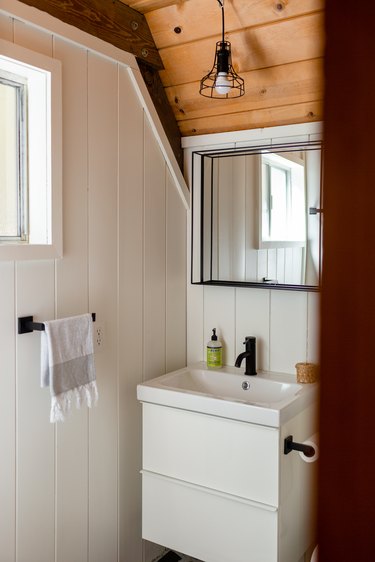 A vanity not only offers storage, but can also define your small bathroom feel. The tricky part is to find a vanity that doesn't take up too much space. A corner vanity might be your best bet.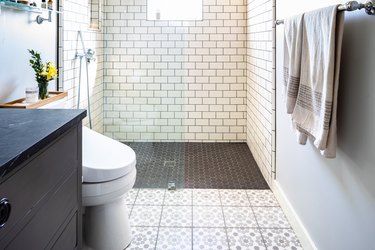 Subway tile is a popular option for small bathrooms, as classic, white tile won't affect the look of a compact bathroom. Of course, tile is an opportunity to pack in style in your small powder room — wall tiles (especially mosaics) can create a defining design; the right backsplash can actually create the illusion of more space; and of course a gorgeous, patterned ceramic floor tile can make a big impact.
Light fixtures are key in a small lavatory — especially when you are working with a space that has little natural light. You'll want to avoid light fixtures that take up lots of room (so, sadly, a chandelier might not be in the cards). For truly cramped spaces (especially ones with low ceilings) recessed lighting won't take up extra space. Sconces are another ideal solution in designing a small bathroom. If you're going down the remodel route, think about installing a skylight.
One thing to consider in your bathroom remodel is forgoing a traditional swinging door, especially if your small bathroom is attached to an equally small bedroom or hallway. Instead, consider installing a pocket door or a sliding door.
Small Bathroom Storage Solutions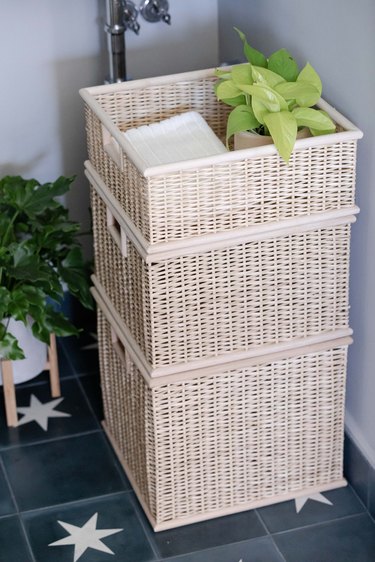 Just because you have a small bathroom doesn't mean you can forget about having storage space. Whether you have extra rolls of toilet paper, a bulky hairdryer, or plenty of hand towels to spare, you're going to need somewhere to place all your stuff. So how do you do it? Where do you put it? For most small space dwellers, it's all about getting creative — how can you put those blank walls, tight corners, and bare ceiling to use? Read on for an overview of storage ideas: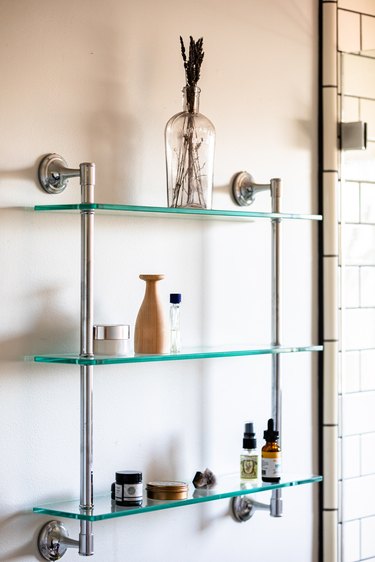 Make your wall space work for you with over-the-toilet shelves (either anchored to the wall, or you can find plenty of affordable units on Amazon or IKEA). Floating shelves may offer the minimal look you're after.
Don't forget: your door is a usable surface! Hang caddies, towel hooks, or even shelving.
A petite vanity — should your space allow for it — can store small toiletries and towels. You might even try a corner vanity. However, if you have a particularly narrow bathroom, a vanity might not work and you'll want to include a standalone sink.
Minimalist towel racks and towel bars can be a helpful storage solution in a small bathroom, especially when you don't have shelf space.
Small Bathroom Sink Ideas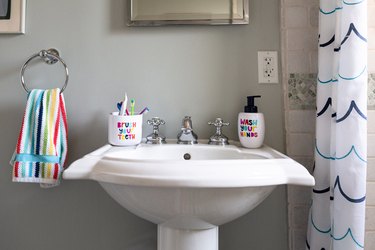 When square footage is at a premium, make sure you select a sink that won't cause issues with the rest of your design.
It's easy enough to find a pedestal sink thank can work for a small space — you'll just want to look for one that has a petite basin and a minimal column. Of course, pedestal sinks don't offer any storage, but you can still add storage options.
A wall-mounted sink is a great option for a tiny bathroom, as it only takes up room on your wall, and not on your floor.
For truly tiny bathrooms, tiny bathrooms, a corner sink will take up the least amount of room.
Best Showers and Tubs for Small Bathrooms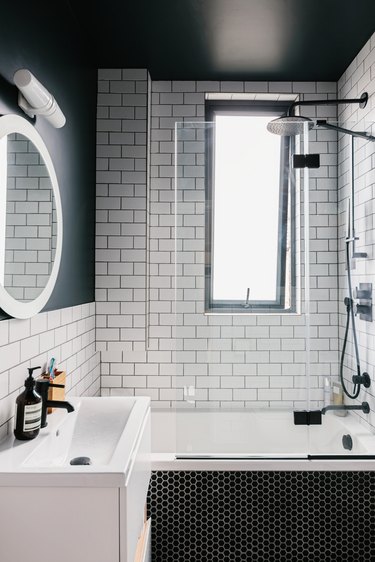 If you're going into a bathroom remodel, the first thing you'll probably want to consider is the shower or tub, as that's going to take up the most space. So, sadly, your dreams of a completely separate shower and tub probably won't work for your modern bathroom makeover. Consider the following instead:
A walk-in shower is one of the most standard options. A frameless glass shower will give your small bathroom a minimalist feel.
An alcove shower can be easily installed into a bathroom corner; otherwise talk to your contractor about constructing a nook in which to place it.
A tub might not be the most practical option in a small bath. But, if you're determined, a shower-tub combo is the way to go.