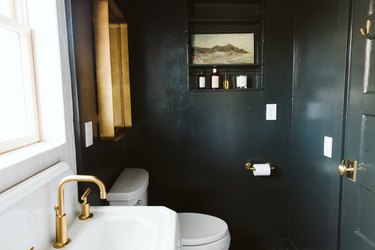 From storage solutions to vanities to lighting and sinks, there's plenty to consider when designing a small bathroom. While we can all agree that function and practicality are of the utmost importance in a petite space, that doesn't mean you have to sacrifice style. In fact, incorporating unique wall decor is one of the easiest ways you can impact a space with limited square footage, because it allows you to bring in colors, textures, and juxtaposing styles without taking up precious floor space.
If you're looking for some serious wall art inspiration for your small bathroom design (or still need some convincing on its importance!) you've come to the right place. Ahead, we're sharing eight bathroom wall decor ideas that can transform your tiny space in a single afternoon.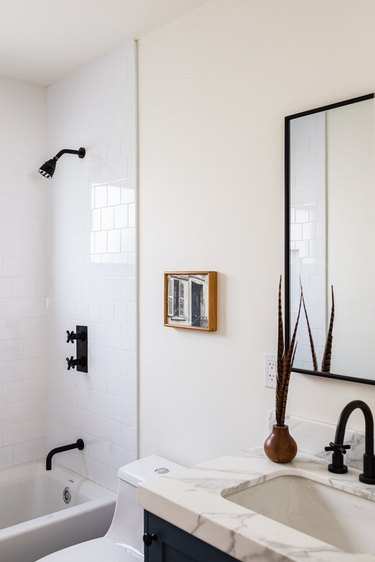 Even if minimalism is your preferred decor style, that doesn't mean you have to forgo bathroom wall art completely. Instead, opt for a small scale piece that acts as a focal point on an empty wall without overwhelming the rest of the room.
2. Opt for a wall mural with mosaic tile.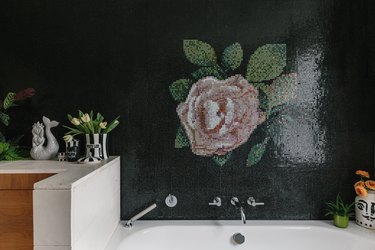 If traditional wall art isn't a viable option in your small bathroom (thanks to limited wall space), or you just want something a little different, opt for an eye-catching wall mural featuring mosaic tile that can double as artwork. Talk about combining form and function!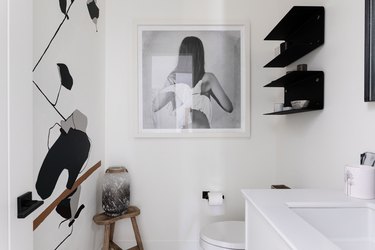 Keeping a small bathroom neutral creates a restful, airy vibe, but the addition of contrasting wall decals and black and white photography adds the perfect mix of juxtaposing layers. To recreate this minimalist look, draw from a modern color scheme — in this case: black, white, and natural wood tones.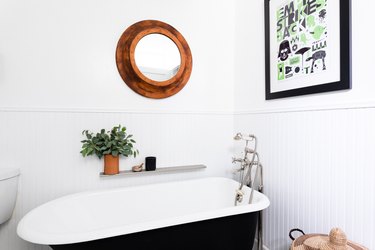 Designing a small space doesn't mean you have to skimp on statement art. Here, a medium-size art print with a graphic edge adds a contemporary slant to this otherwise traditional white bathroom — proof that you can bring bold style to any space. To recreate the look, tie the color of the picture frame into another major component of the space, like the bathtub or vanity. The round mirror and tiny shelf on the adjacent wall don't hurt either.
5. Add art to floating shelves.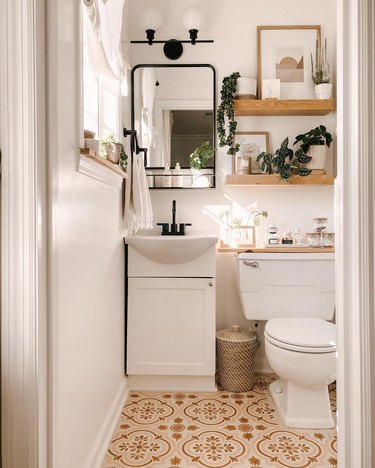 Floating shelves are a go-to choice for any small space, thanks to their ability to add functional storage for toiletries even with limited square footage. Take notes from Hannah of Thistle Harvest and style them with leaning artwork, making sure to add varying heights and colors for maximum impact.
6. Make the most of a built-in nook.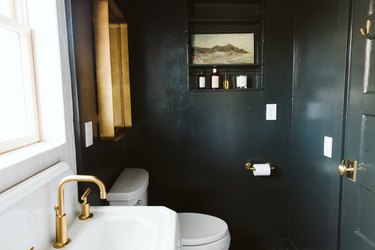 Vintage bathrooms are often full of unique nooks and crannies, perfect for bringing in a touch of thoughtful wall art. Here, a traditional painting adds variation and focus to a monochromatic bathroom.
7. Add leaning art to storage furniture.
Adding freestanding furniture to a small bathroom is a great way to sneak in functional storage. Still, it can feel out of place if it's not styled thoughtfully, tying it into the rest of the room. However, leaning wall art will help anchor the furniture and home decor, effortlessly tying the entire look together.
8. Showcase a gallery wall.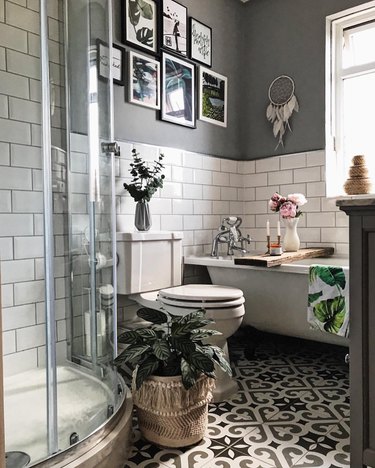 For more of a maximalist vibe, opt to showcase an eye-catching gallery wall, like this one by Melanie Jade Design. A series of seven to 10 art prints affords you the opportunity to bring in a collection of colors, styles, and textures that instantly add personality to your bathroom. We recommend keeping at least one element cohesive, whether that means keeping them all in the same color palette, using matching frames, or keeping the medium consistent.