A free-standing bathroom cabinet provides storage space for toiletries, linens and other frequently used items. There are a variety of different free-standing storage cabinet options for this room, ranging from large vanities to space-saver designs that tuck easily into a corner area. This type of bathroom cabinet differs from a medicine cabinet or other types of attached cabinets in that it isn't anchored to the floor or wall. There are many styles of free-standing cabinets that work well in a bathroom space.
Choosing a Free-Standing Bathroom Cabinet
Storage is always an issue, and free-standing bathroom cabinets provide a simple, practical solution. When deciding on which type of unit works best, consider factors such as the amount of available space in the room, how much storage space is needed and the overall project budget. Safety is something else to evaluate, especially when it comes to children. Make sure any storage cabinet is sturdy and check to ensure it won't tip easily. If this is a concern, opt for an attached wall cabinet as an alternative or simply anchor a free-standing cabinet to the wall.
A free-standing cabinet is something that makes a good DIY project for those who are handy, but there are plenty of other options as well. Both online and retail stores sell many different configurations of free-standing storage cabinetry. People who like a more rustic look can also choose to look at an antique store for a piece that can be repurposed or used as is. There's something out there for every type of design aesthetic.
Free-Standing Bathroom Cabinet Features
Bathroom storage cabinets offer a range of different features that are both attractive and practical. Homeowners can pick and choose the ones that make the most sense for their day-to-day needs and sense of personal style. Some of the decorative features include glass or shutter-style panels for cabinet doors as well as stylish hardware. There are many different designs from which to choose.
Many bathroom cabinets are available in a crisp white finish, but other popular colors include gray, espresso and varying shades of brown. Some cabinets are made from wood, but medium-density fiberboard is also a common choice in the bathroom area. Since this room has a lot of moisture in the air, choose pieces that are factory finished with paint or stain so that the material is well-sealed and will stand up better to the humidity.
Other features for which to keep an eye out include cabinet door styles, built-in shelving and drawers. Details such as glass shelving and decorative cabinet panels can really dress up a free-standing bathroom cabinet and make it part of a seamless design concept. Companies such as Accuride point out that self-closing drawers and touch-release options are also available as higher-end features. Also, certain manufacturers make custom drawers with organizers inside for makeup and other bathroom essentials.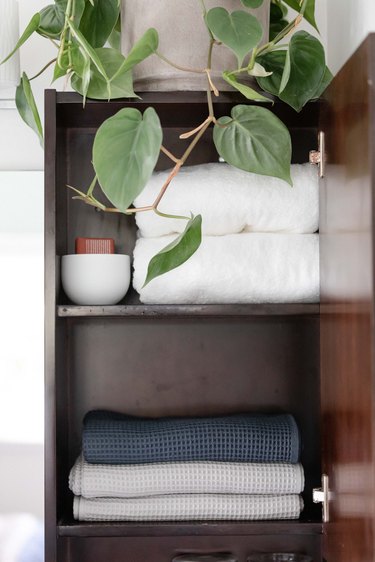 The Tall Linen Tower
A linen tower is exactly what its name implies: a tall bathroom cabinet that provides storage for towels, washcloths, toilet paper and other items. These cabinets come in different heights and widths, with common sizes ranging from about 14 inches in width to between 60 and 65 inches in height, although there are numerous options. A linen tower may have doors, open shelving, drawers or a combination of features. These bathroom cabinets are perfect for those who need a lot of storage for this room of the home.
The downside to a free-standing linen cabinet is that it takes up space. Although the vertical design helps minimize the footprint on the floor area, the width of this item can still be a problem in some bathrooms. Measure and consider this issue carefully before purchasing a free-standing linen tower for storage in this room. In addition, keep in mind that those with adjustable shelf capacity can be more versatile in terms of how the space is utilized.
Convenient Corner Cabinetry
Kohler is well-known for its bathroom expertise, and it recommends taking advantage of the space in a bathroom by using corners for cabinetry and other storage options. Free-standing corner cabinets provide large storage spaces that can hold everything from bulk toilet paper overflow to extra soap, toothpaste and other needed supplies. Many of these cabinets offer extra-deep insides, which can be a real plus if there isn't a lot of room elsewhere in the house to store essentials.
This type of storage cabinet is usually counter height, so it also offers another landing zone and opportunity for counter space in the bathroom. Corner areas are also a good spot for smaller linen cabinets if the large cabinetry is just too bulky, as can be the case in many powder rooms or space-challenged bathroom areas. Most free-standing corner units come with a cabinet door, but occasionally, they may have a pull-out feature as well.
Other Functional Cabinet Choices
Corner cabinets and tall linen cabinets are not the only choices available. Besides these items, there are a number of other cabinets that can be used in a bathroom space. Some of the choices include single-door and double-door versions that are vertical but not as high as the tower units. These work well for smaller bath areas that don't have room for a wide footprint. While they may not hold as much as larger cabinets, they still provide an in-bathroom spot to stock a few extra rolls of toilet paper, air freshener or extra shampoo.
Wider floor cabinets are another pick if there is more floor space. There are many ways to configure this type of cabinetry, from placing a countertop on top of two wide floor cabinets to setting a low-profile, free-standing storage cabinet under a window area to make use of space that is otherwise wasted. These cabinets come in nearly any size and in a multitude of different layouts.
One such layout is a free-standing vanity, which is a great option for bathrooms with ample floor space. Unlike the sink-area units that are anchored to the wall, this type of cabinet is an individual piece of furniture that is used for getting ready and doing makeup as well as for additional storage space. Space considerations and individual taste will dictate the range of possibilities for this bathroom storage piece. And DIY enthusiasts may even want to attempt this particular project on their own to add a personalized touch to the bathroom space.
Over-the-Toilet Storage
One smart space-saver design is the over-the-toilet storage option. There are many different formats for this particular bathroom storage solution, from small upper cabinets with a shutter-door design to ones that have shelving included. Configurations run from simple metal racks to fancy decorative glass cabinets to shelving with baskets included in the mix. They can be tall and packed with features or consist of a single wide shelf and hand-towel rack.
These units are designed to sit over the toilet tank and take advantage of the empty space above it. Choose a unit with side pieces that are meant to stand on the floor and make sure it has a good base of support if you want a free-standing unit. Check the directions since some of the larger units may need to be attached to the wall for safety. Although this type of free-standing design won't provide a lot of additional room, it is perfect for a selection of small items or to stash something like a hair dryer, curling iron or electric shaver.
There are many different types of over-the-toilet storage available these days, from traditional-looking units to those that work well with more modern bathroom designs. Easy to put in place and practical, they can make a great choice for those with limited space for storage cabinetry. Those who prefer a more minimalist look may not want to use this type of storage or want to keep it very simple so it doesn't add too much visual clutter.