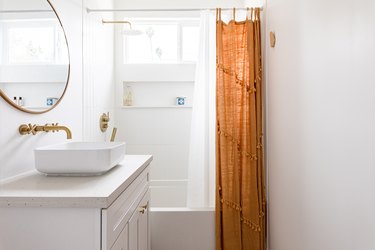 Let's face it, a small bathroom and minimalist design don't exactly go hand-in-hand. In truth, living with "less" is arguably easier when you have more space, unless you're content surrounding yourself with only the bare essentials — a toothbrush, soap, toothpaste, and a towel. You can fit multiple storage units and furniture into a single room without crowding the area, maintaining the illusion of austerity with a cool twist. Try replicating that in a small space, and it'll instantly feel cluttered. The fix? Getting extra creative with your design ideas.
If you're going to pull off a small minimalist bathroom, a few clever swaps can emulate the aesthetic without requiring you to Marie Kondo your entire life. Everything, from your choice in shelving or the vanity cabinet to the use of colors and bath accessories, can establish the vibe all the while serving a functional purpose. Combining the two will often take on a modern feel because of the streamlined forms and sleek pieces that serve as a hallmark of the style. That said, it doesn't need to be gray and cold. With a few thoughtful additions and tried-and-true styling tricks, you can easily embrace a small minimalist bathroom design. Here's how.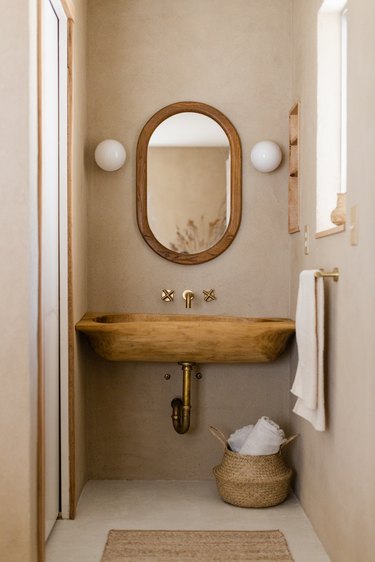 A floating vanity or a wall-mounted sink can be a great way to get around using valuable floor space, while also inviting an open and airy feel that fits right in with a minimalist bathroom. Follow the lead of this dreamy nook and prop a basket beneath to keep clutter concealed.
2. Streamline the staples.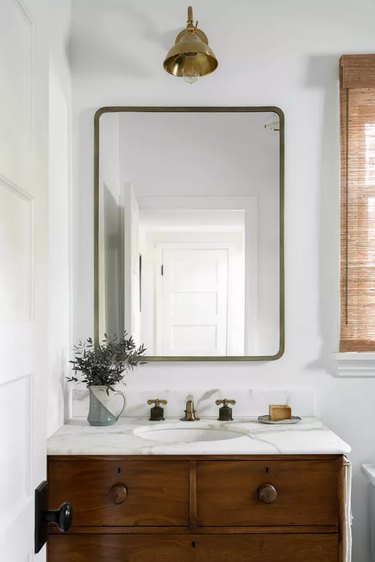 While decorating with a true minimalist school of thought requires a tight decor edit, that doesn't mean you have to forego accessories altogether. Find new ways to invite an unexpected element of interest to an otherwise standard spot, like the countertop. Take a cue from this minimal, modern farmhouse scene by designer Sarah Solis and invest in a streamlined set of soap dishes and trays for a visually cohesive finish, instead of mixing and matching various designs.
3. Introduce a sliver of color.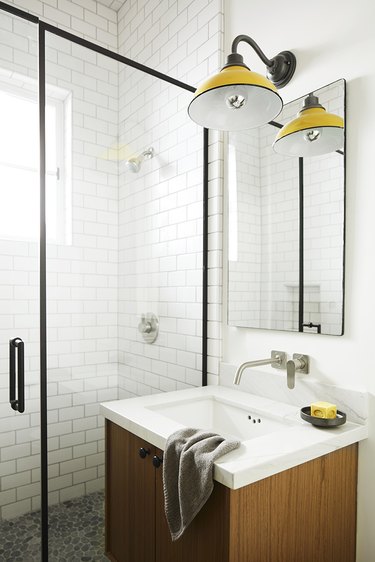 Minimalist design doesn't necessarily mean you should stick to a monochrome color palette, but it also doesn't fit with an abundant array of bold colors either. Infusing the bath with a saturated detail can come in the form of an accent wall or tilework, warm metal hardware, or even a vibrant sconce. Regardless of the route you take, err on the modest side so as not to visually crowd your space.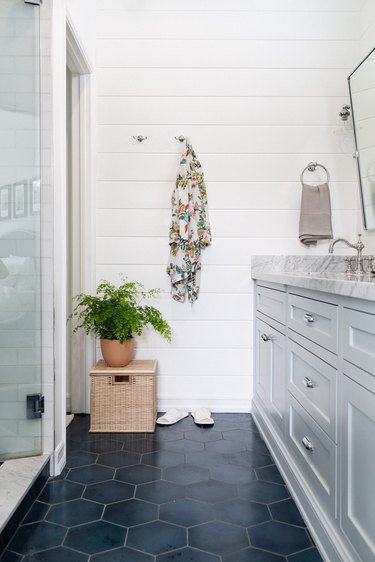 Taking advantage of every available square inch is an essential aspect of small space living. In a petite bathroom design, the corners are ripe with storage opportunities calling for angled cabinets, baskets, and custom shelving units, which can help make use of otherwise empty nooks. If you'd like to go for a slightly more concealed option, a lidded basket can work just as well.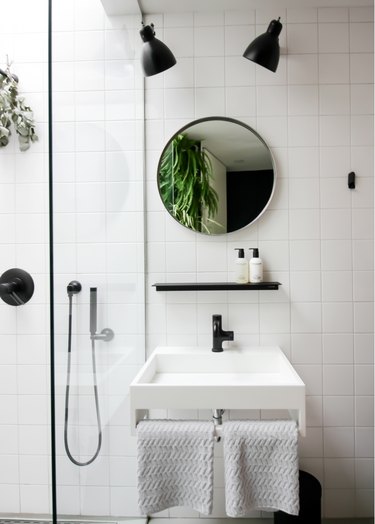 Signature characteristics of minimalism are clean lines and straightforward forms so when it comes to gathering design ideas, embrace modern details. In lieu of taking up valuable real estate on the bathroom walls with racks and hooks, this dreamy scene from Marie Stella Maris shows the potential in utilizing the empty space below the floating sink. Install a rod, if your vanity permits, and use it for hanging towels. Bonus points for the fact that it conceals the pipes as well.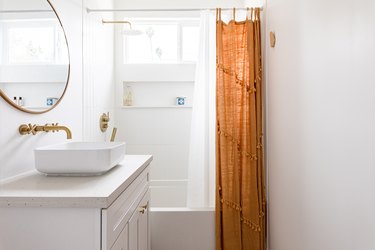 When it comes to small minimalist bathroom ideas, you'll probably find that a lot of spaces have one key feature in common: natural light. A dark room will innately feel cramped and stuffy, regardless of how bright the interior is, while one with proximity to ample sunlight throughout the day will take on an entirely different vibe. If your small space lacks windows altogether, stick to a white bathroom and sub in sconces and even chic pendants for extra lighting.
A minimalist bathroom is a clutter-free one, which can be hard to imagine given the large collection of grooming essentials and toiletries we all have in our arsenals (beauty products, brushes, hairdryers, just to start). Grab a sleek rolling cart that can easily move from spot to spot to house the items you use every day, or go for a functional piece (a vanity mirror works) with hidden storage.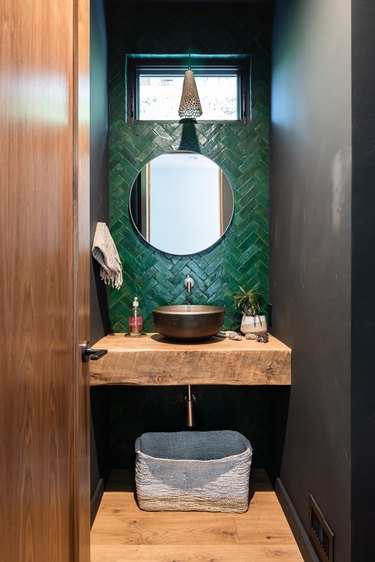 As we mentioned, a minimalist bathroom doesn't need to take on a completely modern look and feel. You can just as easily embrace an industrial or even rustic aesthetic, just as long as you remember to pare down on the decor front. Here, a reclaimed wood vanity coupled with an eye-catching backsplash lends just enough personality without overwhelming the intimate quarters.
---
Anna is a New York-based writer and editor with a penchant for travel, design, and interiors.