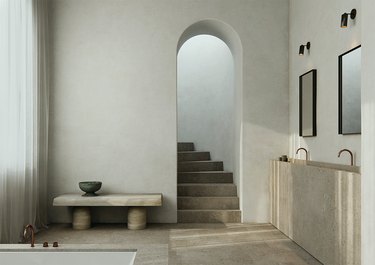 In need of a bathroom refresh? Consider adding a minimalist bathroom vanity to your design. The clean lines will end up feeling fresh, not plain and boring. And you can even experiment with interesting bathroom tiles and unique lighting when your sink area is simple.
In fact, whether you have a tiny bathroom or a spacious one, there are easy ways to implement minimalist touches without sacrificing function or personality. Doing something as simple as painting your vanity cabinets a deep blue shade can add color without creating chaos or clutter. Moreover, maybe you have the space to tuck a seat under the vanity — there's your opportunity to incorporate texture.
For more inspiring minimalist bathroom vanity ideas, keep reading. You can refresh your space without losing out on function and form.
1. Be intentional with your accessories.
Who wouldn't want to get ready in this fresh space from the Palm Co? The whole room is light, bright, and spacious. And the Scandi-inspired bathroom vanity with wood drawers? It makes things feel warm but uncluttered at the same time. That's, in part, because the vanity decor is sparse. To get a similar look, add a nice hand towel to your design and maybe some pampas grass. Other than that, though, try keeping the vanity free of unnecessary objects.
2. Go for something textural.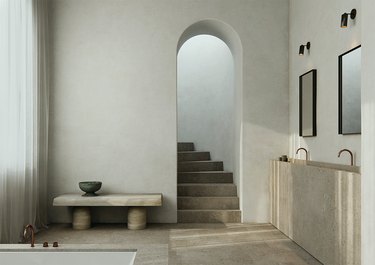 Any self-care routine you do in this bathroom would feel spa-worthy because the space is just that good. It's also proof a mostly beige area can be interesting. When you add in texture, you don't need a loud pattern or color. Don't believe us? Coat your own sink and cabinet space in an industrial-feeling concrete. The copious amounts of texture will make the minimalist vanity come alive.
3. Add seating.
This minimalist bathroom vanity is all about the chair in front of the mirror (but, yes, the marble floor is perfect too). And adding something like a chair or a vanity stool doesn't have to clutter the space. Opt for a simple style that coordinates with the other colors in the bathroom. We like this fur-covered stool because it lets the double vanity's clean lines stand out.
4. Keep everything in containers.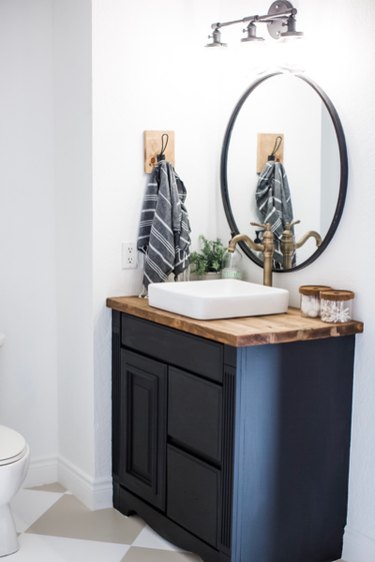 This minimalist bathroom vanity keeps it simple. The countertop is clear except for a few glass containers that hold essentials like cotton swabs and cotton balls. Pretty storage solutions like these will provide decoration but still be functional. And for bonus points, in an extra compact bathroom, paint your vanity a dark color. We like rich navies and black tones for adding some drama.
5. Use similar shades of the same neutral color.
To keep your sink and counter area as clean and minimal as possible, try sticking to a refined color palette. This bathroom, with a white backsplash, light gray cabinets, and patterned gray tiles feels very cohesive but still very understated.
6. Match all the materials.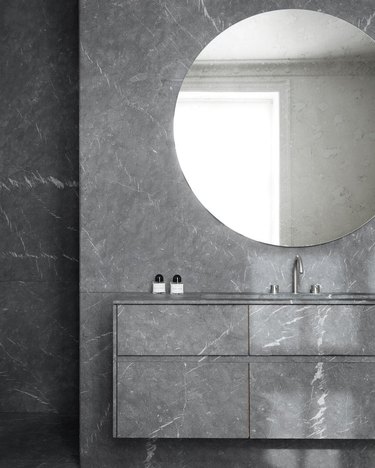 It doesn't get much more minimal than using the same color or material for both your bathroom walls and cabinets. In this bathroom, in particular, the walls and vanity all feature the same luxe marble. No wonder the design feels ultra clean and extremely minimal. If you can't replace the counters and cabinets in a rental bathroom, try a DIY solution. Cover them in marble contact paper instead.
7. Let the light shine in.
You have an advantage if your bathroom has large windows. All that natural light can shine right in. And with natural illumination, you can rely less on artificial light. That means fewer light fixtures to distract from your bathroom's focal point — the vanity. A modern minimalist vanity would do well in a brightly-lit bathroom as would a few indoor plants!
8. Make the mirror blend into the wall.
There is hardly any hardware to speak of on this minimalist bathroom vanity. The sink, the faucet, and the mirror all sit flush on the wall. What's the point of this choice? It makes everything look that much more sleek. And the large, thin mirror that spans the entire vanity doesn't intrude on the peaceful design.