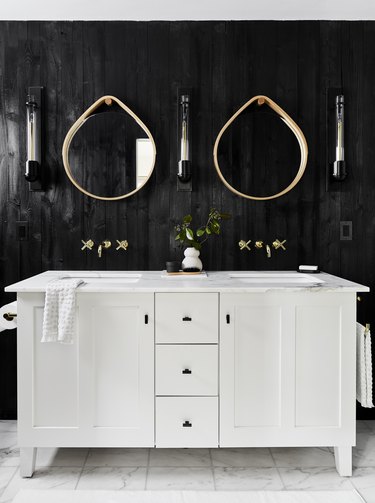 It's everybody's dream to have a double vanity in their bathroom (or at least it's ours). But once you've achieved that goal, the question is: What type of mirror will you hang above it? You can opt for a straightforward, traditional look — like square or rectangular — or pick a statement piece in an interesting shape. We're also big fans of playing with texture and even going the vintage route. When it comes to double vanity bathroom mirrors, you can choose pieces that emphasize your vanity's length or create the illusion of more space.
We've got you covered with 10 different ideas for double vanity bathroom mirrors.
1. Square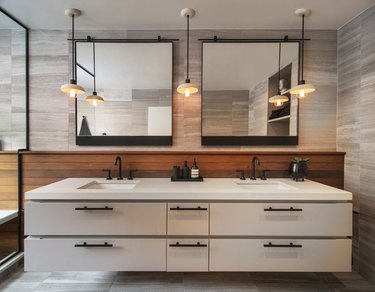 Keep things neat, orderly, and symmetrical with two square mirrors, as in this space by Dichotomy Interiors. The floating vanity adds a modern touch, and we're also loving how the mirror frames match the hardware.
2. Rectangle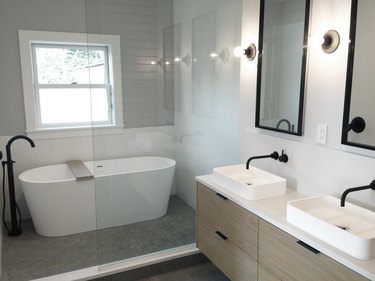 Rectangle mirrors, like the ones in this bathroom also by Dichotomy Interiors, are great for narrow spaces. They also work for a more minimal look, no frills necessary.
3. Oval
Like rectangle mirrors, oval mirrors are also great if you can't spare a ton of space. We love this farmhouse style one by Christine Zeiler Interiors.
4. Single Panel
Using a single panel mirror instead of two separate double vanity bathroom mirrors can make your powder room feel much larger. We love the how the vessel sinks and light wood create an airy vibe.
5. Full Wall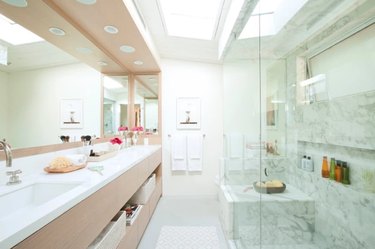 Want an even bigger illusion of space? Go for a full wall mirror, like in this bathroom by Gina Holz Interior Designs. An open shelf vanity keeps things tidy and pristine.
6. Amorphous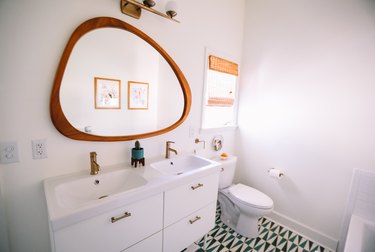 Who says you have to be traditional? Pick a single large mirror in a funky shape to create an interesting focal point.
7. Rounded Rectangle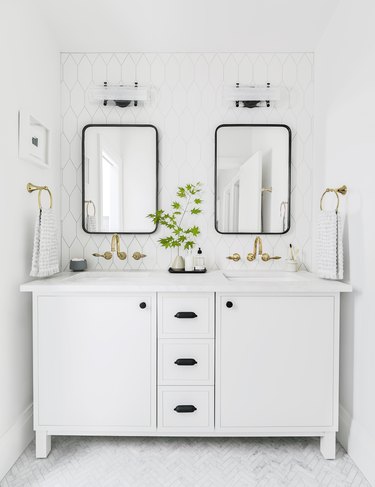 Much less harsh than straightforward rectangles, rounded rectangles are a great option for your double vanity bathroom mirrors. They can provide all sorts of looks, from feminine to retro. We like the bold black frames in this monochromatic space designed by Emily Henderson.
8. Tilted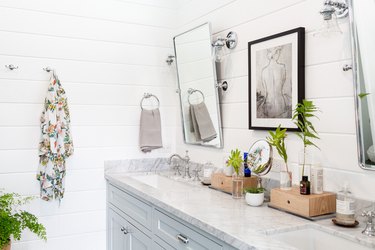 Give your bathroom some dimension with a tilted mirror. This space pairs cabinets in a light hue with lots of greenery and shiplap-inspired walls to create a relaxing atmosphere.
9. Teardrop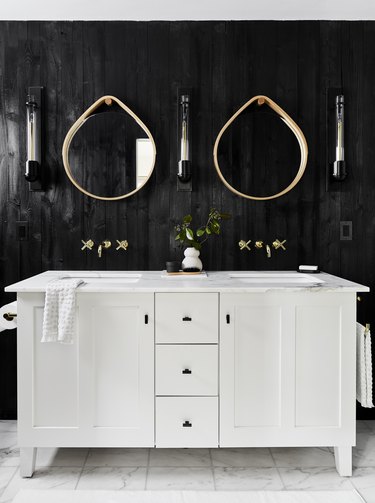 Okay, we'll let you in on a little secret — these are actually round mirrors with teardrop frames. Kudos to Emily Henderson for creating this illusion!
10. Hanging
In this farmhouse style bathroom by Chango & Co., the mirrors appear to be hanging like a vintage picture frame on a wall. It's a great way to create a classic yet modern style.