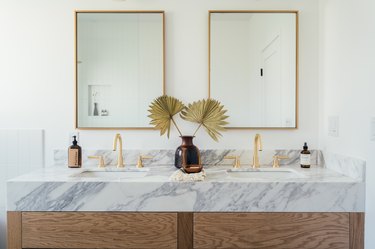 Attention homeowners: Never underestimate the power of a well-designed bath. Whether you have a sprawling, spa-like ensuite or a pint-sized powder room, your personal refuge is a great place to take risks. Sure, functionality is key in every bathroom renovation, but you also have to consider the style, too. From eclectic bohemian to pared-down midcentury modern, there is literally an interior design aesthetic for everyone — and we've taken a deep dive into the most popular bathroom styles to save you time, energy, and frustration.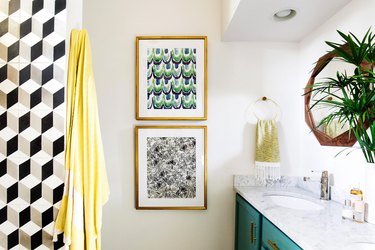 If your visual taste skews on the "more is more" end of the spectrum, try your luck with a bohemian bathroom. With a penchant for bold patterns, plenty of color, and light fixtures focused on natural textures, boho bathrooms throw the design rulebook out the proverbial window. You can pair unassuming pieces together for an unapologetically eclectic look. Want something slightly more polished? Dabito from Old Brand New shows us how it's done by mixing interesting patterns with vibrant colors (hello, aqua vanity cabinet!) and a dash of greenery.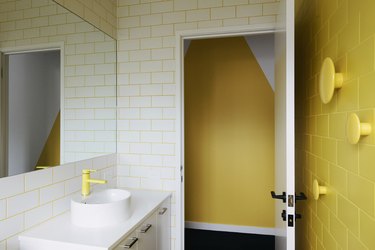 It's no secret we have a low-key crush on Scandinavian style. Between its pared-back silhouettes and energetic jolts of color, this style has earned a well-deserved space in our bathrooms. While Scandi-chic designs can come in many forms, we love the cheery flair Australian-based firm MRTN Architects brought to this small minimalist bathroom.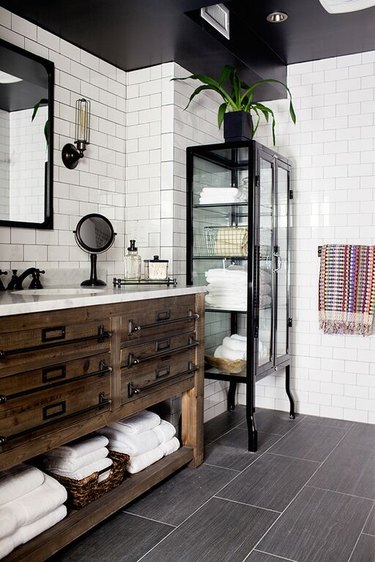 Anyone who wants to up their bathroom remodel's cozy factor should consider modern farmhouse style. Interior designer Amber Lewis teeters between charming and chic by pairing luxe marble countertops and lustrous brass finishes with natural materials including stone flooring, exposed wood ceiling beams, and wood cabinetry. If you really want to drive the farmhouse look home, consider a trough sink or shiplap wainscoting.
Bathroom trends may come and go but midcentury style is not one of them — this beloved retro aesthetic is here to stay. But how do you get that '50s and '60s-inspired look in a fresh and modern way? One place to start is with the tiling. The vintage green and black combo employed in this delightful design packs a big punch. Next, think about light fixtures — something with a globe-style shade or Sputnik silhouette will fit in perfectly. Finally, you can always up the ante with a vintage vanity cabinet.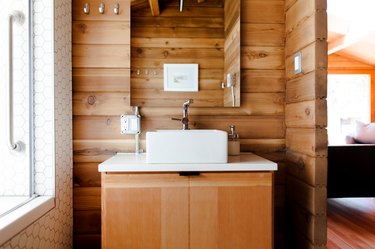 Rustic-style bathrooms have a lot in common with farmhouse style, but they tend to be a bit more woodsy or cabin-inspired. Think raw wood features, tongue and groove wall paneling, and earthy materials such as natural stone flooring.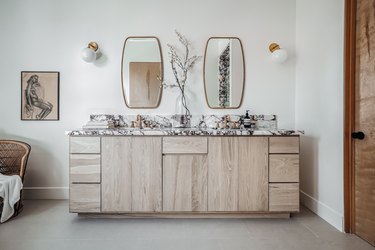 How do you define a contemporary style bathroom? With innovative ideas that challenge the status quo — like the dramatic marble countertop and backsplash paired with light wood cabinet sans hardware in this design. Look for interesting shapes, unusual colors, and streamlined light fixtures that add a hint of glam.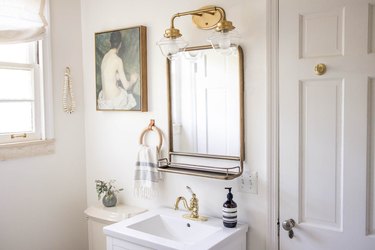 Dreaming of a classic bathroom space dripping with vintage charm? Then traditional style could be the perfect aesthetic for your private sanctuary. Imagine a scheme made up of a 1920s clawfoot tub, an oil painting (or two), and perhaps a midcentury vanity cabinet. Round out the look with timeless fixtures such as lighting and fittings that feel inspired by a different era. And if you're working with a small space, opt for a pedestal sink instead of a bulky cabinet.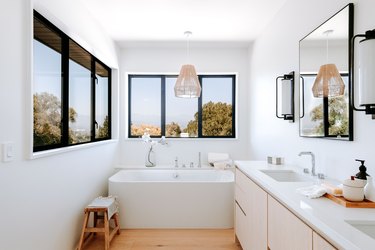 Looking for a style that feels sophisticated and not too busy? Consider modern design. Flaunting clean lines, simple colors, geometric shapes, simple fittings, and sleek light fixtures, this modern bathroom is striking yet timeless.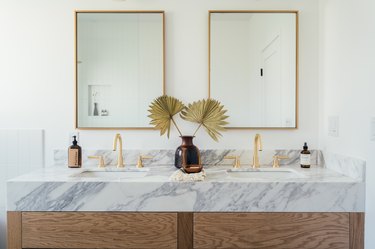 Craving a Mediterranean escape? Well, then you're in luck. You can easily transform your plain white bathroom into a relaxing, beach-chic paradise with the help of soothing colors, plants, and woven accessories. Complete the coastal look by keeping clutter to a minimum and the color scheme light and airy. And if you really want your bathroom to feel like a sanctuary, consider investing in a freestanding tub with a curved silhouette.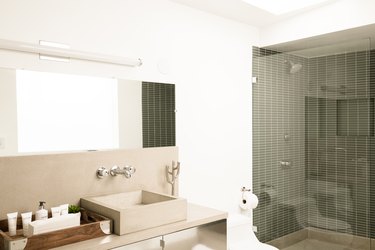 If you're drawn to clean lines and fuss-free details then a minimalist bathroom design will most likely be a perfect match. Not to mention, the pared-back aesthetic is a great way to force you to keep clutter in check, ensuring that at least one space in your house will be a relaxing, stress-free oasis.