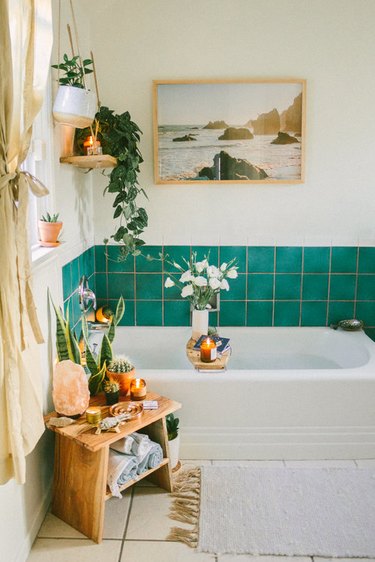 We love sleek, Scandinavian style and midcentury modernism as much as the next design lover, but we just can't resist a hint of bohemian rhapsody. There's something about the eclectic mélange of materials, patterns, and colors that never fails to put a smile on our face. Plus, the style has the power to turn any space into an easy, breezy oasis.
Yes, even your bathroom. If you ask us, this oft used space might be the best place to give the bohemian look a try. After all, very few things sound as soothing as taking a long soak surrounded by decor that screams relaxation. Looking for beautiful, bohemian bathroom ideas to inspire your next remodel? Scroll on for eight spaces that will do just that.
1. Ethereal Accessories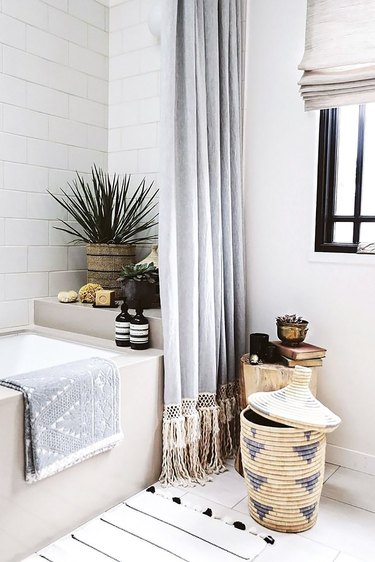 Want to bring a dash of bohemian spirit into your bathroom on a budget? Pick up some whimsical accessories. Kasie of Musings on Momentum outfitted her space with casually stacked books, a fringe shower curtain, and woven baskets.
2. Layer Up
3. Floor-to-Ceiling Style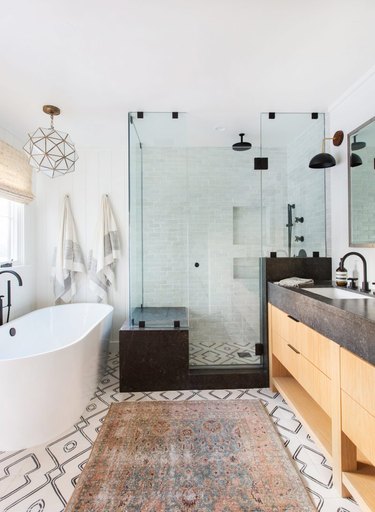 Take a cue from designer Amber Lewis and envelope your bathroom with an array of interesting pieces, like the multi-faceted pendant light, vintage rug, or patterned floor tile that she used to create an effortlessly chic refuge.
4. Pattern Play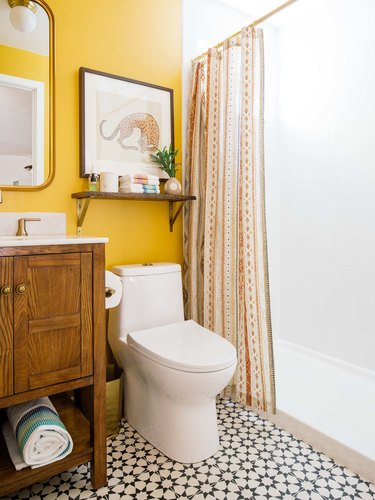 5. Rug Revival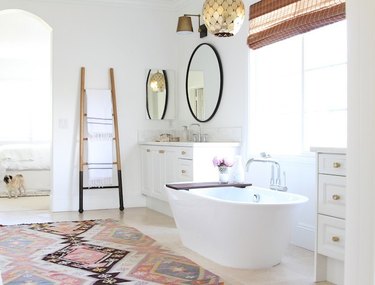 When in doubt, add a rug to your space. A rug — especially a Persian or a patterned vintage option — will transform any bathroom from blah into a beautiful, bohemian oasis. Let Becki Owens show you how it's done.
6. A Simple Start
If you're dipping your toes into the bohemian bathroom pool for the very first time, play it safe by adding a fun wall tile to your shower area. As this space designed by Shea from Studio McGee proves, it's a great way to inject a little boho-chic charm into your otherwise minimalist washroom.
7. Flower Power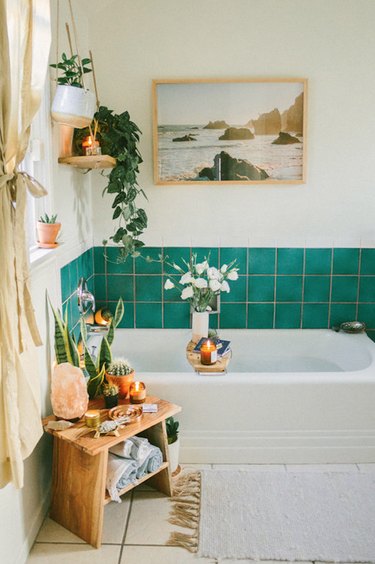 No bohemian bathroom idea would be complete without a few strategically placed plants. The range of hanging planters, succulents, and leafy greens in this bathroom belonging to Sara from Black and Blooms injects some much-needed life into the space — literally and figuratively.
8. Be Bold
Attention all maximalists: Now's your chance to go big or go home. We love the use of bold colors, patterned floor and wall tile, and rustic accessories in Justina Blakeney's aqua blue bathroom. Go ahead, be a little extra; that's what la vie boheme is all about.