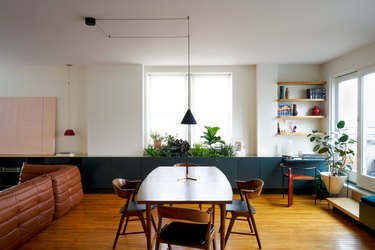 Some people bring their work home, but few bring their work into their home's design. For the Brooklyn apartment of a jewelry designer, her husband, and young son, General Assembly founder Sarah Zames took inspiration from her client's occupation, incorporating brass and jewel tones throughout the space. The client already had a robust collection of interesting furniture and lighting, so Zames worked to highlight her style and add storage that would showcase her collections. "We wanted the space to feel like it had been evolving over many years instead of one designer's idea of what the space should be."
The stars of the renovation are the new built-ins in the main living area and the bedroom. "Throughout the living and dining room the new millwork provides radiator covers, closed storage, open storage, a built-in planter near the dining room, and a bench by the door to the terrace," says Zames. In the bedroom, a wall is lined with storage, including a custom brass jewelry cabinet. Because the brass accents in both of the built-ins are un-lacquered, they will develop a patina over time and the finished space will continue to evolve for years to come.
---
Elizabeth Stamp is a freelance writer in Los Angeles. Her work has appeared in Architectural Digest, Elle Decor, and CNN Style.