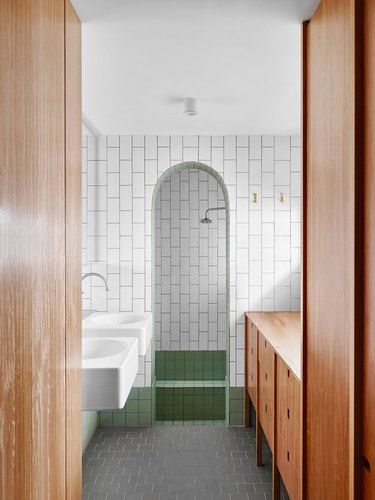 Whether it's a pop song or a love ballad, we all love a little bit of singing in the shower. Don't you? We CANNOT be the only ones who like to sing our hearts out to Lewis Capaldi's "Hold Me While You Wait" while we're getting ready in the morning. Don't worry, what we lack in vocal ability, we make up for in interior design know-how, such as the different types of showers you should consider for your bathroom reno. From alcove showers to walk-in showers, here's our helpful guide to help you decide on the perfect design for some quality scrubbing time.
1. Corner Showers
Pros of a Corner Shower:
Corner showers are ideal for small bathrooms. You can generally fit a corner shower in between two walls and still achieve a modern aesthetic. There are plenty of design options available, too — from a pre-fabricated unit that you can just drop in, to a custom build-out using your fave tile.
Cons of a Corner Shower:
Unless you have frameless door, you might have to deal with rust from the metal hinges. In addition, if you ever change your mind about the corner shower, you will have to reno your bathroom again. And while corner showers are cheaper and easier to install, a custom design can be expensive.
2. Alcove Showers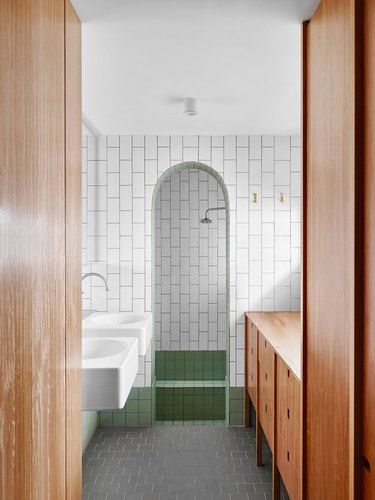 Pros of an Alcove Shower:
Similar to an alcove bath, an alcove shower takes up three walls of a bathroom and is a rather swanky design feature that requires a bit of planning. If you want to feel like you're stepping into a Moroccan hammam, this style will float your boat and add a feeling of luxury to your space. An alcove shower can be made to fit into most spaces, and allows you to easily put your own personal spin on the design with tile or glass.
Cons of an Alcove Shower:
Alcove showers will require extensive planning and work to get them right, and, as a result, tend to be expensive. You'll most likely need to eat up extra space in your bathroom, so you'll need a larger area to work with so you still have room for your sink and toilet.
3. Walk-in Shower
Pros of a Walk-In Shower:
A walk-in shower doesn't require a full-size shower stall, making it the perfect option for a smaller bathroom. It's a great way to make a space look bigger while allowing much needed natural light to flow through the entirety of the space. When it comes to design, you also have plenty of choices with a walk-in shower; you can opt for a quarter wall to divide the room, or a glass screen to keep the look seamless.
Cons of a Walk-In Shower:
The main disadvantage of having a walk-in shower is the risk of slipping, since the open nature of the shower design means that water is more likely to escape and act as a hazard. This same feature also means that the whole bathroom is likely to get very humid, which can dry out your skin and make the experience on a whole less relaxing.
4. Tub and Shower Combination
Pros of a Tub and Shower Combination:
Tub and shower combinations are something that you'll typically find in homes of people that want the best of both worlds, as well as rentals. Placing the shower within or near the bath will give you more options and keep costs to a minimum. If you still want a luxe look, you can go all out on the bathroom fittings to create a sleek finish.
Cons of a Tub and Shower Combination:
If you're part of a big family, this option only provides you with one area to bathe in, be that via bath or shower. Other designs will cater for a separate bath and shower so it's important to consider how you use the space. You'll also need to think about a shower curtain or screen, which aren't always as design-friendly as we would hope.
5. Open Shower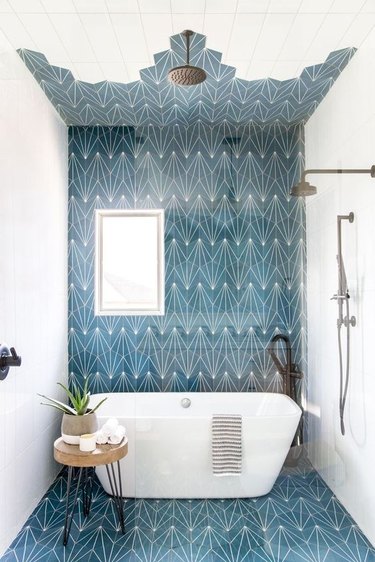 Pros of an Open Shower:
Open showers don't require walls or shower pans, making them the perfect option for minimalists. They barely take up any space and look pretty cool, too. Just think: you don't even need a shower curtain. They are space-saving, easy to use, and require the bare minimum of cleaning.
Cons of an Open Shower:
While it may seem like you don't need to do any structural work for an open shower, you will need to create a slope to ensure the shower can drain easily and to avoid water pooling on the floor. This can be done in a subtle way but will obviously come at a cost. Something else that homeowners rarely consider is how cold open showers can be. Remember, there's nothing to keep in the steam so if the space is large, you can end up with a little bit of a draft.