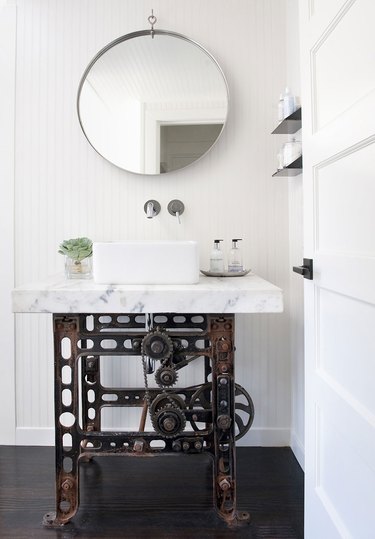 Industrial style embraces everything you'd find in a factory and more; just forget about the working machines and safety goggles. If you're thinking about the prospect of incorporating this aesthetic into your bathroom design, think white subway tile, natural wood, and concrete as well as slate, steel, and copper fixtures. For an easy, yet revolutionary update, here are eight industrial bathroom vanities that will have you exposing pipes everywhere_._
1. Champion untreated materials.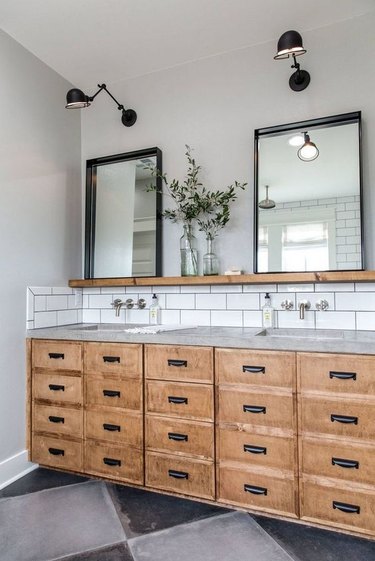 Industrial style is all about making the most of raw materials and showing them at their finest. Take a look at this bathroom designed by Magnolia's Joanna Gaines for a lesson in how to incorporate most of the above to create an industrial bathroom vanity that's modern, too.
2. Don't hide the pipes!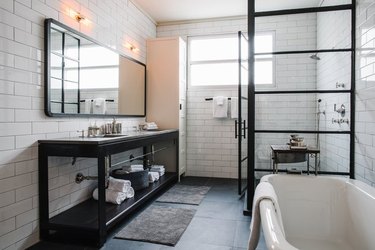 Exposing the pipework is all part of industrial style. Embrace it by incorporating a vanity that lets them act as part of the design, just like this beautiful steel number from Smith Hanes Studio. The oversize mirror above makes for a bold statement that will last the test of time.
3. Make something special.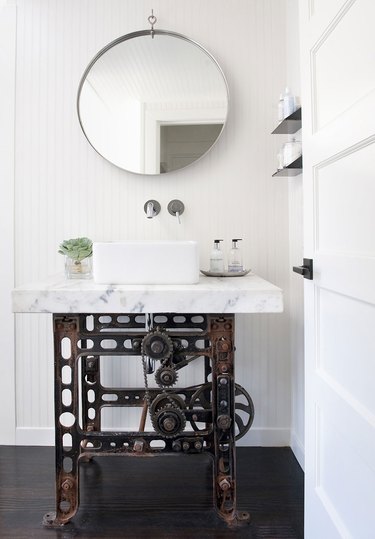 If you're after a bathroom vanity idea that's completely unique, head to your local blacksmith or salvage yard to discuss something a little more creative. The eye-catching piece in this space by Antonio Martins is made with an industrial base and topped with a beautiful slab of Carrara marble.
4. Add softer textures.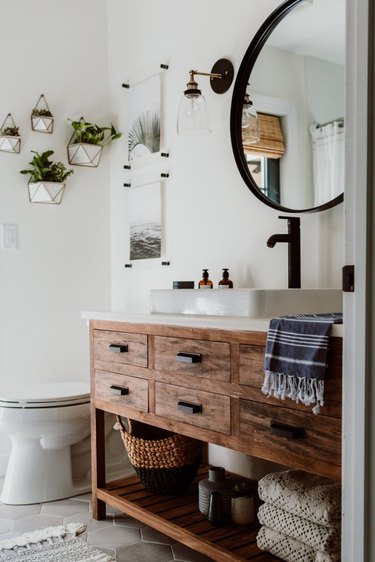 A lot of exposed wood and metal can start to look a little cold, so make sure you warm up your bathroom vanity with some much needed texture. A darker wood can often provide more contrast in a predominantly white bathroom; add some balance with woven baskets and fluffy patterned towels, just like Liz from Within The Grove.
5. Think about fixtures.
6. Keep the look raw but sleek.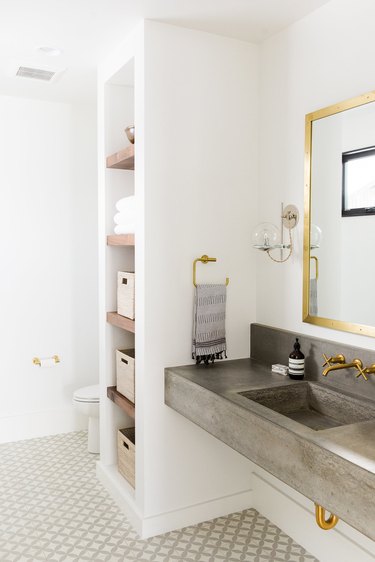 Just because you want an industrial bathroom vanity, that doesn't mean you have to have rough textures at every turn. The folks at Studio McGee have managed to keep the aesthetic in this design polished while still embracing some more natural components, such as concrete, which adds plenty of flair.
7. Incorporate a pop of color.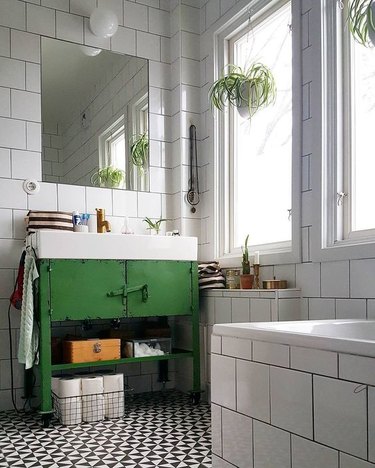 8. Repurpose something old.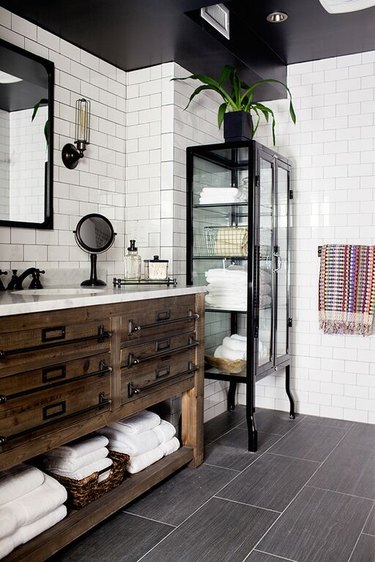 Creating an industrial bathroom vanity is the perfect way to get creative with old pieces of furniture, or just an excuse to head to your local antique store or flea market for a bit of shopping. Make your own vanity cabinet using anything from antique dressers, or a chest of drawers.