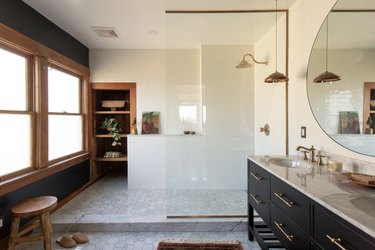 It's no secret that there are many design components to consider when it comes to renovating your bathroom — from flooring to backsplashes to bathtubs and vanities. As a result, certain details tend to get overlooked. That being said, turning your attention to your tub and shower fixtures pays off big-time when it comes to durability and functionality (no one wants to deal with corrosion!), as well as style. After all, isn't a long, relaxing soak in the bath or a hot, steamy shower with perfect water pressure the best way to recharge at the end of a long day?
But before you get to reap the benefits of a newly updated bathroom, you'll have to consider the basics: Will you opt for a handheld shower in a soaker tub, or a luxurious rain showerhead? Do you prefer a shiny polished chrome, matte black, brushed nickel, or antique brass finish? While the options are seemingly endless for designing a dreamy, traditional style bathroom, the time spent sourcing the perfect thermostatic shower system (and a highly recommended plumber) will be well worth it. Ahead, we're sharing seven traditional bath and shower fixture ideas, and we're pretty sure Nancy Meyers would love them all.
1. Stick with the classics.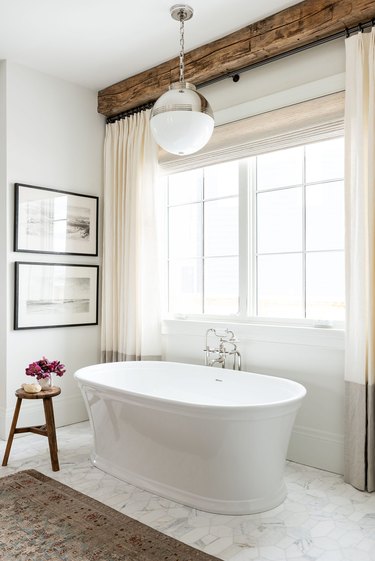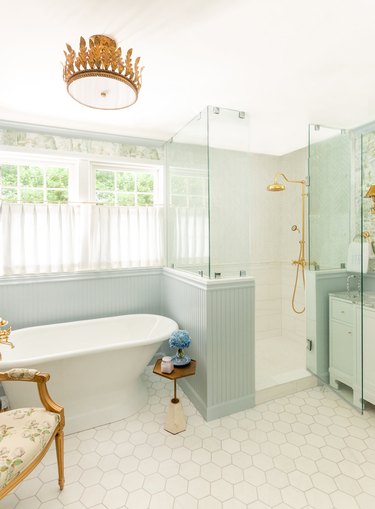 Brass may have become a hot trend in recent years, but it's been a timeless, traditional choice since the beginning. Here, Alexander Interiors pairs a brass wall-mounted showerhead with cross handles, white chevron wall tile, and a glass enclosure to create a bright and open space perfect for showering. The brass wall sconces complement the shower trim kit resulting in a cohesive look.
3. Create a feature with tile trim.
Carly Nemtean takes the guesswork out of making your showerhead a bona fide design feature thanks to a slide bar and tiled accent. To recreate the look, opt for a slightly varied marble tile pattern in the same stone as the shower walls for subtle definition.
4. Opt for both a handheld and rain shower.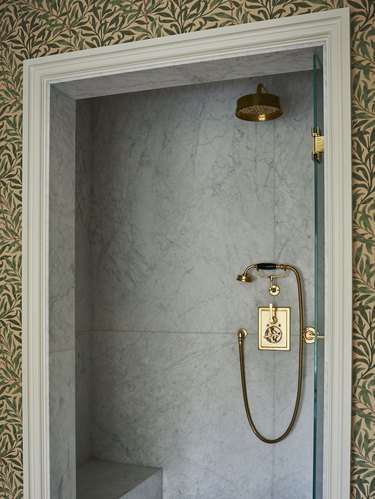 This stunning bathroom designed by Ben Pentreath combines form and function with both a luxurious rain showerhead and a beautiful, practical handheld option. Note the elegant way the shower hose hangs around the single lever handle — just like an old-school telephone. To recreate this look, frame the glass door of an alcove shower area with timeless, painted trim.
This classic bathroom by Studio McGee sports a simple and streamlined showerhead and shower faucet set with a single cross handle, sans the extra handheld accessories. To recreate the look, opt for textured tile and a subtle pink wallpaper design, then pair with a light gray countertop, penny tile flooring with dark grout, and a neutral Roman shade at the window.
6. Create opulence in a black and white bath.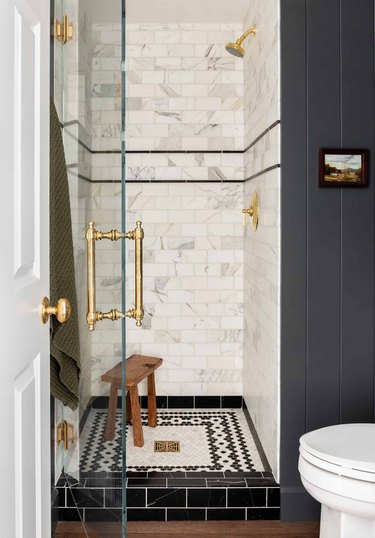 This classic black and white bath by Heidi Caillier Design gets a dose of high-end glamour with the addition of brass shower fixtures, which are echoed in the door hinges and handle. Adding a hint of warmth with a wooden stool allows the space to feel layered and inviting while still exuding a sense of luxury. The only way this shower could get any better is if it had body sprays, too.
7. Opt for a showerhead with curves.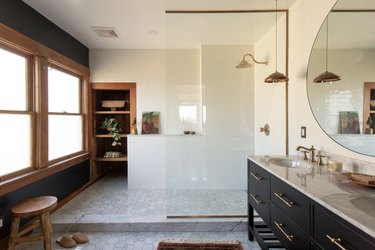 With a walk-in shower like the one from 1040 West Kensington, who needs a bath? The curvy arch of the wall-mount gooseneck shower arm makes a statement immediately upon walking in, adding a unique, sculptural element. Plus, the antiqued brass finish paired with rustic wood trim is the epitome of traditional elegance. Just keep in mind the importance of temperature control in an open design like this one when selecting fixtures.