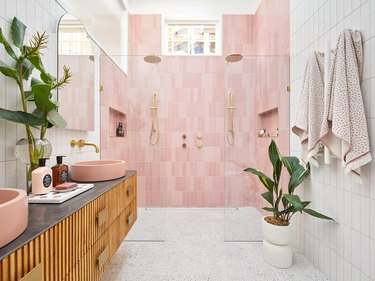 Pink bathroom tile has come a long way since its heyday in the '50s. First Lady Mamie Eisenhower, who was impassioned with the color, was largely credited for heralding it into popularity after taking a heavy-handed approach to redecorating the White House with it — so much so that reporters dubbed it "The Pink Palace." Naturally, the hue became a staple of midcentury design, specifically by way of a saturated shower wall tile.
Since then, the concept has seen its fair share of iterations including a retro reprisal in the '80s and an unwavering tenure brought on by the millennial pink trend, which has yet to really go away. These days, there is no shortage of inspiration when it comes to installing a classic pink tile in the bathroom and the rad showers ahead are picture-perfect proof.
The beauty of a clay or ceramic tile lies within its handmade quality, which can at times feature subtle tonal variations. The result is a dynamic finish — not entirely different from this striking scene designed by File Under Pop — where the natural light plays off of the glazed pink wall tile, creating the appearance of a tone-on-tone effect.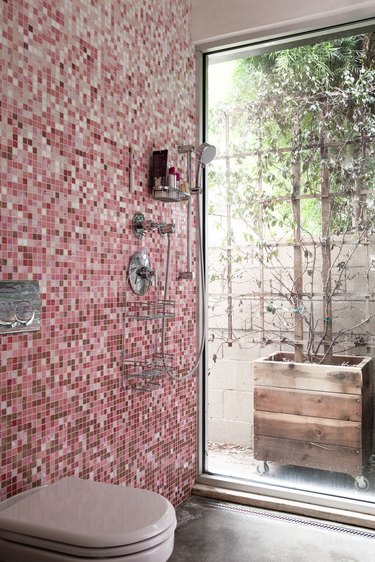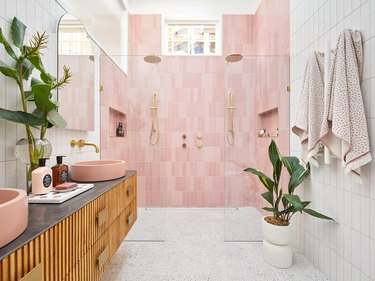 Not every pink tile design needs to entail a saturated version of the hue. Follow Katrina Lee Chambers' lead and embrace a light pink or pastel wall tile instead, for a more subtle take on the look. In this swoon-worthy walk-in shower, the designer kept things fresh with rectangular tile installed vertically. The color ranges from a soft blush to a darker pink adding depth, while warm metal hardware completes the dreamy scene.
Decus Interiors' approach to decorating with a light pink tile leaves little else to be desired. In lieu of the ordinary, the creatives opted for a statement-worthy cement tile from Popham Design that features an abstract motif to beautifully play off of the adjacent white, hexagonal mosaic tile wall. The floor-to-ceiling display captures the eye and sets the tone without overwhelming the thoughtful details that surround it, like the rose gold fixtures and marble wainscoting.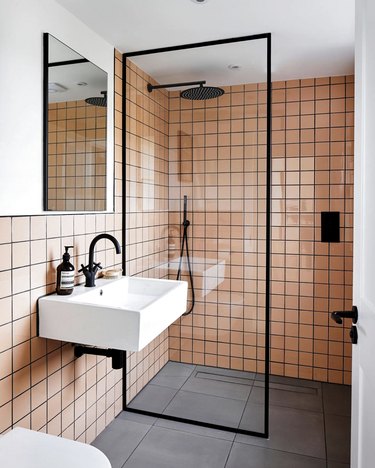 For an edgy take on classic pink tile, swap a muted grout in favor of something with a little more punch. The peachy-pink, square tiles in this ultra-modern bath, spotted on Dyke & Dean, feel entirely original thanks to the black grout, which not only matches the fixtures but the hardware as well.
If pink shower walls aren't exactly your style, switch things up by designating the hue for the floor instead, and allow that to be your focal point. This Scandi-chic spot is a perfect example of how impactful a pink ceramic floor tile can be — especially one with an intricate pattern. Note how it instantly elevates the white subway tile walls.
When it comes to pink shower tile design ideas, deviating from the run-of-the-mill square shape can be a simple way to introduce a fresh perspective. Tierney Terrace's geometric jungle-inspired bath features an even split of leafy wallpaper and rosy tile. The potted plant and graphic flooring extend the perfect dash of contrast.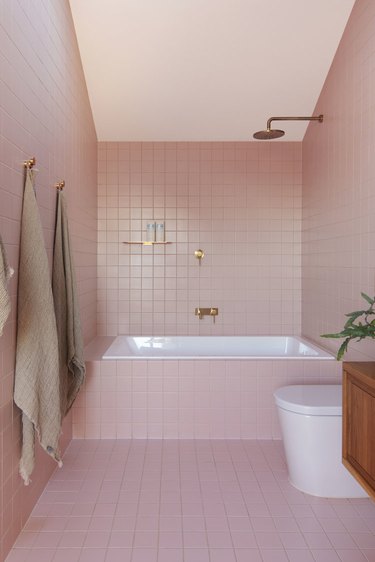 If your idea of a pink shower includes a wall-to-wall pink tile (that also extends down to the floors), allow this dreamy oasis by Mania Architecture to serve as inspiration. Channeling the retro, light pink square tile trend of the '80s, this contemporary update is made new with sleek brass fixtures and a totally minimalist vibe.