Looking for tone on tone paint ideas, and not sure where to start? Well, you're in the right place. It's fair to say that we've been obsessed with this color trend for a while now. After all, it creates a maximal impact with minimal effort.
And if you're ready to create a tone on tone look at home, you'll need to choose two (or more) hues from a similar color family. Then begin to layer. Think window frames that are slightly darker than the walls or a fireplace painted in a shade that contrasts with decorative molding.
Want even more inspiration? These ideas will make your home 50 shades of colorful.
1. Match your cabinets to the walls.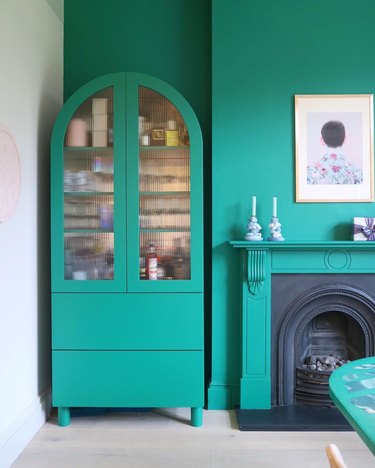 To make an easy statement with tone on tone colors, paint your furniture in a hue that matches the walls. We think a bookshelf or armoire in a slightly lighter shade would be perfect, but we also love how the interior designers at 2LG Studio remixed the look in their home. They matched this storage cabinet, which was created by John Lewis of Hungerford, to the emerald walls and inky green fireplace.
2. Give your mantel a boost.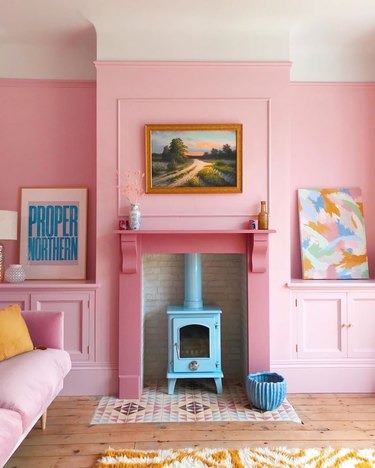 Fancy a simple way to get the tone on tone look? Find the focal point in the room (if you're lucky it will be a fireplace or mantel), and paint it in a darker tint than your walls. We love the pink shades that Jess and Rick of The House that Colour Built used in their vibrant living room. The textured velvet sofa and bubblegum artwork seal the deal.
3. Try tone on tone walls.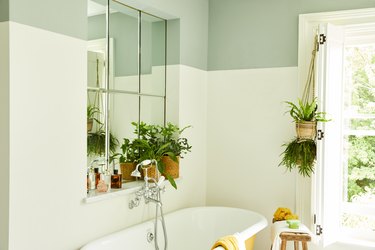 We can't deny that we're fans of a bathroom with a tone on tone paint job, and this refreshing green washroom has a great one. Use painter's tape to divide your walls and prevent paint drips. Then try a darker shade on top for a look that's a little more unique.
4. Highlight special features.
In addition to the obvious areas in a room that could benefit from a lick of paint, think about features such as breezeways and baseboards, too. Coating them in a tonal shade could add depth and dimension to your space. Take this dressing room from interior designer Em Gurner. It has a slightly darker shade of pink on the door's inner archway to add interest and contrast.
5. Make your doors stand out.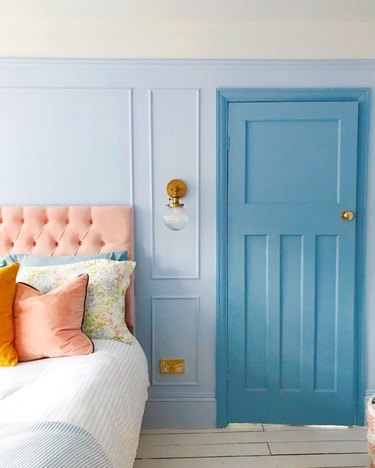 Doors and door frames are often forgotten during the renovation process. But truthfully, they can add a lot of extra oomph to your design. This pastel blue bedroom has been elevated with a darker shade on the door and trim, perfectly demonstrating the power of tone on tone color.
6. Don't neglect the windows.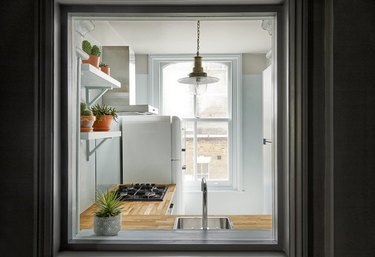 Painting your walls, window trim, and kitchen cabinets in similar tones will give you a fresh and contemporary look that's perfect for smaller apartments. There's no need for the colors to be bright and bold either. This kitchenette uses cool tones with only a little contrast (note the darker shelf brackets) to pack a punch.
7. Say yes to a tonal paradise.
If you want to go one step further with your tone on tone design scheme, make sure all of the furniture and decor coordinates with your paint colors. Child Studio created a pink paradise in London, plant-based restaurant Humble Pizza by matching the pastel two-tone walls with a pink banquette, pink textiles, and pink dishes.