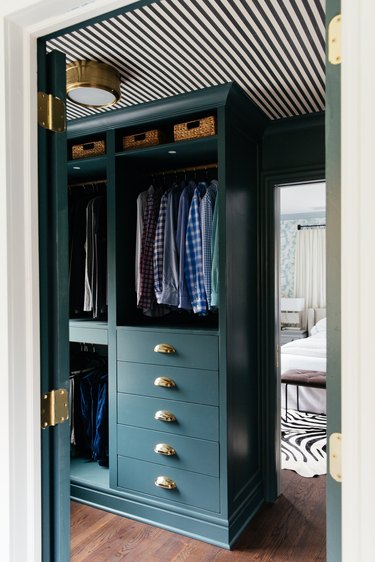 In need of a wardrobe overhaul? You already know the first step: Take everything out of your closet, scrutinize each shirt and pair of shoes, haul bags to the donation bin, and organize what's left. But then, you'll need a closet good-looking enough to display your perfectly edited wardrobe, and no, your average overstuffed reach-in won't cut it. If it's bedroom closet ideas you need, look no further: Here are seven of our favorite walk-in, reach-in, and freestanding wardrobe transformations ever. Take a peek (and borrow some inspiration for your own closet).
1. This Teeny Tiny "Walk-In" Bedroom Closet Idea
This bedroom closet idea started as a slim reach-in with a typical shelf-and-rod combination, until blogger Meg Biram realized the walls were preventing her from actually reaching many of her clothes. So she retrofitted it into a sort of semi-walk-in, with bars hung front to back on each side of the closet and shelves straight ahead. Lesson learned? Rethinking the set-up of a standard reach-in can make it more efficient and usable for your needs. (A coat of dramatic black paint doesn't hurt, either.)
2. This Well-Curated Reach-In Bedroom Closet Idea
This is a simple little reach-in style bedroom closet idea, but we love it for its simplicity and order. Instead of jam-packing it with clothes and a mountain of shoes, Caroline Joy (of the blog Un-Fancy) keeps it neat and well-curated, where boots and favorite hats are on display, not jammed in. Keep your wardrobe tightly edited and have a place for everything, so that picking out a pair of jeans for the day feels like shopping from a favorite boutique, not digging through a pile of crumbled laundry.
3. This Glam IKEA Hack Bedroom Closet Idea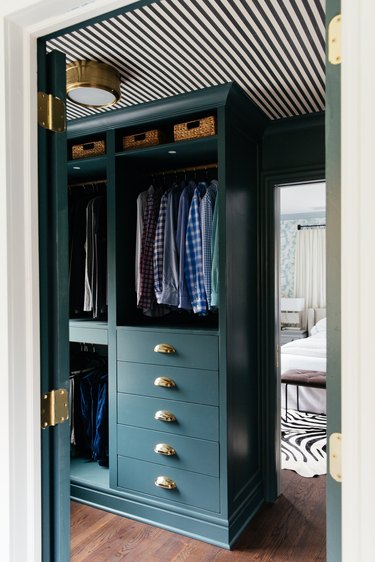 4. This Unused Space Transformed Into a Luxe Walk-In Bedroom Closet Idea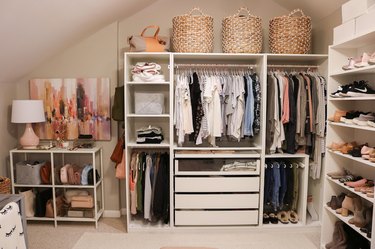 This space only looks like a massive walk-in closet: It actually started as an unused loft space in the home belonging to Lauren of Lauren Loves. She fitted it with, yes, IKEA's Pax system, added some oversized baskets for out-of-season items like scarves and bathing suits, then added a few luxurious details — a rug, settee, and side table with beauty essentials — to make it feel more like a dressing room than a closet. If you have an unused space in your house, hang some simple shelves and rails, add a mirror, and a place to put on your shoes, and presto: You too can have a glamorous dressing area.
5. This Rustic Open Bedroom Closet Idea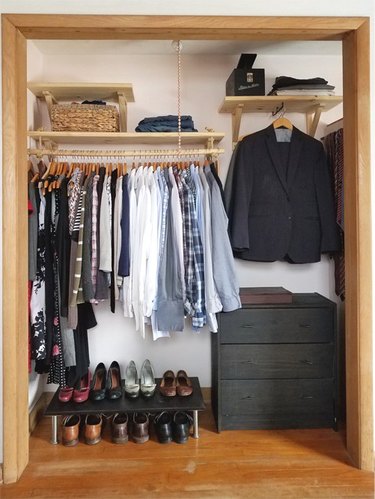 A former reach-in closet belonging to Christina from Little Victorian got stripped of its basic single rod and outfitted with rustic open shelving, a back-to-front rail for jackets that makes use of the depth, and even a petite set of drawers. If you're dealing with a tight reach-in closet, take the doors off to instantly free up a little more space. (Just be sure to hang onto them if you're a renter!)
6. This Charming Wallpapered Walk-In Bedroom Closet Idea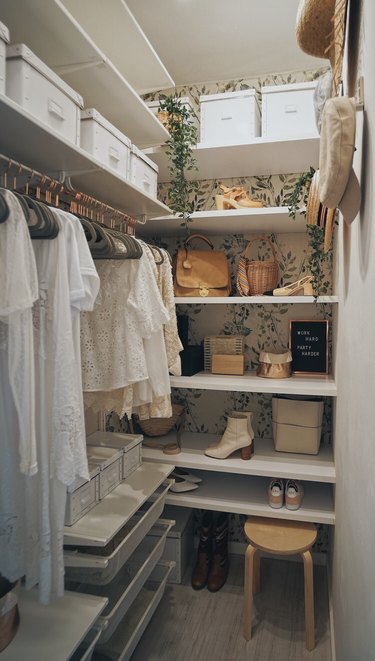 Who says the inside of a closet has to be plain white? This petite walk-in closet by Spanish blogger Macarena Gea is wallpapered in a sweet floral pattern, lending a pretty backdrop to clothes and accessories. For a similar look, cover just the interior of your closet in removable wallpaper. Go big and bold or subtle (statement doors optional). Another stellar bedroom closet idea? Paint the inside walls a bright or pastel hue. Your closet will be beautiful enough to leave open at all times.
7. And This Accessories-Only Bedroom Closet Idea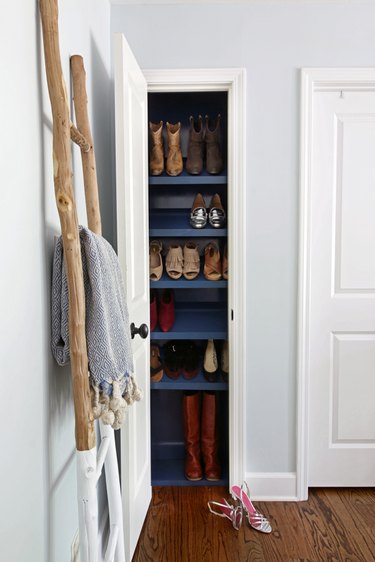 You don't need to have a huge walk-in closet to put your accessories on glamorous display. Case in point? This super-skinny bedroom closet dedicated just to shoes. It might seem like a luxury to devote a whole closet to accessories, but really it's a smart way to put a tiny sliver of awkward, unused closet space to good use. Just add shelves (slightly tilted, to glimpse your shoes at their best angle). And think of it as a display, not storage: You'll be more likely to keep it neat, not overflowing. (A wash of jewel-toned paint makes it feel extra glam, too.)