Minimal closet space can be a major issue whether you live in an old house or a modern tiny apartment. In either case, storage space is at a premium. Forget about overstuffing those closets; that only makes it harder to find what you seek when you're pressed for time. Instead, adopt a few simple hacks to maximize the potential of every closet. The end result: a tidier, organized space that makes finding things a stress-free process.
Declutter Before Anything Else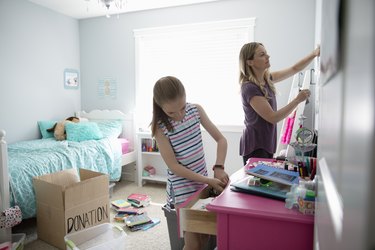 It's not really possible to do a good job organizing when the closet or storage area is packed full of your belongings. Decluttering is a must before virtually any organization project. Empty the closet, or at least the items cluttering the floor and shelf areas, depositing things into separate piles or box. Designate one pile or box for "back into closet," one for "belongs elsewhere" and one for "donate." Keep a trash bag or bin handy to discard items along the way. Place the items that belong elsewhere in their proper areas. Then, go through the remaining items in the closet and get rid of anything that's no longer needed. In bathroom or kitchen storage areas, throw away anything that is beyond its expiration date. Finally, vacuum or wipe down all surfaces within the closet.
Simple Wood Shelves
A well-organized clothing store generally utilizes wall space for extra storage, as racks and hangers take up a lot of space. A small bedroom closet is a lot like that store, in that there isn't enough hanger space for everything. Instead, opt for a series of shelves suited to the items at hand. Shelves are also ideal for items that don't have to go on hangers, such as jeans, sweaters and T-shirts. Shelves are also perfect in just about any closet around the house. Purchase pre-made, pre-cut shelves and their brackets from a home improvement store, or cut your own boards from lumber or scrap wood you may have on hand. To ensure no wall damage, attach the shelf hardware to studs or use wall anchors rated to handle heavy weight. Maximize storage in a closet by adding shelves up above the closet rod, as space permits.
Bookcase Cubby Storage
Bookcases and cubby-style storage cabinets offer space for everything from jeans to blankets, shoes, towels and toys. Fold sweaters and stack them neatly to prevent hanger marks and stretching. Spare blankets, pillows and towels are also perfect for bookcase storage. Shoes and boxed toys or games also benefit from bookcase-style organization.
Fabric Storage Bins
Storage bins made of fabric offer an attractive way to store your stuff. Open-topped options are ideal for storing socks or shorts in a child's room, for instance, on shelves low enough for your child to reach. Lidded storage bins sturdy enough to stack will help maximize the amount of space available on every shelf. Label the front of each bin to make it easier to find things. These bins are perfectly suited to storing on bookshelves or any other form of closet shelving.
Repurposed Old Dresser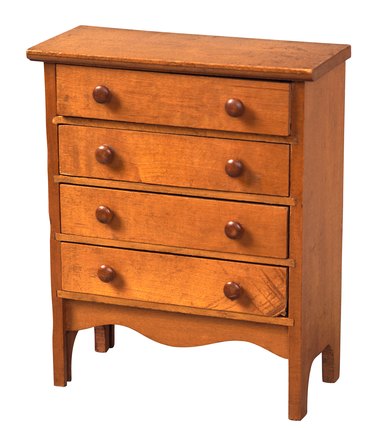 Dressers are a great option for clothing storage, even in a closet. Measure the closet door opening, as well as the depth of the closet, to ensure a dresser will fit. For instance, you can repurpose a child's dresser to store athletic wear and winter clothing in a teen's closet. Sturdy vintage dressers found at yard sales are ideal for closet use. Just refresh the old piece with a modern, pleasing paint color to make the piece a welcome addition in any bedroom closet.
Wire Closet Systems
Wire shelf systems offer complete customization options, even after they're installed. Once the horizontal hang track and vertical shelf standards are secured to wall studs, the rest is a breeze. Numerous holes along the shelf standards allow you to set the hanger bars, which hold the shelves up at any height. Add-on pieces such as baskets attach to the wire shelving without any additional tools. Shelves and baskets are rearrangeable, so you can move them around as storage needs change.
File Cabinets
File cabinets and similar slender options, such as lingerie chests, offer another simple option for maximizing space in even the narrowest closets. Short two- or three-drawer file cabinets can be placed side by side or even at opposite ends of a closet, still low enough to be out of the way of the items on hangers above them. A taller narrow cabinet is perfect for a closet with a space beyond the side of the door that is otherwise hard to access. Position the cabinet with its back along that side wall, drawers opening sideways into the closet, for easiest access.
Customizable Pegboard Perfection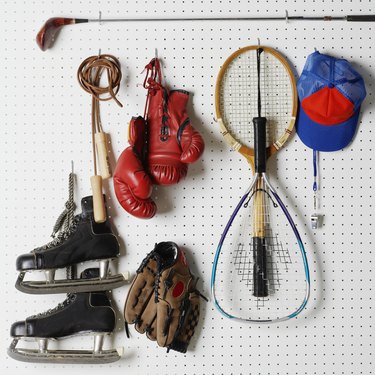 A pegboard offers a great way to store items that don't really have a place of their own. Install a pegboard on the back of the closet wall or on the inside of the closet door. In the bedroom closet, hang necklaces, scarves, belts, baseball caps, bracelets or ties from hooks installed on the board. Options abound when it comes to pegboard accessories, so feel free to install long or short hooks depending upon available space and storage needs. A pegboard is also an excellent option for small-space storage of sports gear or kitchen tools.
Repurposed Towel Bars
Towel bars and rod-style paper towel holders are also great at adding a little extra storage space in a closet. Install either one on the inside of a solid wood door, or on the wall inside the closet, attached to studs or anchors. Use the bars to store belts, scarves, necklaces or even baseball caps.
Over the Door
Over-the-door closet organizers come in just about every option imaginable, from plastic shoe-storage bags to hefty wire baskets designed to hold cleaning supplies, pantry items or even a hair dryer. Visit a department store or home improvement center to pick out options for just about every closet or cabinet door in your house. For a tall closet door, maximize storage space by opting for a system with multiple baskets or holding areas. Those plastic shoe organizers are also great for holding gloves, socks or even swimwear.
Coat Hooks Galore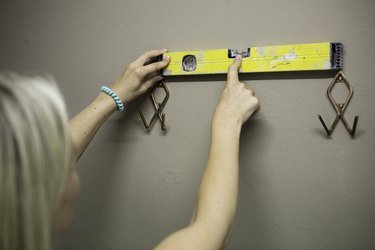 Coat hooks instantly add extra storage space to a closet. If your closet has any wall space that's not used and still easy to access, install a few durable coat hooks 4 or 5 feet up. Use a stud finder to locate a stud and secure heavy-duty coat or towel hooks on the studs. Otherwise, use wall anchors to support the hooks. This helps ensure that no matter what you hang on each hook, the wall behind it can support it.
The Closet Office/ Craft Station
Even a small closet can be reworked into a functional home office or crafting workspace. Build a tiny desk made from a sheet of plywood or an old countertop screwed onto two small filing cabinets. Or, make yourself a Murphy desk that mounts to the wall and folds out when needed. A Murphy desk is basically a wooden box or frame with a hinged lid. Mount the framework to wall anchors in the closet so the lid folds downwards, opening horizontally into a desk. Add screw-in legs to the front of the lid for added support, if desired. Maximize the rest of the closet space with pegboards, wall-mounted magazine racks to store folders, and plenty of shelves, outfitting the space to its purpose.