From everyday essentials such as pots, pans, utensils, and dishes, to cumbersome appliances — mixers, blenders, and coffee makers — kitchens are equipped with a seemingly endless list of tools and gadgets that need a home. Without a proper storage and organization plan, your cook space can easily feel overrun.
Organizing your kitchen cabinets is similar to organizing any room in your home, and before you put permanent practices in place, it's always a good idea to take stock of what you have and pare down. Say goodbye to warped baking sheets, that egg slicer collecting dust in a drawer, and the pretty but cracked platter in your cupboard. Then get creative with your space — employ trays, baskets, and oft-overlooked real estate such as the walls and cabinet doors. Having a dedicated spot for all of your culinary tools will streamline your life, guaranteed. So if you're longing to learn how to properly organize your kitchen cabinets once and for all, read on!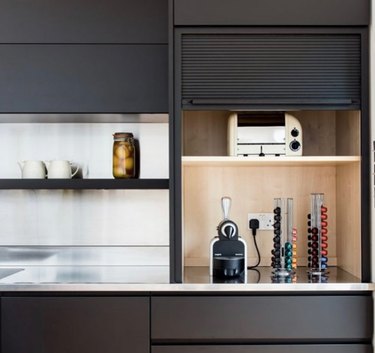 If you're embarking on a remodel, consider the cubby — cabinets with retractable fronts that provide an integrated storage solution to house oversize staples without the spatial impact of traditional cabinet doors. Sola Kitchens designed one in this contemporary space that seamlessly masks a coffee station and toaster.
2. Add a pull-out feature.
Pull-out drawers attach to the insides of existing shelves and enable you to easily see and access pots and pans; even those way back in the depths of your cabinets. Organization expert Shira Gill installed these in her client's kitchen for the ultimate storage and organization solution.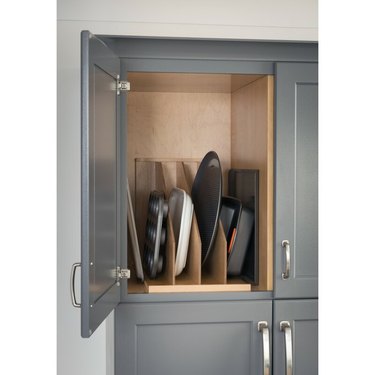 To stack or not to stack, that is the kitchen storage and organization question. Oversize items such as platters, cookie sheets, and cutting boards are notoriously challenging to store, and stacking them on top of each other is precarious at best. Dividers, like this store-bought option, streamline kitchen cabinet woes with a functional, easy-to-extricate solution.
4. Make nice with under-the-sink scaries.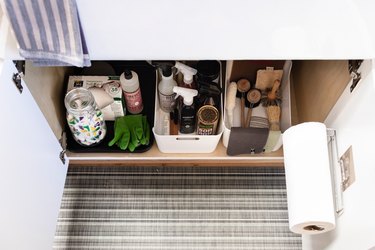 Are you frightened by the situation under your sink? Face your fears and tackle this ominous area with a few hardworking tricks. First, divide all of your essentials into groups, and then get rid of bulky bags and boxes by transferring products like dishwasher soap tablets into glass mason jars. Next, place the cleaning sprays and liquids in one bin and corral your sponges and dishwashing cloths in a separate basket. While you're at it, consider mounting your roll of paper towels to the cabinet door, which looks tidy but also has the added benefit of opening up valuable counter space.
5. Bring order to open shelves.
While not quite a cabinet, mastering the art of organizing and displaying dishes in a layered and artistic way takes time. Even if you've embraced open shelving as an alternative to cabinets, you might be seeking tips on organizing this popular, yet tricky, storage solution. Start with beautiful hand-thrown tableware, then create groupings of similarly shaped dishes, punctuating your display with texture and color.
Bring a semblance of order to the everyday utensil drawer with off-the-shelf drawer dividers (or go big and splurge for something custom). They're an attractive way to keep your kitchen drawers neat and tidy. Not to mention, it will make setting the table and emptying the dishwasher a breeze.
7. When in doubt, decant.
Decanting isn't just for wine: It also refers to transferring dry goods from bulky packaging into a variety of attractive plastic and glass vessels. If you aren't convinced this is worth the effort, just peep this dream-like pantry by the experts over at The Home Edit. Then get busy with your label maker so you can keep track of your grains.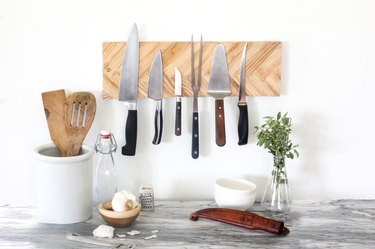 In kitchens, where space is at a premium, a wall-mounted magnetic strip (learn how to DIY this beauty here) is a hard-working kitchen storage and organization solution. It keeps knives within arm's reach, while also freeing up valuable cabinet real estate. Plus it just looks plain purty.
9. Embrace the storage basket.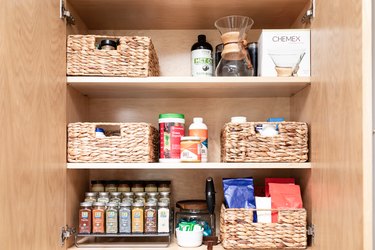 Baskets and bins work wonders at corralling miscellaneous items into purposeful and attractive groupings. You're probably familiar with using them in bathrooms and offices, but petite bins are also an effective way to organize kitchen cabinets, too. Look for low-profile, woven, or clear varieties to make finding essentials a breeze, while still remaining tidy.