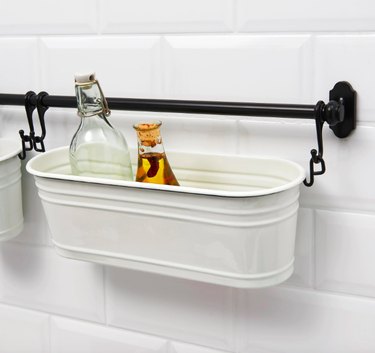 Hunker may earn compensation through affiliate links in this story.
Most of us will find just about any excuse we can to avoid deep cleaning the kitchen (including the editors here at Hunker), much like we will find any excuse we can to avoid hitting the gym. We know we'll feel better for it, but rarely is that enough to push past the initial dread of actually completing the task at hand. Good news: There may be hope for us still.
You know the sudden excitement that washes over you after you put on your brand-new workout top or fetch your new running shoes from the mail? The same thing happens when you finally find a functional, aesthetically pleasing way to stash your cleaning products. Honestly. Don't be alarmed if you find yourself looking for reasons to clean your oven just so you can ogle your cute storage caddy. Ahead, we've compiled four tried-and-true ways to store your kitchen cleaning products that don't sacrifice form for function.
1. Hanging Wall Storage
2. A Rolling Cart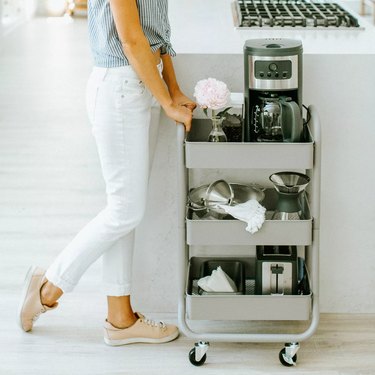 Opt for a rolling cart with a hint of vintage flair, which can be easily moved wherever you need it most. Style it with a vase of flowers to make the cart feel even less utilitarian and store dishwasher pods, baking soda, and white vinegar in glass canisters for a clean, streamlined look.
3. Sleek and Functional Storage Caddy
A minimalist storage caddy can be tucked neatly under the kitchen sink for concealed storage that is still designed well enough to put on display. Corral sprays, soaps, powders, and sponges in one place so all the essentials are within immediate reach — no more digging through pantries and cupboards!
4. Over-the-Door Pantry Rack
When you're really tight on storage space, there's no better solution than an over-the-door pantry rack. This solution offers arguably the most storage of any, without taking up an ounce of square footage or cupboard space. Use glass canisters to house sponges and washcloths, keeping each shelf neat and tidy.