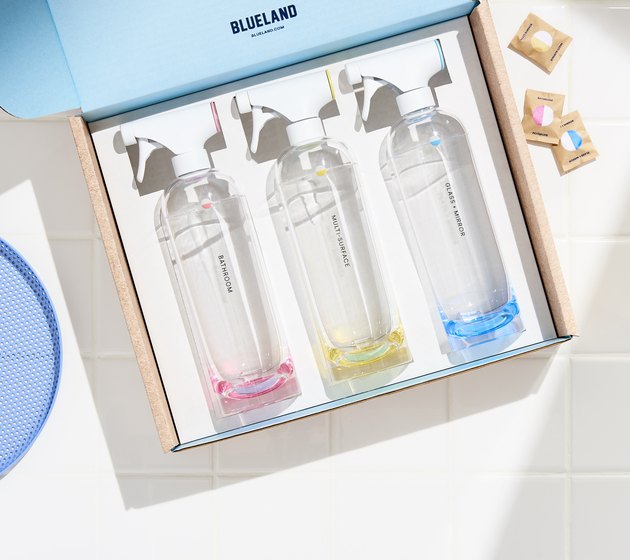 The conversation about plastic waste is finally starting to get real, thank goodness. Increasingly, I'm becoming more aware and uncomfortable with just all the STUFF in my life. The Costco trips, the amount of plastic that you can't avoid accumulating on grocery runs, the Amazon packages.
But it's always this feeling of "change needs to happen on a massive level" and how can I be part of the solution? Like, I'm not going to not order items from Amazon, you know?
Blueland is the first company to make me feel like I can actively reduce my own waste. The new startup offers three cleaning products — a glass cleaner, a multi-surface cleaner, and a bathroom spray — that are created via little compressed powder tablets. How it works: You get your "forever bottle," which is shatterproof and extra durable. Then you drop in the appropriate tablet, fill with water, and your cleaning solution is made. When it's done, you keep the bottle and order a refill tablet, which costs $2 or less. (A starter pack that includes bottles and tablets for all three solutions costs $29. If you just want a single cleaner, a kit is $12.)
My reservation with Blueland stemmed from abandoning the cleaning products I'm used to and that I feel work. But in the last month, I can't say I've noticed any difference. The glass cleaner, for example, left our smudgy coffee table pristine.
The almost equal bonus is that the solutions are nontoxic. And a perusal of Blueland's website made me rethink some of the antibacterial products we use so frequently in our home; what I hadn't considered were the chemicals lurking in those packages that seem "green." Here's what Blueland has to say: "There are many studies that confirm that antibacterial cleaners do not clean better or kill more harmful germs than non-antibacterial cleaners."
To summarize: minimal waste, nontoxic, and cheap. And the bottles are actually kind of cute? I'm in.
---
Leonora Epstein is Hunker's Senior Director of Content. She has previously served as Executive Editor at HelloGiggles and as BuzzFeed's Deputy Editorial Director. She is the co-author of "X vs. Y: A Culture War, a Love Story" (Abrams, 2014). Feel free to reach out at leonora@hunker.com.
View Work