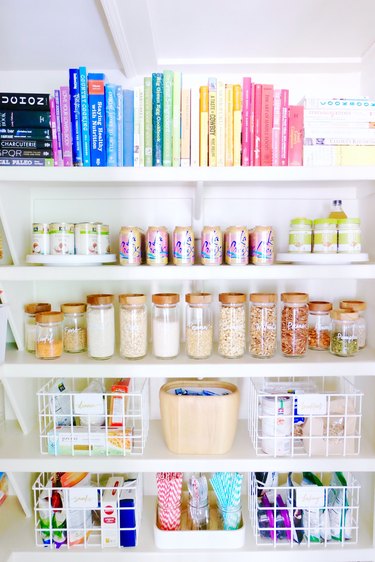 The pantry is among the most neglected places in the home. But just because it's not a focal point doesn't mean it should be overlooked. With a few smart solutions you can turn even the smallest space into one that's big on style and functionality. We've gathered 14 clever ideas to help you make the most of your tiny pantry closet.
1. Ditch plastic.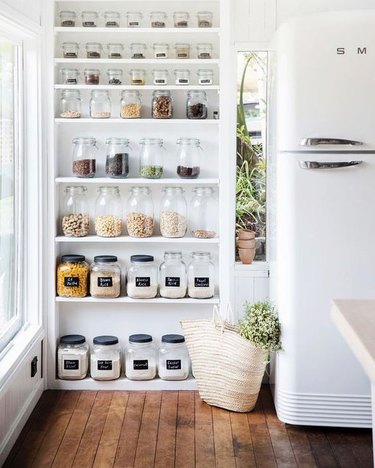 Need a compelling case for going green? This setup features hermetic glass storage jars in varying sizes for a modern and streamlined effect. Bonus: Your food will stay fresher longer thanks to the airtight bail and seal closure.
2. Utilize the door.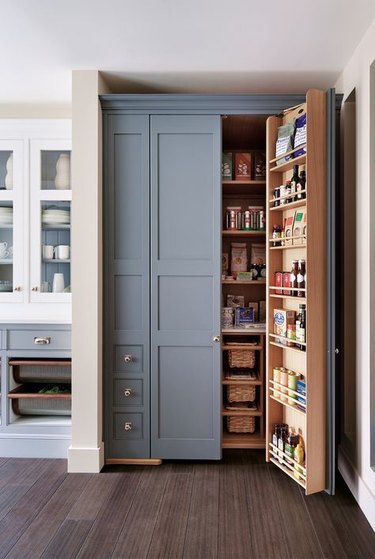 When it comes to small pantries, maximizing space is key. So don't forget to use the back of the door as well. Whether you hang a storage rack or build a custom unit like this one crafted by Smallbone of Devizes, you'll never regret having a little extra space.
3. Separate items into categories.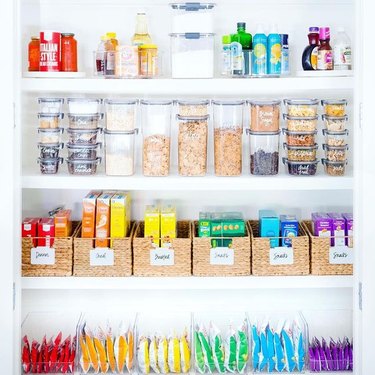 Go-to staples, such as brown sugar and chia seeds, find a home in dedicated labeled containers in this small pantry closet designed by The Home Edit. On the other hand, snacks that are interchangeable, or one-offs, are temporarily stored in woven baskets. Genius!
4. Invest in a spice rack.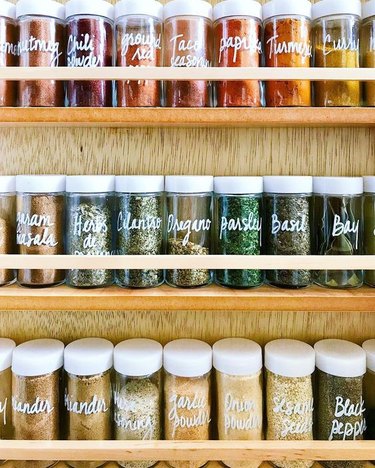 Sometimes a small purchase can make a big impact. Case in point: A spice rack that allows you to see your full seasoning inventory at a glance. And it doesn't hurt that when you decant your spices it looks super pretty and lends uniformity. Plus, according to clean living pros, it's much healthier than letting them sit in plastic jars.
5. Create a snack station.
Rather than having the young and young at heart rummage through your pantry to find a snack — leaving things in constant chaos — create a station with their grab 'n go favorites like this pantry closet from Leah over at The Tidy Bee.
6. Get storage racks for cans.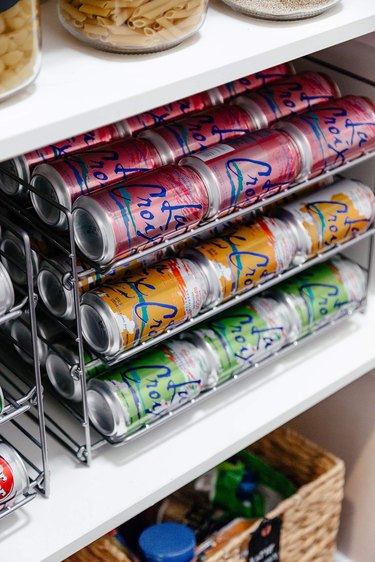 7. Stock up on bins.
There's nothing worse than opening the door and watching items topple to the ground. The solution? These storage bins ( starting at $12.99 ) help everything stay upright, tidy, and organized ... not to mention they hide unattractive packaging.
8. Invest in a lazy Susan ... or three.
9. Go wild with labels.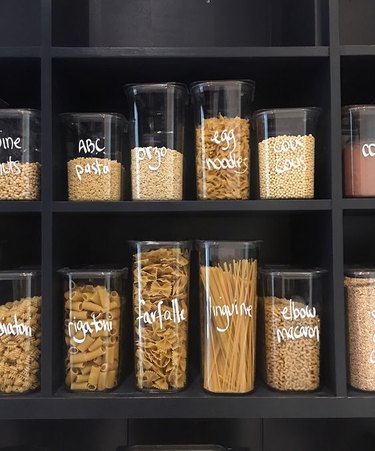 Clear containers are excellent for stowing dried goods. That said, salt, sugar, and flour all appear quite similar. Follow the lead of A House We Built and use a paint pen ( $13.70 ) to quickly and easily label everything.
10. Buy risers.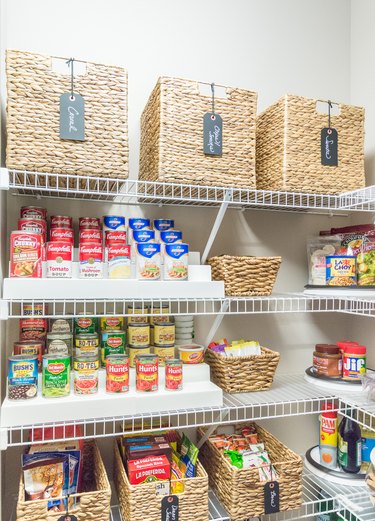 Long, narrow pantry? Non-skid risers like these in Kelley Nan's pantry are the perfect place to store canned goods and other pantry staples. It eliminates dead space and keeps everything visible.
11. Hang under shelf storage baskets.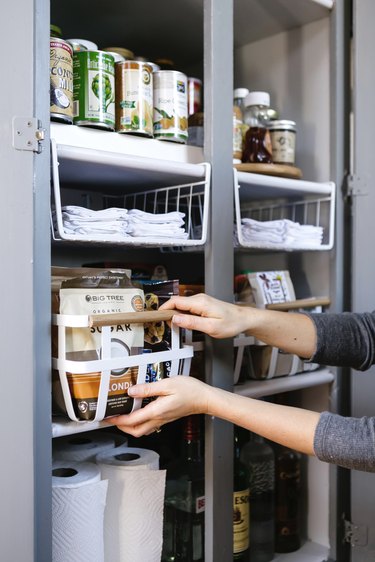 Add extra storage in your pantry closet by hanging under shelf baskets. Blogger and author Anne Sage added these white wire bins ( starting at $5.24 ) to keep her kitchen towels at the ready.
12. Install pull out drawers.
Grabbing the last can of diced tomatoes from the back of your pantry for your signature spaghetti sauce can be such a chore. Make your life simpler by installing pull out drawers like designer Nina Hendrick did in her beautiful pantry. She built her drawers from scratch, but here ( $52.18 ) is a similar option.
13. Customize your shelving.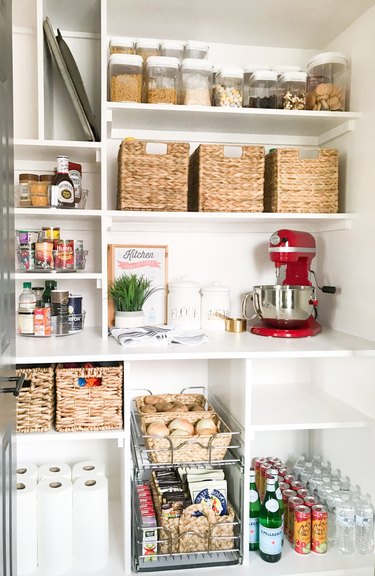 Nicole from Home On Poplar Creek took her pantry closet into her own hands ... literally. By challenging herself to a DIY project, she transformed her pantry closet by removing the old shelving and adding new ones that better suited her and her family's needs.
14. Brighten things up with color.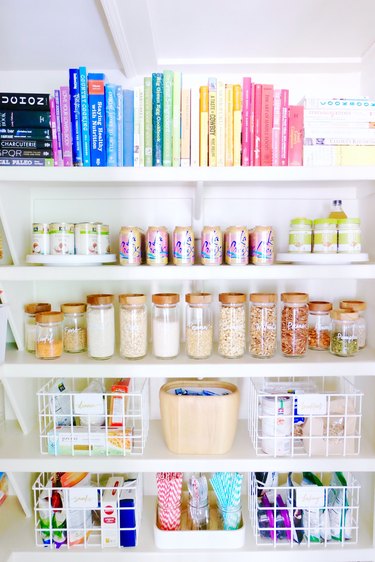 Since chef Laura Lea Goldberg films segments in her kitchen, she needed every inch to be picture-perfect ... including her pantry. She turned to the team at The Home Edit, who used color to create a fun and playful space that she and the camera would love.