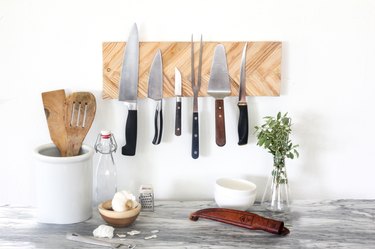 No matter how you slice it, great chefs start with good knives. The sharper, the better. Storing them in a drawer where they can clang around only dulls them, and knife blocks clutter up your counter space. Instead, put your culinary blades on display with a magnetic wall holder. This gorgeous herringbone rack makes a bold statement while also keeping your knives within reach. (And let us not forget that herringbone is one of Pinterest's top trends to try.) Talk about mixing form with function.
Things You'll Need
1x6 wood board, (cut to 17 inches long)

Tape measure or ruler

Power drill

1-inch Forstner drill bit

1-inch round ceramic magnets, ( 99 )

Construction adhesive ("liquid nails")


Paint stir sticks, ( 30 )


Speed square

Miter box and hand saw


Wood stain

Wood filler

Putty knife

Sandpaper

Clear acrylic finish or polyurethane

2 ½-inch wood screws, ( 2 )
Tip: We had our 1x6 wood board cut to size for free at the hardware store. We chose a length of 17 inches to hold six or seven knives, but you can customize the length according to how much wall space you have in your own kitchen.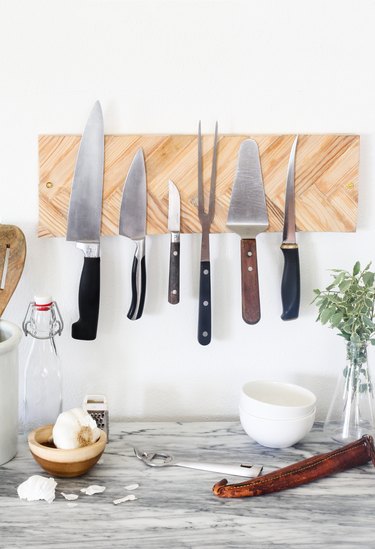 Step 1
Use a tape measure to mark a 1-inch border on both sides of the board. Likewise, mark a 1/2-inch border along the top and bottom of the board. (This is to ensure you have clearance around the board to attach hardware for hanging.)
Place the first magnet inside the border (one inch in from the side, 1/2 inch down from the top ) and trace around it with a pencil. Place the second magnet 1/2 inch next to it and trace. Continue until you have three rows of magnets that are all spaced 1/2 inch apart from each other. We ended up with 11 columns and three rows.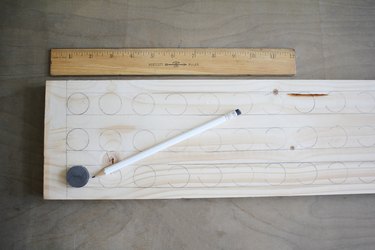 Step 2
Use a Forstner bit to drill a round well into each of the marks, where you will inlay your magnets. You only want to drill far enough into the wood so that when you stack three magnets inside one of the wells, they are flush with the front of the board. This will ensure the magnets are close enough to the surface of the wood that they will attract the metal on your knives.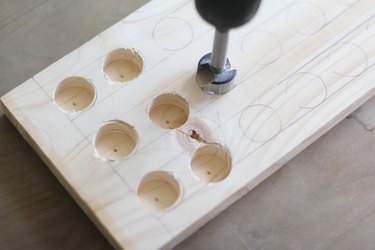 Step 3
Stack three magnets together and use construction adhesive ("liquid nails") to glue them inside one of the round wells. Continue gluing three magnets stacked together inside each round well until they are all filled.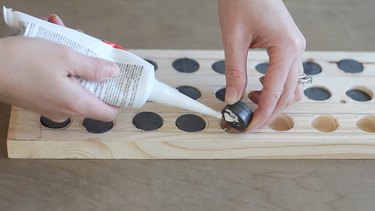 Step 4
Find the center of your board and mark it with a pencil. Don't worry if your center point is on top of a magnet.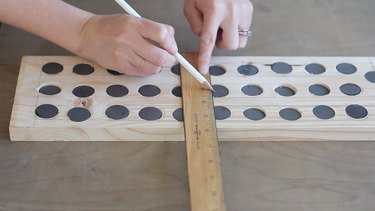 Step 5
Place the corner tip of a paint stick on the center point, and use a speed square to angle the paint stick exactly to 45 degrees. (You'll want to use the square end of the paint stick, not the rounded part, which will be cut off later.)
Then place the tip of a second paint stick flush against the first stick, again using the speed square to ensure it is positioned at exactly 45 degrees. The two sticks should form a wide "V" shape.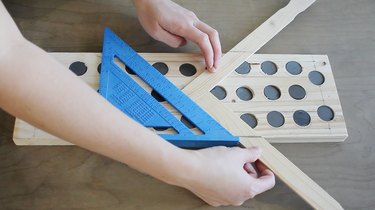 Step 6
Use a ruler or straight edge to mark where to cut off the excess wood along the sides of the board.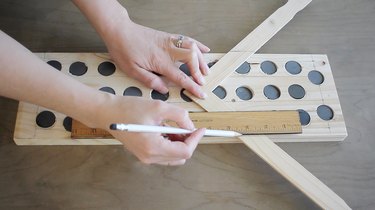 Step 7
Use a hand saw with a miter box to cut off the excess wood from the two paint sticks. Then use these two pieces as templates to trace and cut identical pairs. For a 17-inch long board, we needed 11 pairs of paint sticks, but you may need more or less depending on the size of your board.
For the ends of the board, you'll need to cut smaller pieces to fit along the edges. Simply use the ruler to mark where to cut off the excess wood. A few pieces are likely going to be tiny triangles.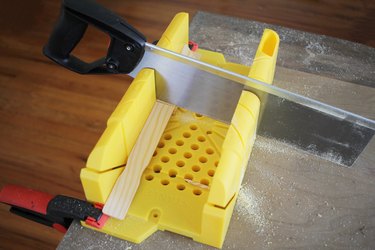 Step 8
Stain your paint sticks to the desired color and allow them to dry. We used a combination of "pickled oak" stain mixed with "golden oak" stain. We stained some lighter and some darker to give some contrast to our herringbone design.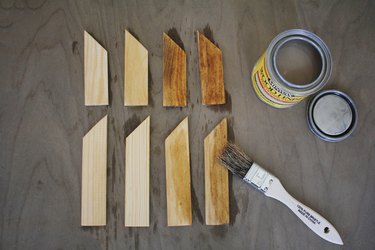 Step 9
Use the center point you marked earlier along with the speed square as a guide to start gluing the paint strips in a 45-degree herringbone pattern. Be sure to use construction-grade adhesive to ensure the paint sticks adhere securely to the board, and allow the adhesive to cure fully according to the manufacturer's directions.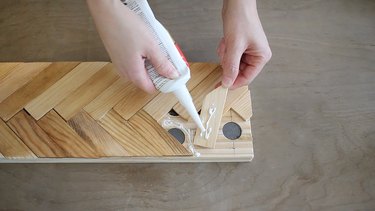 Step 10
Once the adhesive has dried, you'll likely notice that some of the paint sticks have gaps between them. Not to worry. Simply spread wood filler into the gaps, smooth it with a putty knife, and wipe away any excess with a paper towel. Once the wood filler has dried, sand it until smooth and wipe clean.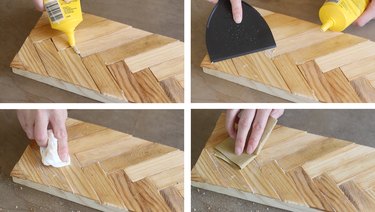 Step 11
To protect your wood stain from fading, and to give your knife rack a more polished look, spray a few coats of clear acrylic or polyurethane on top and allow to dry.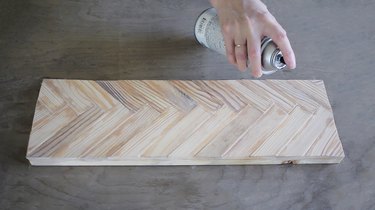 Step 12
To mount your knife rack securely to the wall, drill a pilot hole on each side of the board (within the 1-inch border you accounted for in Step 1 ). Then drill a 2 ½-inch wood screw through each side of the board and into the wall.
Tip: To keep our knife holder looking modern and stylish, we used brass screws to mount it to the wall.
Now you have a gorgeous new storage display for your knives that will keep them both sharp and handy. All that's left to do is mince, chop, and dice your way to culinary greatness. Bon appetit!