As you're styling your kitchen, you're likely thinking about hanging chic lighting, picking out slick appliances, and choosing the perfect tile for your backsplash. We love creating beautiful visuals in a kitchen, but we also think that the pantry is sometimes overlooked. It's that random little closet in your kitchen where you shove in as many boxes and canned goods as you can, and it doesn't look very pretty — or organized.
That's where kitchen pantry storage ideas come to the rescue. Pantries deserve a bit more care and attention so that you can find items easily and not get overwhelmed. With their deep shelves (where year-old cereal boxes easily get shuffled to the back), it can be a challenge to implement useful storage solutions.
Here are six ways to achieve a total pantry transformation, along with helpful shopping suggestions that will get you there.
1. Get organizing.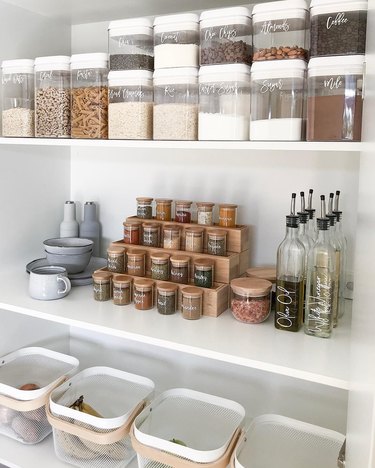 There are some key things to think about when organizing a pantry. Take everything out, start with a clean slate, and create "zones" for your pantry. Plan to organize everything in these categories: dinner items (pasta, sauces, rice, etc.); breakfast items (cereal, oatmeal, etc.); snacks; canned goods; oils and other bottled products; and non-food items. If you're feeling ambitious, label each section using a label maker as well. Felicity of Styled by Fliss has created some very clean and polished-looking zones for her pantry.
2. Incorporate storage.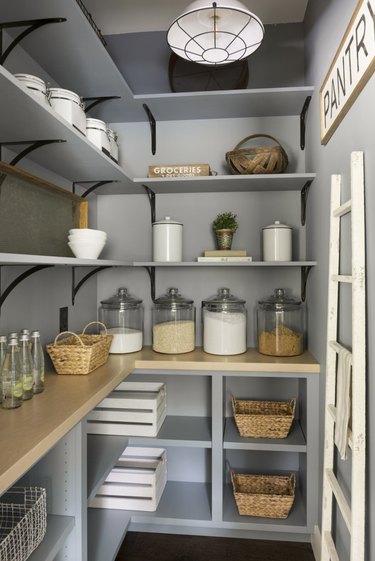 With farmhouse decor trends permeating today's homes, pantries have seemed to follow suit. When it comes to kitchen pantry storage ideas, you can't go wrong with old-school ways to store things. Think of glass canisters with lids, wire and woven baskets, and wooden crates, which is what the team at Beautiful Chaos did in this lovely pantry. You can also include built-ins, like drawers for fruits and veggies or cubbies for smaller items.
3. Clean it out.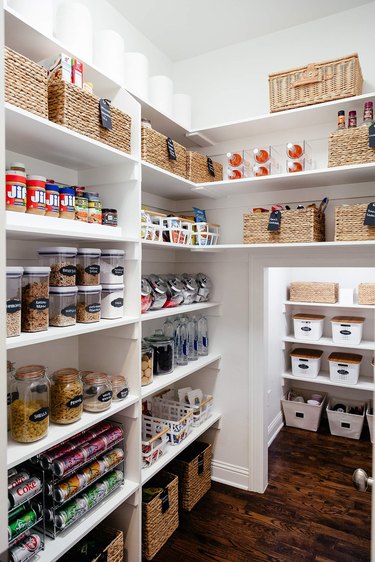 You might be wondering how often you should clean out your pantry. Some of us tend to forget about those ancient green beans or prehistoric fruit snacks lurking behind newer items, so it can help to have a regular schedule. Strive to do a quick pantry clean-out every time you go to the grocery store, and plan on super-deep purges twice a year. Brighton spotlighted her pantry on her blog Brighton the Day, and it looks impeccably organized and tidy.
4. Avoid creepy-crawlies.
Depending on where you live, bugs may make occasional or very frequent trips to your pantry. You do have pretty tasty food in there, after all. Do an inspection for those little guys every time you open your pantry. Don't leave packages open. Wipe up any loose crumbs. Store things in airtight containers (like the ones in this pantry belonging to Vanessa of See Vanessa Craft). And if any bugs do get in there, take everything out, wipe down the shelves with soap and water, and then finish cleaning with an equal-parts mixture of white vinegar and water.
5. Create a well-stocked pantry.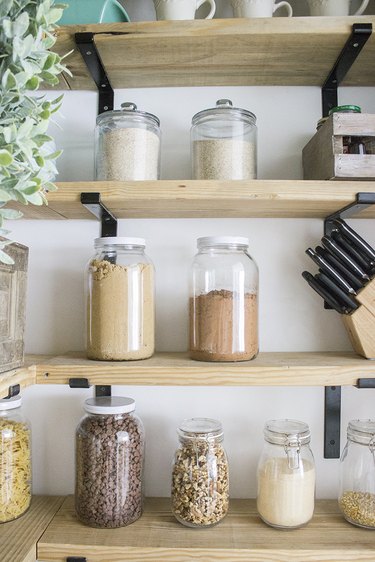 A well-stocked pantry is a happy pantry, and a happy cook, too. When you're searching for kitchen pantry ideas, don't forget to think about the essentials you want to continually keep in your pantry. Include basic, always-needed ingredients like sugar, flour, and spices. Make room for sauces and oils that you can use in most any meal. Always keep pasta on hand at the very least so you can quickly whip up dinner. And stock a variety of canned veggies so you can effortlessly toss those into meals, too. It looks like Hannah of We Lived Happily Ever After has her standard ingredients covered in her pantry.
6. Make the most of a small space.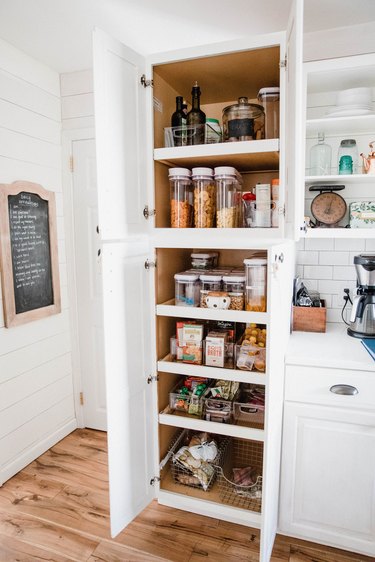 A small pantry might seem like a bummer, but it's completely doable to still have an amazing and organized pantry. You'll just have to get a bit more creative with your kitchen pantry storage ideas. Use an over-the-door organizer for small items like spices and cans. Install pull-out drawers so you can see your items and keep everything in its place. Keep extra items in a cupboard to free up room. And don't buy more than you need. Lauren McBride has maximized the space in her diminutive pantry.
Where to Shop for Kitchen Pantry Storage:
The Container Store: The Container Store naturally specializes in containers of all kinds, and that's certainly true of kitchen pantry storage ideas. Look for clever organizers, clear canisters, and Lazy Susans.
Amazon: The online marketplace has tons of pantry storage options, so you'll be able to stock your space however you please. They have plastic organizers, simple metal racks, and canisters with cute chalkboard labels.
Walmart: If you're going for simple and standard, Walmart is the place to shop for kitchen pantry storage ideas. After a shopping trip or gathering items online, your pantry will be flawlessly organized before you know it.