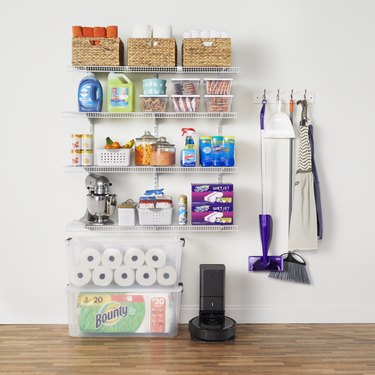 With photos of rows of glass jars, shelves of sundries, and general dopamine-inducing organization all over the internet, there's no denying it: Pantries are having a moment.
And it's actually way easier to bring that moment to life than you thought, because The Home Depot is essentially a one-stop destination for end-to-end pantry solutions. We hunted the virtual aisles to curate 10 items to create a storage area you might just want to stay in forever (before, you know, getting to your chores).
No one has time to turn on and off the light when it's snack time. This no-hands motion sensor light detects fine motion, so you'll never bump into the wall again. Plus, it works with all bulb types and installs in only 15 minutes or less.
Need to upgrade your shelving game? No problem. This organizer kit allows you to adjust the setup to suit your needs, and the shelf depth equals major storage capabilities (hello, extra olive oil).
With a new pantry must come pretty storage. From chrome shelves and storage racks to baskets and glass jars, you'll be tempted to Instagram your pantry situation every time you go in search of farro.
Talk about a multi-tasking clean-it-all. These antibacterial wipes disinfect any surface of your home, knocking out 99.9 percent of viruses and bacteria (because nobody has time for germs, bacteria, or kitchen grease when you're setting up for a pantry makeover).
There's nothing more anxiety-inducing than realizing you just used your last paper towel. The joy of a pantry space? Knowing you have the room to stock up on an eight-pack of super absorbent rolls.
Get someone to do your vacuuming for you—in this case the Roomba i7 robot vacuum that automatically empties dirt into a disposal bag that holds 30 bins of dirt and dust. It also features a three-stage cleaning system and dual rubber brushes that uses smart mapping technology to learn its way around each room. Plus, you can add controls from your smart phone to ensure a custom clean each time.
Just looking for a facelift? Elevate the look of your shelves and drawers with a Con-Tact print, which comes in a range of sizes and styles to instantly upgrade your aesthetic with barely any effort. Plus, messes wipe off easily with a damp cloth and mild soap.
The goal of an organized pantry is to see all of the food you have so that nothing goes to waste. With these made-to-fit pull out cabinet organizers, it takes the guessing game out of the equation and opens you up to a world of meal-time possibilities.
These clear Sterilite storage containers are the OG of organizational tools. Up your snack stash by adding clip boxes, storage baskets, and gasket storage boxes, all of which latch to ensure freshness of what's inside and stack to create room for more important things (like food).
With a seriously massive selection of essentials for your pantry, mudroom, and closets, The Home Depot is your go-to for a cleaning and storage overhaul. Consider this your free pass to get lost in organizational bliss.