It's a shame to only show off your carefully edited wardrobe when you actually wear the clothes. You've taken the time and effort to curate a chic, timeless, and colorful collection — everything you're looking for in decor — yet it's banished to the closet. According to Pinterest's 2018 home report, showing off your fashion-forward finds are one of this year's top home trends. So stop closing the door on your favorite tailored pieces, and make a dramatic statement by displaying them proudly. Kicking your clothes out of the closet can bring some much-needed color to an all-white bookcase or add texture and layers to a plain window. Here's how:
1. Let your shoes steal the show.
You've spent years investing in the perfect assortment of shoes — à la SATC's Carrie Bradshaw — so why stuff them in a closet? A plain white bookshelf becomes anything but when placed in front of a white wall and filled with shoes. The museum-like display puts your swanky footwear front and center, giving your collection the respect it so rightfully deserves.
2. Transform an old ladder.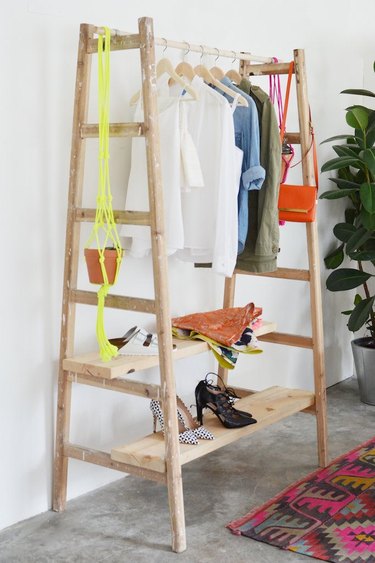 Homes lacking closet space can make up for the omission by creating this paint-speckled DIY ladder wardrobe. Geneva from the blog A Pair and a Spare crafted this rustic piece for a mere $9. Need to stow some stylish boxes? No problem. There's shelving below. (Just make sure said boxes are pretty, because they'll be in plain sight.)
3. Or, opt for a copper clothing stand.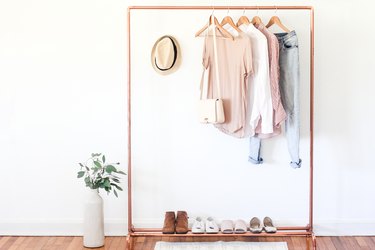 If old ladders don't really go with your chic minimalist bedroom decor, try this glam copper pipe DIY instead. Your wardrobe will look fierce hanging from this glistening metallic rack.
4. String your scarves.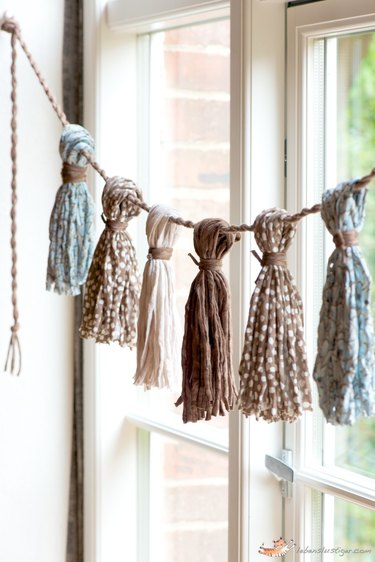 Dress up a boring and bare window with accessories from your closet. Try wrapping scarves or hankies around a rope to create a pretty garland. Then, in the summer they're not overcrowding your drawers — and in chillier months, these must-haves are easily accessible.
5. Hang your hats — on the wall.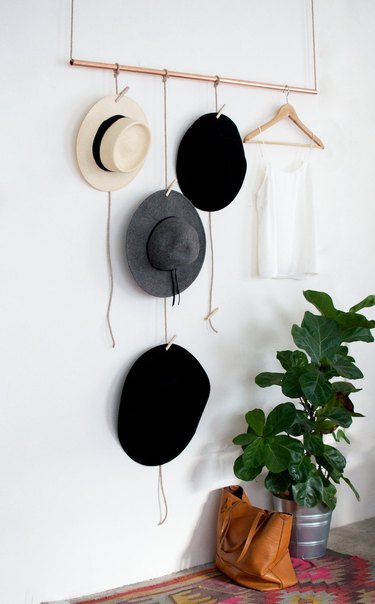 Some of us just look better when donning an oversize hat. (And others' pale, tender skin downright demands a church-worthy brim.) This copper-pipe DIY from A Pair and a Spare keeps your collection close at hand.
6. Decorate your shelves.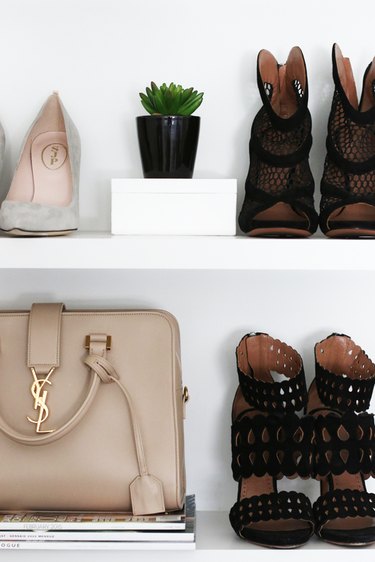 When you're looking for fun knick-knacks to style your shelves, consider peeking in your closet for inspiration. After all, those dramatic black pumps and supple leather purses should always be on display.
7. Square up your shoes.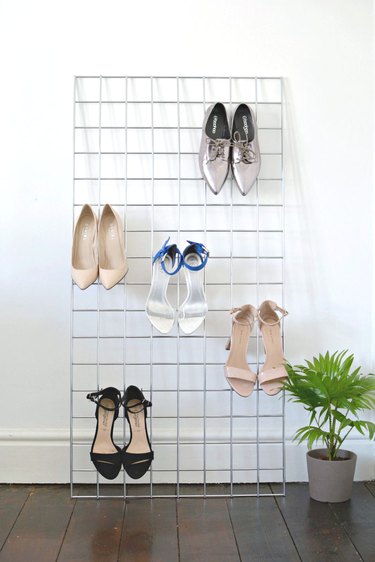 There's no better way to tuck your shoes away — without tucking them too far away — than hanging them neatly from a metal grid. These inexpensive racks can be purchased on Amazon ( $43 for three ) with the click of a button, and spray-painted to blend in seamlessly with the rest of your decor.
8. Use a branch as a clothes rack.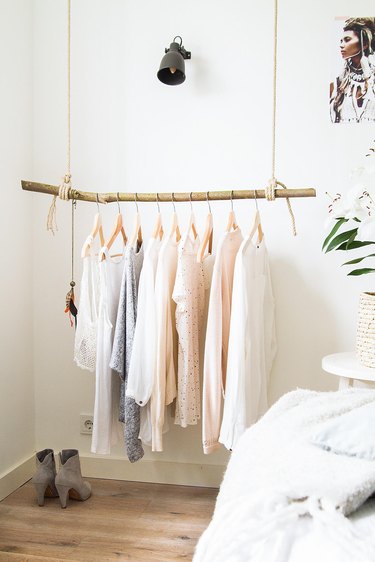 Angling for more of a rustic-boho vibe? Suspend a long, sturdy tree branch from your ceiling like Amber did from the blog Amber Loves Design in this fun DIY project, and use it as a clothing rod for your most beloved pieces.
9. Step it up.
With the arrival of warmer weather, blanket ladders have come and gone, but clothes ladders, on the other hand, are here to stay. Lay a gorgeous ladder casually against the wall, adding an air of casual chic to your boudoir. And tossing your clothes on the rungs — and not on the bed — looks much more elegant.
10. Combine two of your favorite things: Clothes and greenery.
Have an obsession with fashion and potted succulents? Don't worry, you're not alone. So why not combine your two passions with this minimal DIY planter closet by blogger Katleen Roggeman? With just a little bit of plywood and a hint of greenery, this stylish dream can become a reality.