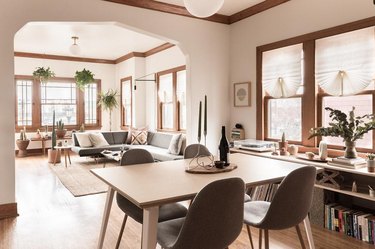 Hunker may earn compensation through affiliate links in this story. Learn more about our affiliate and product review process
here
.
So you're thinking of installing window treatments? Well, congratulations, you've come to the right place. They are often the last things you add to a room, but these coverings can make or break an entire space. That's why you need to know the vibe you want. After all, you didn't work hard on the rest of the interior design to let it all slip when it comes to your windows.
There are a number of options from linen shades to light and airy drapes, but not every kind will work in any given room. Also consider what you hope to achieve with your window treatments. If neighbors live close by, you'll want something that provides privacy. Otherwise, you'll likely just need to block bright morning light or completely darken a room in the evening.
Still confused about whether you should pick Romans, rollers, sheers, or something else entirely? Here's a rundown of each option and everything you need to know before making your final selection.
Window Treatment Options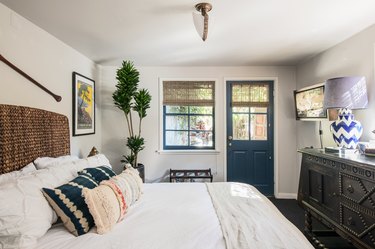 From blinds and shades to drapes, there's a window treatment for every kind of aperture. These are the most popular options.
Roller Shades - One of the most common window treatments, a roller shade features a central wooden dowel or metal tube that the fabric wraps around when open.
Roman Shades - Theses are similar to roller shades, but instead of rolling, they elegantly stack into smooth horizontal pleats.
Pleated Shades - They are made from creased fabric that pulls up to sit flat at the top of a window.
Honeycomb Shades - A bit like pleated shades, this window treatment stands out because of the side view. The name is derived from the expanding "cells" (which look like honeycombs).
Blinds - Typical window blinds have several long horizontal or vertical slats of various types of materials such as wood, plastic, or metal. They're held together by cords.
Blackout Shades - They're like roller shades but have the ability to completely darken a room.
Drapery - This is a general term for any window treatment that hangs over or alongside your casements. While there are many different drape styles, some of the most popular are sheers, ripple-folds, and pinch-pleats.
Shutters - Solid window coverings, shutters usually consist of a frame of vertical stiles and horizontal rails. And you can find full-height shutters, tier-on-tier versions, solid options, cafe-style coverings, and tracked shutters.
Window Treatments for Every Room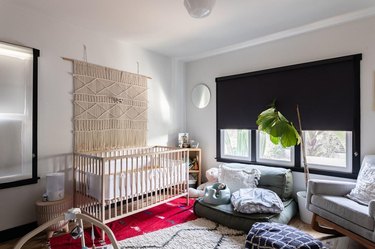 Roller and Roman shades are an ideal solution for any room in your home, and they work with multiple interior styles. Plus, you can purchase light-filtering options that will be perfect for a nursery or bedroom. If you're looking to achieve a minimal aesthetic, opt for a neutral fabric in hues like white or gray that will blend into the walls. If you want to make more of a statement, choose a bright color or something with a heavy pattern.
Pleated shades can also make for an interesting feature if you're after something a little different for your family room or dining area. They can create a crisp but textural look.
For kitchens and bathrooms, in particular, we recommend blinds or shutters. They're easy to clean and maintain, but they don't distract from the view outside your window. Plus, dusting them is a breeze!
Finally, for kid rooms and nurseries, you might want to consider full blackout shades to help little ones sleep through bright sun rays. They'll filter all light and are perfect for anyone (even adults) who need complete darkness to rest.
Window Treatment Styles
Your treatment style or fabric choices can help inform the rest of a room or add that final layer to the design. And you'll want elements that match your decor. For example, in a boho bedroom, sheer drapes will add to the light and ethereal ambiance, while in a lavish home, art deco curtains might be more appropriate. Got a rustic space? These farmhouse styles might just be for you.
Unique Solutions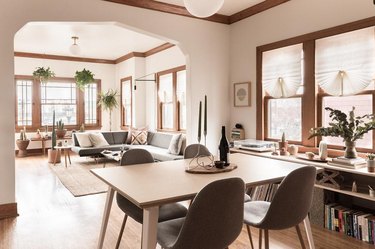 If you're looking for ways to complement your drapery, think about creating a focal point. A window seat or bench will make your windows more of a feature, while window plant boxes and shelves will create a botanical refresh.
Budget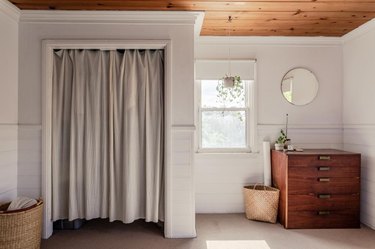 Window treatments are important, so setting enough budget aside for them is vital. The overall cost will depend on the style you want — prepare to pay a lot more for custom shutters than vertical blinds. But don't forget the reasons you may want to invest. Think about privacy, light control, efficiency, and durability. Sometimes the more expensive option will be more versatile and last longer. If you're looking to save, here are six ways to avoid wasting money on window treatments.
Where to Buy Window Treatments
New York-based company The Shade Store was founded in 1946. And it and offers window treatment solutions like roller shades, solar shades, Roman shades, cellular shades, pleated shades, and woven wood shades, as well as blinds and drapes.
Hunter Douglas is one of the largest manufacturers of window treatments in the world. The products are designed and custom-assembled in the United States, and the company has a longstanding commitment to quality and innovation.
Lafayette Interior Fashions is based in West Lafayette, Indiana. The company offers custom window treatments with a product range comprised of blinds, shades, shutters, and drapes.