Plants bring truly unrivaled detail into the home. Regardless of if they're displayed on a well-styled bookcase or they're stationed next to a freestanding tub, one thing is for certain, verdant foliage and light go hand in hand — so naturally, a window plant shelf is the perfect way to show them off. Whether it's in the bedroom, a hallway, or even in an office, carving out a spot to flaunt your ever-growing collection of greens is a foolproof way to not only boost the aesthetic of your space, but your happiness as well.
But first things first, think about the types of plants you have and whether or not they prefer lots of light. Aloe, and any other desert flora, thrive off of maximum exposure — along with jade plants and fiddle leaf fig trees — while the more resilient snake or prayer plants can make do without a lot of sunlight. Being positioned front and center, it's important to double check that whatever plants go on your window plant shelf will love their new sun-drenched home.
So regardless of your preference — a hanging unit, a floating ledge, or a simple perch — allow the picture-perfect spots ahead to serve as the plant-spiration you need.
1. Go all out.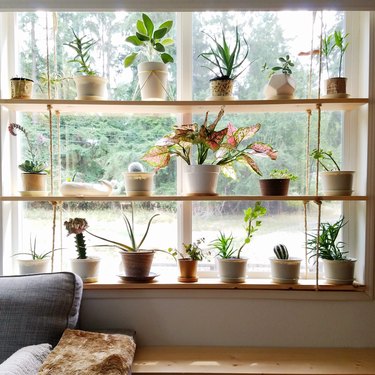 Kari, of The Artful Roost, turned her houseplant obsession into a design-forward moment by DIYing a set of hanging window plant shelves to display her collection. Take the artist's lead by staggering your plants to establish a visually-pleasing finish. Position larger plants in the center and on the ends, then fill the spaces in between with smaller botanicals, like succulents or air plants.
2. Think transparent.
This version of a floating shelf, from Medina of Grillo Designs, involves a near literal rendition. After nailing the brackets into the sides of the window frame, she layered sheets of poly-acrylic to serve as shelving. Next, Medina topped them with a selection of desert greens — such as cacti, aloe, and succulents — that are accustomed to living with lots of sunlight and are able to withstand the direct exposure.
3. Set the bar high.
A kitchen without a plant is never complete and this stunning scene from Bo Bedre is exactly what we had in mind. The classic window plant shelf above the sink is a haven for greens that flourish under humidity and sunlight, like the ever-so-dreamy heartleaf philodendron. Keep it minimalist with a single shelf, preferably installed high above the line of sight, and use it to showcase a variety of trailing greens.
4. Create a floating display.
Not all windows are created equal and some may even lack a sill altogether. The fix comes in the form of this crafty DIY by Michelle and Nick from Dreaming Home. The window plant shelf fits snuggly within the frame and allows the assortment of succulents within to soak up all the natural light they need. The best part? You can easily unhook and remove the shelf when not in use.
5. Add interest to a snoozy spot.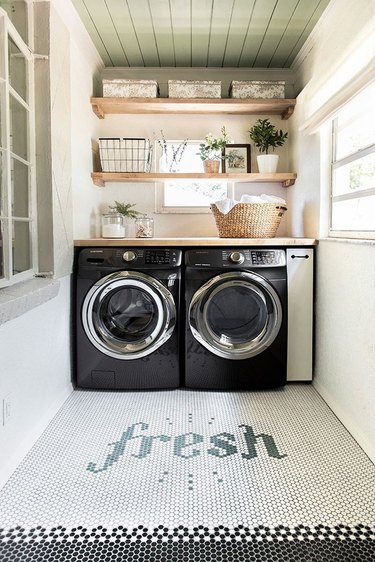 Doing laundry in the same spot, day-in and day-out can get bleak. Adding a vibrant dose of life (read plants) to your space is a foolproof way to turn things around. This Pinterest-perfect laundry room from Jenna Sue Designs takes advantage of the mini window above the washer and dryer, with a pair of wall-mounted shelves begging to be filled with all sorts of light-loving greens.
6. Keep it separate, but equal.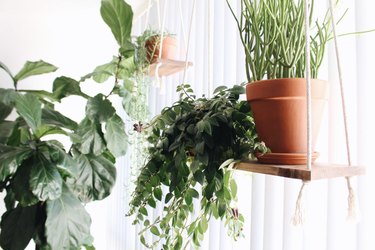 An extra-large window not only means added sunlight, but even more of an opportunity to fill it with an eclectic array of indoor plants. Instead of covering up the entirety of their windows with wall-to-wall shelving, Robert and Christina of The New Darlings opted for a few hanging macrame shelves, each showcasing a sun-loving green like golden pothos and string of pearls.
7. Dress the windows.
When it comes to window treatment ideas, a set of billowing curtains can invite a dose of elegance to your window plant shelf. This versatile design spotted on Etsy — with its cohesive set of vessels and light-friendly greens — is the perfect example. The indoor garden is pretty to look at, but from a functional standpoint, it can help diffuse exposure from the sun, allowing you to control the light without having to constantly move your plants around.