A gorgeous green houseplant can take any space from feeling like a house to a home. Whether you want to start with low-maintenance succulents, or you already know the difference between a philodendron and a monstera, you can cultivate a contained jungle in no time. But when you see a sea of plastic pots at the farmer's market or hardware store, don't get discouraged about how to integrate them into your space without messing up its design flow. From baskets and grass vases to macrame hangers and metallic pots, lots of planters are out there waiting for you. Here are 14 ideas to help you take your green game to the next level. Whatever planter, pot or vase you choose, your plants are going to look so stylish — consider your plant game leveled up.
Seagrass Basket
Putting an already-potted plant inside a basket, such as this seagrass version from Folia Collective ( $21 ), is a design trick that will help it fit into the rest of your design aesthetic. Psst: Put a plastic or glass plate at the bottom, and when you water the plant, don't forget to take it out of the basket.
Column Pedestal Planter
This West Elm pedestal planter ( $115 ) can do double-duty on your porch: perch one large pot or a cluster on the tabletop, or flip one upside-down and give your plant some height. You can stick with neutral pot colors, but a bright yellow or orange ceramic looks good, too.
Group Partner Pot
A cheeky pot from Group Partner ( $65 ) is the perfect way to prove that your plants have their own personality. Fill it with a plant with leaves that spills over the side, and park it on your kitchen or office windowsill.
Wire and Terracotta White Planter
Large pots can function as small gardens when you fill them with multiple flowers or succulents. Take this large planter from CB2 ( $79.95 ), which has enough room for all of your faves. It also jazzes up an otherwise boring pot, and the wire cage could potentially match your outdoor furniture.
Ceramic Planter
The next time you see little succulents or air plants at the flea market, bring a few home to put in Wapa Studio's tiny pots ( $36 ). Then, mix them in with other knickknacks on your bookshelves.
Domed Cloche
Cloches are an underrated way to make terrariums. A domed cloche and tray set from Terrain ( starting at $28 ) is an option for an indoor plant display, especially if you don't have lots of room or time.
Face Planter
These face planters from BohemiaGoods ( starting at $12 ) are just too cute to pass up for your blooms. Line them up by your workstation for those times when you need good vibes.
Macrame Hanging Planter
Ferns, ivy, and other crawling plants look their best when they're hanging. Upgrade yours with an Urban Outfitters macrame hanging planter ( $34 ). Place it above your kitchen sink or around your favorite reading spot for a bit of dimension.
Sweetgrass Vase
Vases don't always have to be ceramic or glass. Take this one from Leif ( $48 ), which is handmade from sisal and salt grass. Use it to corral dried cuttings or a fake plant.
Steel Planter Box
You can put a plant just about anywhere. Example A: Schoolhouse Electric's steel planter box ( $109 ), which you can use as a super-chic address plaque and a spot for greenery by the front door. A line of succulents in the box is a no-brainer.
Ceramic Vase
If you love having fresh flowers at home, invest in a vase from the Citizenry ( $100 ). Set it by your bedside table or on your vanity.
Succulent Planter
There's a reason why succulents are so popular in home design: they're easy to care for. If that's what you're looking for, try out a succulent planter from Target ( $22.99 ). The simple wooden box looks good on a patio or balcony, but it's also nice enough to bring inside.
Tabletop Bowl
Flowers and plants are the foundation of any good table centerpiece. Filled with pebbles and cacti, this tabletop bowl pot from Modernica ( $99 ) complements a midcentury modern dining room.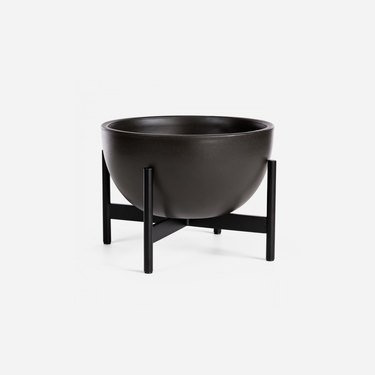 Metal Plant Pot
If you're looking for an option with some shine, a metal pot from H&M ( $12.99 ) is the way to go. Fill it with something super leafy, and leave the plant in a sunny corner to grow.