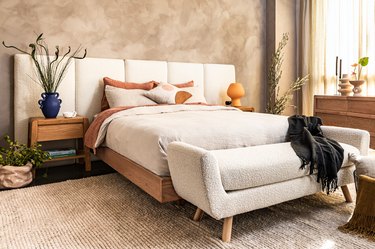 Refreshing rooms at Hunker House, our IRL location, has become something of a New Year's tradition. And while you may be thinking that your resolutions are more in the "read more/eat healthier/exercise" track (go, you!), consider this: Changing up one's environment can be key in motivating other life adjustments.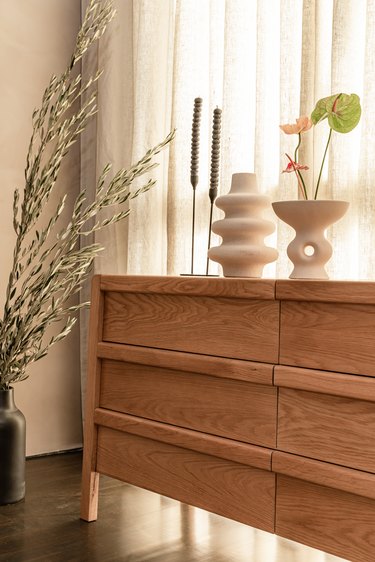 The brains behind the design was Hunker's Creative Director, Paul Anderson, who played off the natural woods and textures from the pieces we pulled from Article, explaining, "I wanted to build a layered, textural, but de-cluttered bedroom, using the clean lines of the furniture to serve as support for sculptural accessories and color."
In addition, Anderson transformed the room's stark-white walls, using Portola Paints' Antlers hue to create a roman clay finish. "In creating a warm minimalist feeling," he says, "I was thinking about wabi-sabi elements of texture and imperfection."
All about bringing this look to your own home? Start with these pieces from Article:
"This bouclé headboard is a really interesting way to add character to your bedroom, especially because you can purchase expansion panels — this will make your bed seem grand even in a smaller space." For the base of the bed, Anderson went with Article's Basi bed frame ($399) in oak, a midcentury-leaning base that "can give you options if you want to re-do the room later down the line."
"I love how this bouclé bench bookends the headboard, but in opposite angles."
The clean lines of this dresser carry a zen warmth. Anderson used sculptural vases as a contrast, but the marriage of the two styles is still tidy and calming.
Anderson is defensive on cohesiveness, and using the Dalsa nightstands, which are cousins to the Dalsa dresser: "Matching bed sets get such a bad rap these days, but I don't know why!"