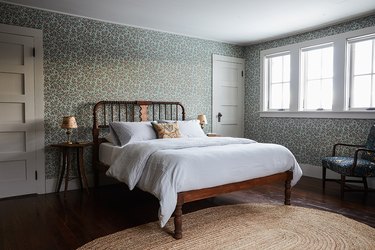 Sure, the Arts and Crafts movement was popularized more than 100 years ago, but the characteristics that had people falling in love with it then — its handcrafted quality, attention to detail, and preference for local materials — are just as relevant today. The style was heavily influenced by nature, including a strong use of wood to emphasize details like moulding, windows, and doors, and because Arts and Crafts was a reaction to the opulence of Victorian interiors, spaces are pared down and distilled to their essence. We're finding the simplicity of Arts and Crafts bedrooms particularly refreshing. Read on to discover what we're talking about.
1. Less is more.
Balance the inherent heaviness of an Arts and Crafts bedroom with a lack of accessories — let the features of the room be the main draw. This home in Los Angeles underwent a thoughtful remodel but (thankfully) retained its charm and character. Practical furniture stays true to the functional-driven ethos of the Arts and Crafts movement.
2. Balance masculine undertones.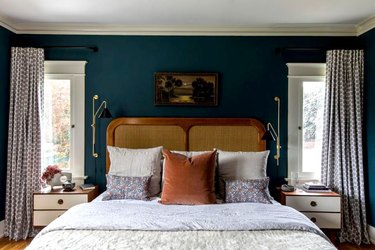 Balance the masculine undertones that often accompany an Arts and Crafts bedroom with feminine textiles and textured accents. Martha Mulholland amps up the charm in this moody boudoir with teal walls, a wood and rattan bed, and French pole sconces, and then lightens things up with patterned drapes, flirty pillows, and a cozy duvet.
3. Enhance the details.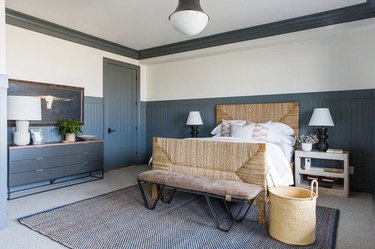 Wainscoting is a popular architectural feature seen in Arts and Crafts bedrooms that adds texture and dimension to walls, so make it the focal point by painting it a color, like this steel gray, which makes all the details pop. Studio McGee demonstrates how it's done in this bedroom and adds plenty of warmth and contrast with a natural rushed bed, leather bench, and pale linens.
4. Install clever built-ins.
Looking to create a whiter, brighter Arts and Crafts bedroom? Paint trim, moulding, and cabinets a warm white and then paint trim a slightly darker tone for added depth. Built-ins are a genius way to maximize square footage in a petite chamber like this one by Jessica Helgerson, and these have the added bonus of creating a plush alcove headboard. Now that's spatial planning!
5. Blanket your walls in print.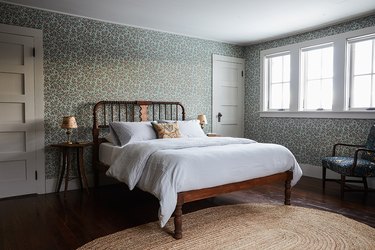 Wallpaper goes a long way in infusing style and soul in a room. If you're dreaming up ways to add old world charm to your Arts and Crafts bedroom, consider an organic print in soothing hues like this one used by Jersey Ice Cream Co. and layer in earthy details like a hand-turned bed and natural woven rug.