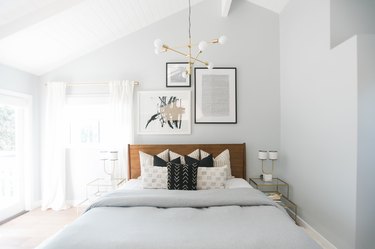 Gray gets a bad rap as a sad color that's strictly associated with stormy days and low moods. But we're here to tell you that the cool shade deserves an image makeover, one that receives applause for its uncanny ability to warm up a room, serve as a neutral in pretty much any setting, and even act as a comforting and inviting element. Think about your favorite gray fisherman's sweater that you toss on during chilly days or endearing black-and-white family photos.
It functions as a calming, soothing shade that quietly fades into the background, making gray an ideal choice for a bedroom. So whether you choose to coat your bedroom walls in a beautiful shade of ash or incorporate touches of smokey decor, you just can't go wrong with the silvery hue. Here are seven gray bedroom ideas that will help you see the color in a whole new light.
1. Use gray as a backdrop for distinctive decor.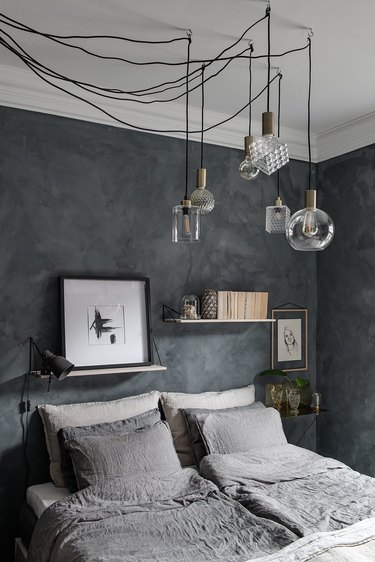 2. Layer varying shades through textiles.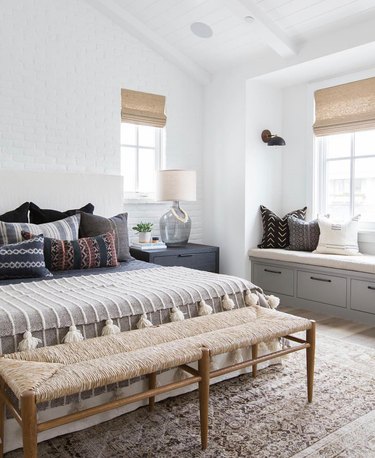 To make a gray bedroom idea really come alive and look visually interesting, layer it with the help of textiles and furniture. In this space designed by Amber Lewis, a gray, tasseled blanket immediately catches the eye, alongside patterned throw pillows in various colors. The window seat and nightstand also display differing shades of gray, which helps to anchor the room.
3. Pour on the color.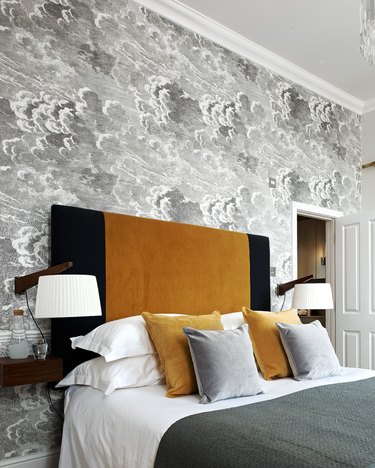 Gray bedroom ideas have this knack for working flawlessly with a variety of different colors — pink, aqua, rust, orange, to name a few. It can also be easily partnered up with yellow, as seen in this fanciful bedroom designed by the team over at Furnish Interior Design. We're loving that shade of goldenrod along with the billowing cloud-patterned wallpaper.
4. Combine gray and white.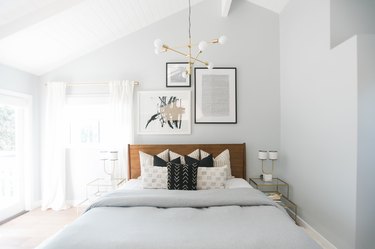 Another home-run color to mix with gray is always white. The two hues together make for an airy, fresh space. In this bedroom produced by Lindye Galloway Interiors, a whisper-soft gray meshes nicely with the white details in the room, from the modern throw pillows to the dreamy drapery, and even the midcentury light fixture.
5. Go tonal.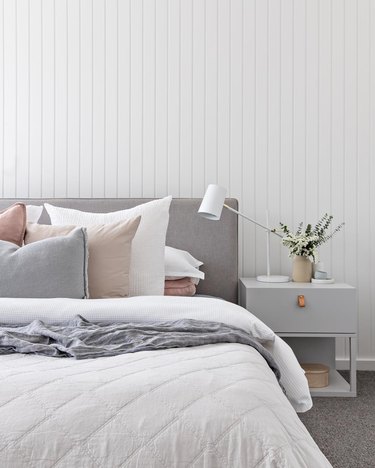 One good thing about a gray bedroom idea is that if you want to weave in lots of contrasting shades, they'll be pretty much guaranteed to match. It's not like trying to pair together specific pink or red hues — colors like gray and black are much more forgiving. In this monochrome bedroom designed by Catherine of The Stables, the gray headboard, throw pillow, blanket, and nightstand all come together impeccably.
6. Load up on vintage charm.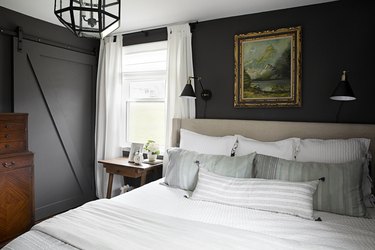 Gray can have a lived-in, worn quality to it that almost looks like a vintage patina. That means that it will blend seamlessly with your flea market finds. But don't take our word for it. In this bedroom belonging to Chandler of Peach and Pine Home, an antique oil painting and barn-style closet door are perfect additions to the dark-gray walls.
7. Anything goes.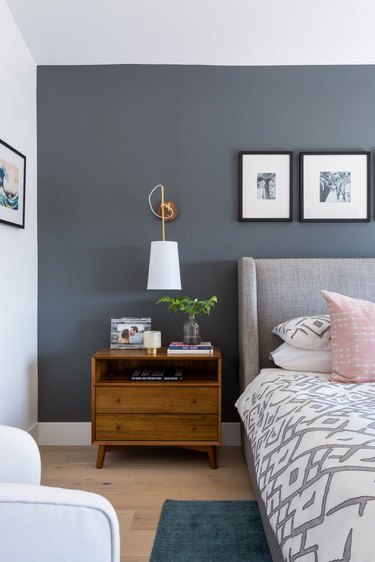 If you have an eclectic sense of style and foresee a gray bedroom idea with some distinct styling in your future, the sky really is the limit. In a bedroom designed by Marissa Cramer Interiors, a warm wood nightstand, patterned bedding set, and pink throw pillow all work well with the dramatic gray accent wall.