If you're familiar with Nordic-inspired style, and by that we mean if you've scrolled through your dream board on Pinterest lately, you know it leans into clean minimalism. But when it comes to New York City, those might be the last two words you'd use to describe the scene.
Instead of looking outside to the sidewalk hustle and bustle, fashion blogger, stylist, and photographer Lisa Dengler took inspiration inward to create a cool Manhattan sanctuary.
"I use Pinterest boards to develop a feeling and mood whenever I'm working on a new apartment, and I remember being both in love with large open loft spaces with concrete floors and with minimal Scandinavian spaces with very muted tones," Dengler says.
I remember being both in love with large open loft spaces with concrete floors and with minimal Scandinavian spaces with very muted tones
Dengler spends a lot of time working from home, which is why it was extremely important to create a space that amplified her creativity while not being too distracting. "It is such a peaceful and calm apartment," says Dengler. "Especially with the addition of some warm tones and the beautiful wood flooring." (For a similar look, opt for one of these gorgeous Nordic-inspired wood finishes from Bona.)
Dengler took the inspiration from her oak floors to add lighter and more neutral wood colors all over the rest of the apartment, which provides that cleanliness so integral to Scandinavian design.
The dining room is Dengler's favorite room in the apartment, and for good reason: the chairs. "These chairs had been on my wishlist for five years and I finally was able to get them for this apartment," she says. "I was also so excited about this concrete table and the hanging pendant lamps and leaning art against the wall, so basically I love every aspect of the dining room."
If you take a closer look, you'll notice that Dengler alternated wood and metal legs to offset the minimalist room with a touch of industrialism.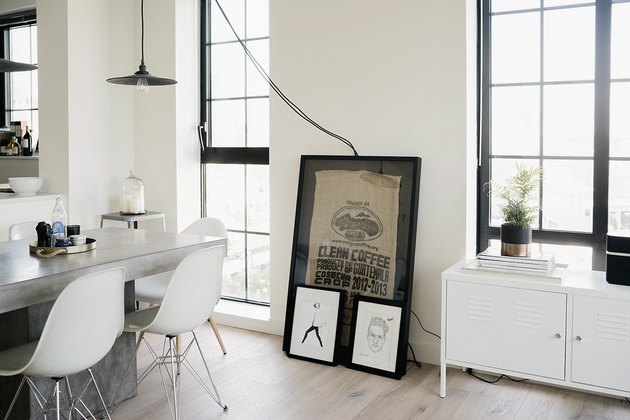 A huge part of achieving this clean vibe is getting ample natural light, which this penthouse doesn't lack at all. "Light for me plays such an important role in any apartment," Dengler says. "It allows the space to change throughout the day, and through the seasons and different weather."
The dining-room-turned-living-room features various statements like the picture frames leaned against the wall (for an "oh I just set them down this way" look), the plant for a little pop of color, and the sleek storage cabinet.
Dengler is an expert at finding that balance between clean and a little bit out of place, but it's always on purpose. If you look through each of the photos, you'll notice all the hanging-cord light fixtures. That's a design choice.
"The lights are definitely part of the industrial feel of the apartment," she says. "I have this thing for light cords, I'm not really sure why, but I love to add a bit of messiness to any design, to make it a little less stiff and much more effortless without being messy."
Could this be a more idyllic nap spot? Dengler accents muted tones here with pops of warmth through throw tables and coffee table books for balance.
The bedroom sticks pretty true to Nordic inspo with muted tones taking the forefront. A utilitarian feel comes in the form of Dengler's hanging clothes rack.
We can't not talk more about this special DIY portion of Dengler's bedroom. "DIYing an apartment makes it feel like your own, like you contributed something special to it," she says. "I currently work in the fashion world, so clothes play a huge role in my life, and I wanted a place to showcase that and inspire me to get dressed in the morning."
In addition to hanging her clothes like art, Dengler incorporated a pop of color through everyone's favorite accessory: a cactus. Throw in a hanging bulb, and she's got minimalism handled.