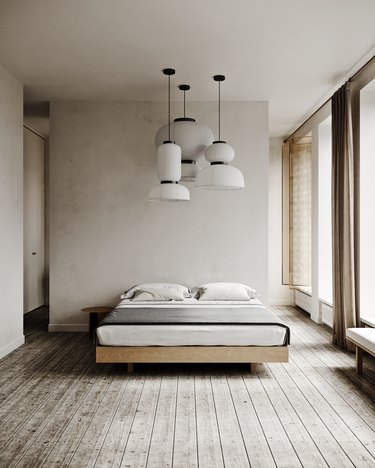 Over the last few years we've seen a surge in popularity in Scandinavian-inspired trends such as lagom and hygge. However, these concepts should be classed as a way of life rather than a way of styling. Another such trend is the Japanese philosophy of wabi sabi, but what does this really mean?
1. Choose organic and imperfect furniture.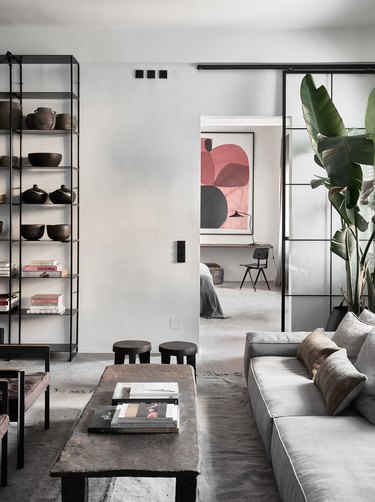 One of the key elements of wabi sabi is to embrace the imperfect. This open-plan apartment designed by Annabell Kutucu celebrates misshapen wood furniture, rough linens, and organic ceramics — complementing the understated gray and brown color scheme. Sliding glass doors divide the rooms but still allow the spaces to feel connected and airy.
2. Select natural tones.
This wabi-sabi apartment designed by Sergey Makhno pays particular attention to surfaces. All of the walls have been finished with clay, creating a warm earthy effect and a rough texture to boot. Note the burlap shades that create an even warmer atmosphere, playing with light and dark.
3. Create a space to reflect.
The guiding principles of wabi sabi refer to being modest and humble, accepting what you already own. This home tour shot by Hannah Trickett shows a simple and thoughtful aesthetic with room to contemplate. Less is more.
4. Combine textures and choose honest materials.
Typical materials that align with wabi sabi are wood, glass, marble, ceramics, rattan, concrete, stone, and metal. This space styled by Susanna Vento combines the lot. Natural colors and irregular textures have been selected to make every object as interesting as the next.
5. Work with nature.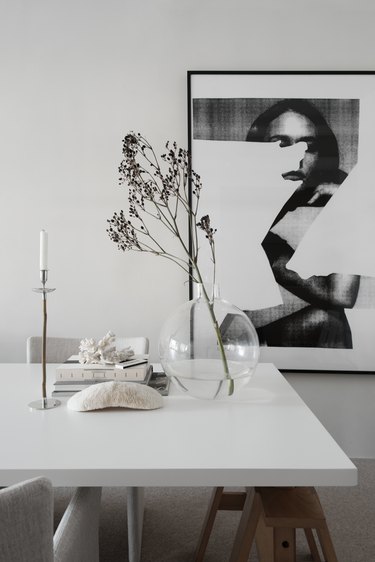 Basic wabi-sabi ethos can be modernized, too. This all-white apartment designed by Lotta Agaton uses abstract artwork to update the look, while still utilizing nature to bring a sense of well-being. Follow her lead and place collected branches or a few fresh-cut flowers in a vase for an effortless look. Remember, imperfection is key here.
6. Seek the imperfect.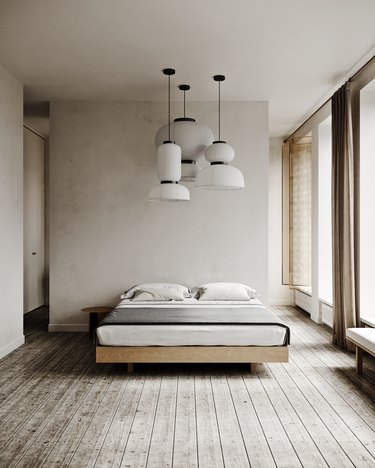 If you're thinking of making a space symmetrical, don't. A strong edit is required when it comes to getting wabi sabi right. Spaces should be free of clutter, imperfectly balanced, and as natural as possible — just like this stunning bedroom designed by Natalie Dubrovska.