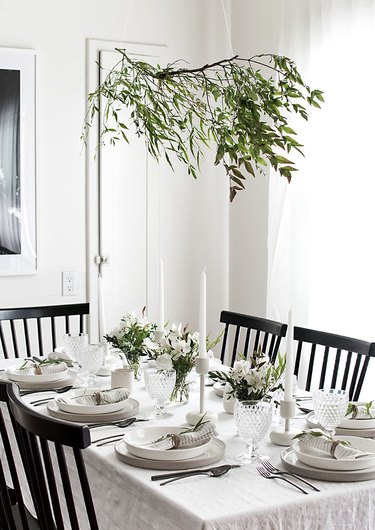 When it comes to dining rooms, white might not be the first color you'd pick. But if you want a look that's classically chic, a white space is definitely the way to go. The end result is striking. Plus, a white backdrop makes it easy to tailor to your personal style. From modern, to farmhouse, to tropical, and more, these 13 stylish dining spaces prove that white will never go out of style.
1. Sleek Monochromatic Style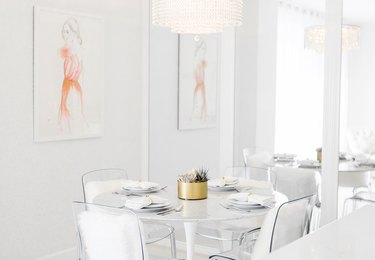 A wall of mirrors, sleek marble table top, and mod acrylic chairs work together to make Sydne's all-white West Hollywood dining room feel bright, airy, and bigger than it actually is. Fuzzy white pillows and a dramatic chandelier add contrasting texture which keep the space from feeling too sterile.
2. Cozy Minimalism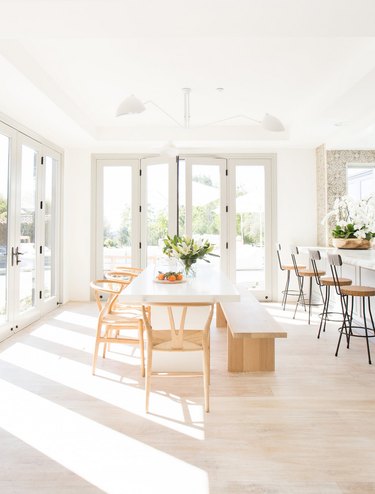 3. Midcentury Modern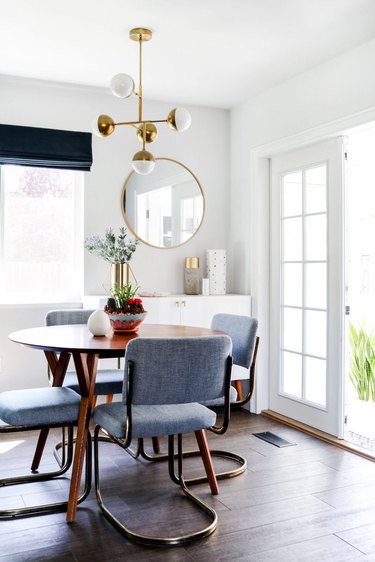 4. Beach-Chic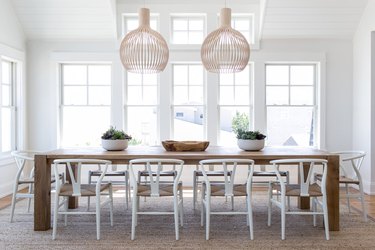 5. Artistic Expression
The all-white walls and flooring of this Helsinki apartment create the ideal backdrop for a signature piece of art to shine. The black accents from the dining chairs and table further highlight the inspired dining room, too.
6. Rad Retro Style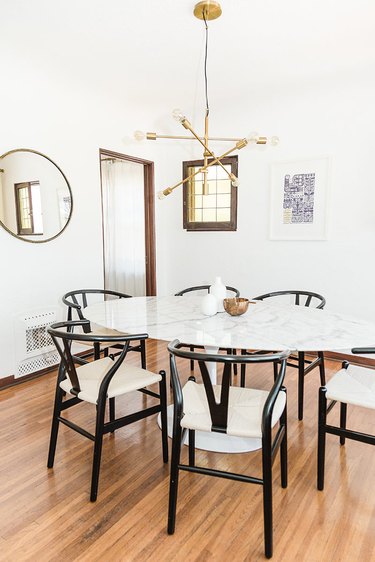 7. Updated Traditional
Interior designer Emily Henderson's casually chic white dining room, featuring a refinished farm table and pleated pendant light fixture, gets the updated traditional look right. Plus, it's totally kid-friendly since the chairs are covered in stain-resistant fabric, which is ultra durable and easy to clean.
8. Bohemian Vibes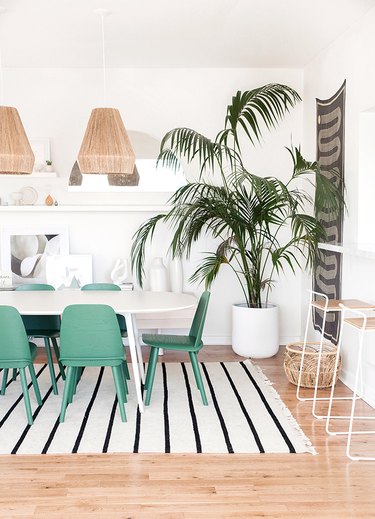 9. Refined Farmhouse
To keep a farmhouse style dining room from feeling too rustic, give it a modern touch by painting everything white. From the walls, to the floor, to the post and beam wood ceiling, to the sturdy dining table, having an all-white shell and decorative accents helps keep the space feeling light and bright.
10. Modern Industrial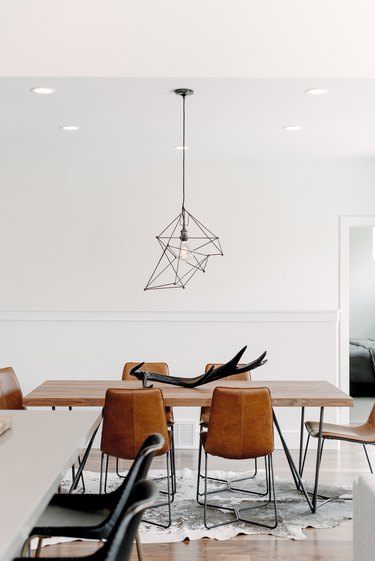 In this white dining room in Utah, the abstract metal pendant and steel frame table and chairs add a decisively industrial feel to the space, while the leather upholstery and area rug warm things up.
11. Sweet and Simple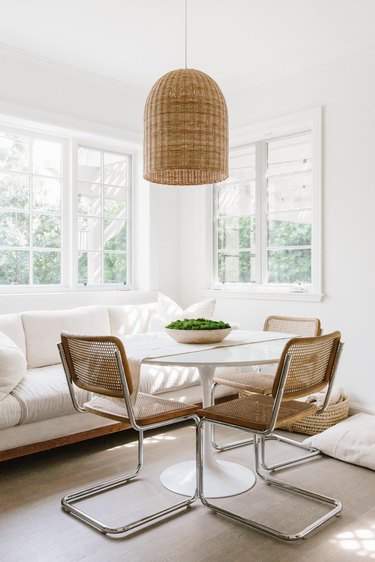 12. Mixed Materials
From a sturdy wood table, to white metal chairs covered in plush white sheepskin throws, to a woven rattan pendant light, and a textural table runner, this dining room by Megan Martinez from Boho Beach Bungalow mixes materials right by emphasizing their contrast.
13. Posh Simplicity
In Perth, Washington, a little bit of texture goes a long way in Tarina's white dining room from Oh.Eight.Oh.Nine. The gray faux fur throw and cowhide rug make the sleek, white tulip dining table and chairs set feel much more inviting.