We may earn compensation through affiliate links in this story. Learn more about our affiliate and product review process
here
.
What does it mean to be an artist of life? For lifestyle blogger Aileen Xu, it boils down to two things — personal growth and lifestyle design. Xu shares her insights, intuition, and wisdom across her site, lavendaire.com, YouTube, her podcast ("The Lavendaire Lifestyle"), and all the usual social channels. It's a clean, modern, pastel-hued life, right down to Xu's crisp, silvery-lavender lob.
Her authenticity comes from being a college grad — and a multi-hyphenate singer-host-actress-model — who had no idea what she wanted to do with her life. Xu took that personal frustration, turned it into personal growth, and, in 2014, turned the wisdom she gleaned on her journey into a full-blown business.
Lavendaire, the brand, comes to you from the living room of Xu's charming Pasadena, California apartment, which she shares with her boyfriend Wilson. It's centrally located and the neighborhood is eminently walkable — but, most importantly, the apartment serves as a minimalist, delicately-curated background for the photo shoots, videos, and even the meditation practice and writing, that are central to Xu's work.
"My space really feels like an extension of my personality, in that it's soft, dreamy, and welcoming," she says.
The tools of Xu's trade are right there on display. A petite, white work desk that features a huge monitor, for photo and video editing. A tripod with a high-end camera and lights sits beside it. In the living room, Xu journals, creates, and films her inspirational, how-to videos. Each piece of decor in the background is precise and from a fairly specific pastel palette. "I love pairing pinks and greens with the neutral furniture," says Xu.
A minimalist at heart, Xu took her time choosing each piece of decor — the pillows, the throws, the art — after deciding upon essentials like the couch, bed, chairs. For her favorite piece, the shell chair, Xu searched for months to find an affordable version after spying an original on the Egg Canvas Instagram. "I love the dramatic, curved shape," she says. "It's intentionally artful rather than being a regular functional piece of furniture." Xu likens it to her own personality — minimal, but also artful and different.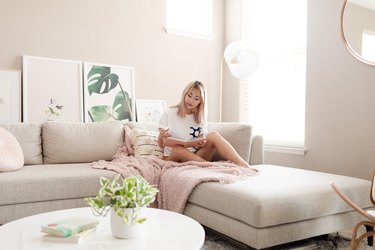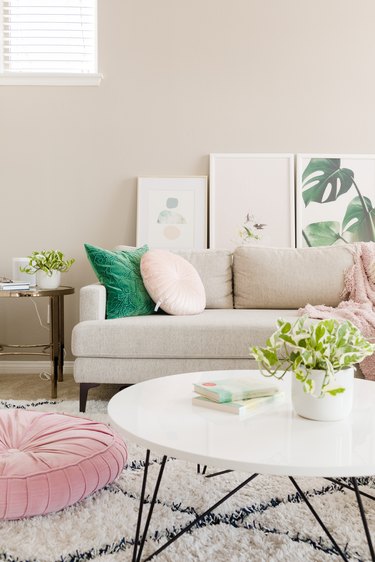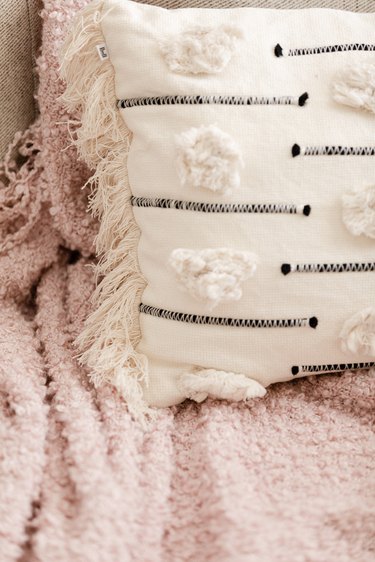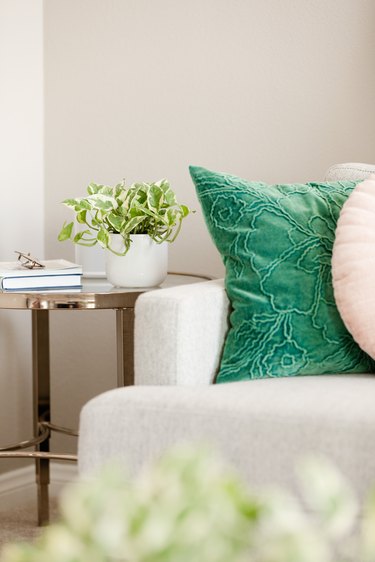 While femininity reigns, minimalism is core to Xu's overall design sensibility.
And along with minimalism, Xu credits decluttering phenom Marie Kondo for helping her define her approach to life — and style. Kondo's best-selling book, The Life-Changing Magic of Tidying Up, sits prominently on her coffee table, a reminder to embrace joy and simplicity in all that she does.
Both for Xu and for her audience of 675,000 plus fans on YouTube, Lavendaire is about making small changes to get the life you ultimately desire — and deserve. Whether it's vision boarding, journaling, finding inspiration, or simply finding your way, step-by-step, Xu has tackled the topic. "I deeply enjoy the process of creating my dream life," she says, "the journey to embracing myself, aligning with my vision, and building the habits and skills to make that life a reality."