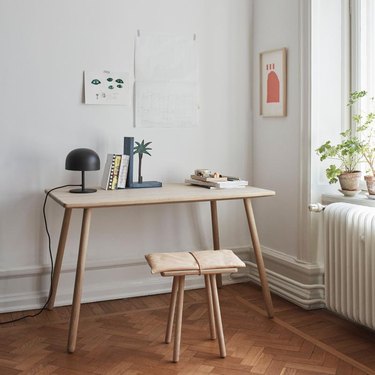 Scandinavian style is rooted in minimalism and simplicity. It champions the use of neutrals and organic elements, which, when coupled with natural light, results in a scheme that's cool, calm, and collected. Conveniently, those are just the characteristics that are essential to carving out a productive home office.
While most office furniture tends to be utilitarian, Scandinavian design offers a fresh twist, where form and function can be one and the same. Ditch the rough textures and overly lustrous metal finishes in favor of smooth surfaces and light wood. Then, introduce a pop of color here and there to create a defining moment that takes it all to the next level. Regardless of which approach you take, inviting a bit of hygge into the workplace can be the dose of serenity your office was missing. Here's where to start.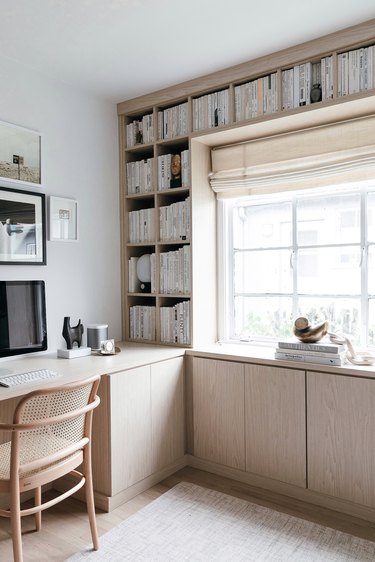 Streamlined minimalism looks a lot like this serene setup in Anne Sage's Scandinavian-inspired home office. The custom build storage system features ample shelving opportunities plus built-in cabinets and plenty of surface area for a workstation. On the styling front, the creative stayed on-theme with a palette rooted in neutrals, which extends to the books, wall art, and window treatment.
2. Accentuate the basics.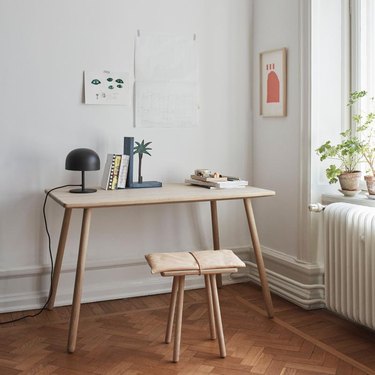 Clean lines, subtle curves, and thoughtful art placement art are just a few of the components that comprise a quintessential Scandinavian office design. This artful workspace proves that theory and showcases how impactful small details can be, inviting a bold dose of style with a carefully edited collection of furniture and accessories.
3. Layer different finishes and colors.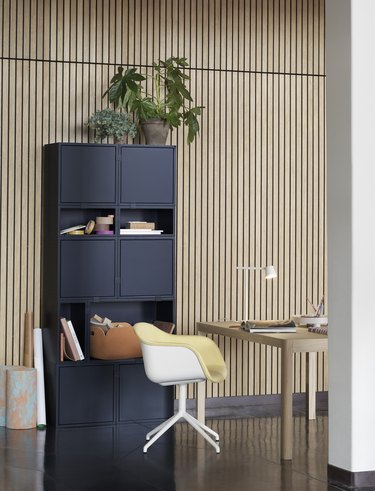 Nordic home decor and furniture brand Muuto never fails to inspire us with their effortlessly cool take on office staples reimagined in fresh hues. Here, a dark, vertical storage system cleverly conceals clutter and doubles as a depth-defining focal point while the pastel office chair grounds the wood-paneled backdrop.
4. Bring the outdoors in.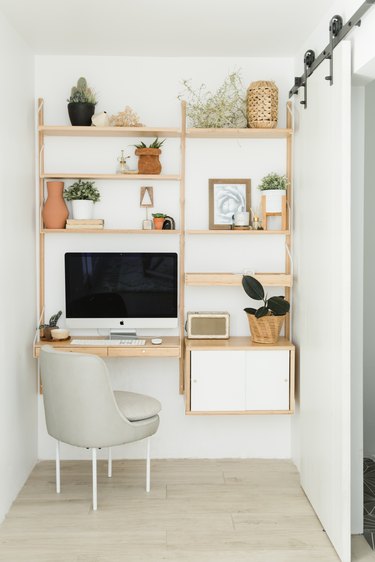 Live greenery is yet another essential staple of a Scandinavian home office, contributing a natural element that can enliven and brighten your space. Plus, it's a major gamechanger for areas that lack natural light altogether. (Find out which plants thrive in low-light rooms here.) Filter in a few potted plants — a towering floor piece is always encouraged — into your workspace to lend a fresh tonal note against a neutral color palette.
5. Consolidate with intention.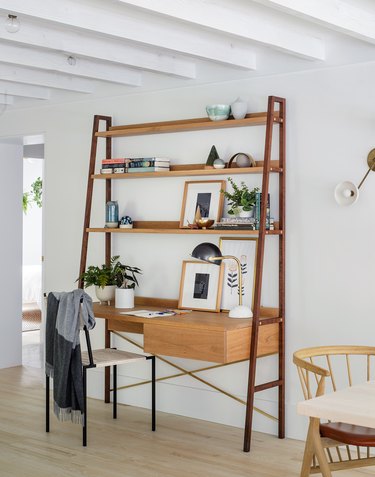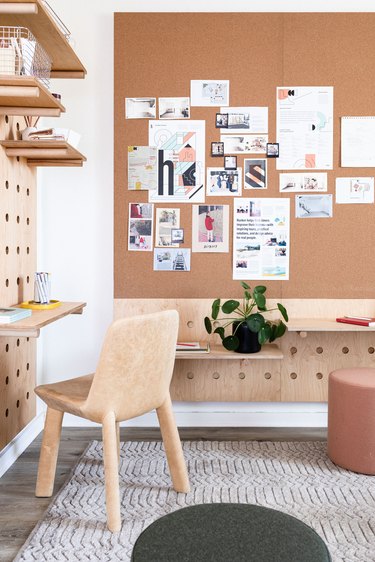 Step into a Scandinavian style office space and chances are, you'll find a pegboard being used in one capacity or another. We're all for running with the theme on a larger scale by outfitting the walls with the versatile element and allowing it to provide a platform for built-in shelving and even a desk. This clever setup in the Hunker House illustrates how adaptable the solution can be, with portable ledges that can cater to any configuration.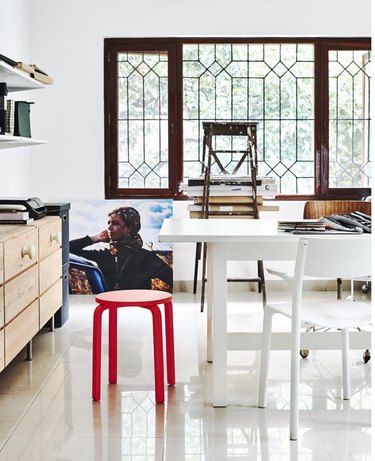 While shades of white, cream, and beige may be a mainstay of Scandinavian design, high-contrast accents (by way of primary hues or a darker navy or green) are just as essential. Note how the vibrant red stool in this Nordic-inspired office spotted on IKEA completely transforms the neutral-heavy space.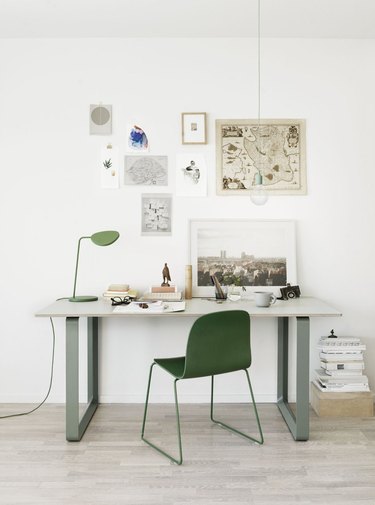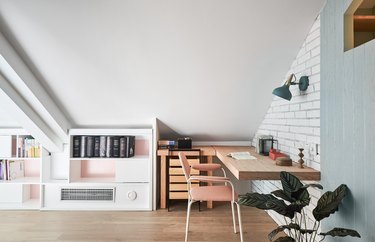 Is it just us, or does it seem like Nordic homes almost always come with an attic that's repurposed into a functional zone? This mezzanine study by Hao Design hits all the right notes with its contemporary approach to classic Scandinavian design. In lieu of the traditional combination of white walls and light wood furniture, the designers opted for a playful array of pastels and subtly textured materials to give the scene a layered effect.
10. Conceal the odds and ends.
Incorporating simplicity into an interior design plan for a workspace means carving out ample storage solutions that can keep clutter out of sight. Cue this home office nook, designed by Source Architects and interior designer Micaela Outtrim, that functions as a seamless extension of the kitchen and living room. The closed cabinets help establish a tidy finish while the wooden stretch meant to serve as a desktop brings a welcome dose of warmth to the scene.