More and more people are working remotely these days, so it's no surprise that home offices are have become so popular. Unlike corporate buildings, a home work environment grants you considerable freedoms when it comes to decorating. Instead of having drab wall colors and harsh lighting, you can let your imagination run wild and make design choices that help you feel good about clocking in. That, in turn, can help with concentration and increase productivity. So, lean back in your comfortable, ergonomic chair, and take in these home office wall decor ideas. They'll show you why your 9-to-5 area shouldn't be all work and no play.
1. Personalize the space with a wall hanging.
An office is where you go to get work done, but every surface doesn't have to be completely covered in calendars, Post-it Notes, and "bang head here" signs. Incorporate a less-stress inducing option like wall hanging that will cultivate a relaxed and comfortable environment. You'll feel motivated to push through even the toughest to-do list with ease.
2. Hang framed photos and personal effects.
It's not uncommon to see workspaces decorated with photos of family and friends, but we love the creative spin on this idea from LA power couple Tina Perry and Ric Whitney. Framed portraits and a mounted guitar reflect the couple's professional ties to the music and entertainment industries.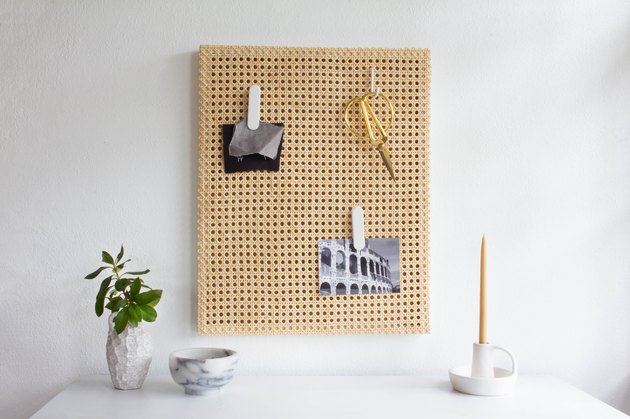 For anyone currently fighting a losing battle with clutter, this minimalist workspace is an absolute dream. The desk holds only a few decorative items, while the home office wall decor features a single, sleek DIY cane memo board (from Hunker contributor Trisha Sprouse) that can be used to display photos and work reminders or hang office supplies.
If you want home office wall decor that's both stylish and functional, a mounted shelf is a great option. As you can see in this setup from Hunker contributor Chloe Berk, the shelf is styled to perfection: It blends right in with the bronze wall sconce. On the functional side, the shelf provides a neat place to display keepsakes and photos. You can also place supplies there for easy access while keeping the desk clear.
Traditionally, we tend to associate backsplashes with the kitchen or bathroom, but this chic home office setup mixes things up a bit in a good way. The wood desk brings out the brown details in the tile. Toss in some complementary accessories — a two-tier shelf and a nice-sized monitor — and you have yourself the perfect clutter-free, modern office space.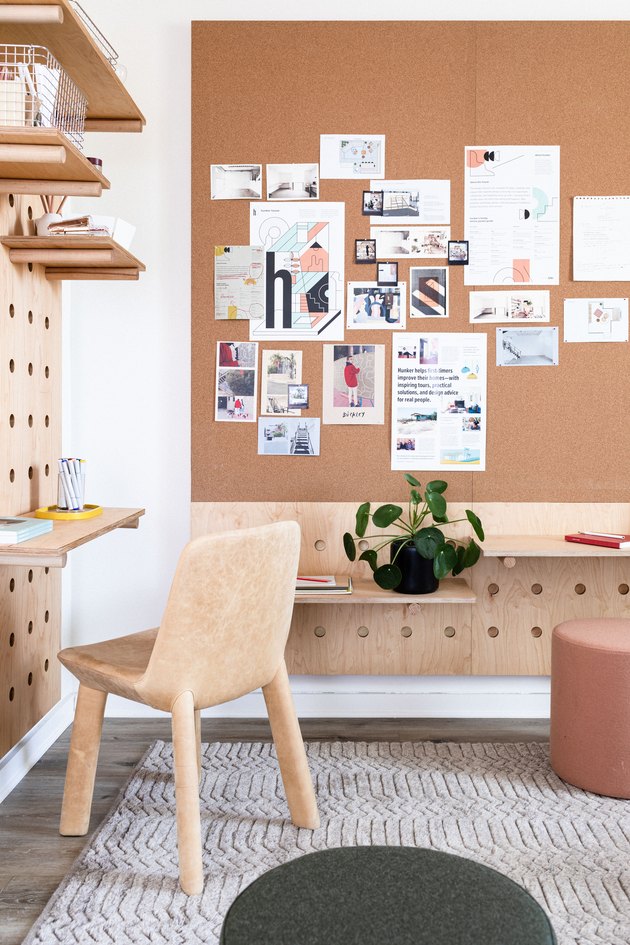 Sometimes you just need an old-fashioned note in your line of vision to keep you on top of your tasks. This gorgeous cork board wall serves that purpose. Along with the memo station, the multiple wall shelves — placed at various levels — along with a single chair and two ottomans help create a space that's ideal for brainstorming sessions.