A minimalist modern home office design can have a huge impact on your productivity and efficiency and, in turn, your mental wellbeing. So why settle for a space that you don't look forward to working in?
Functioning in a home office isn't the easiest of tasks (it can feel lonely, and it may be hard to establish a routine). But with the right desk (even a lap desk) and office accessories, you're more likely to get through the workday and feel glad about it. If you're easily distracted, we suggest creating a space that's minimal in aesthetic to help keep you focused.
Here are our top tips for achieving a minimalist modern home office design and eight inspirational images for encouragement.
1. Create a zone.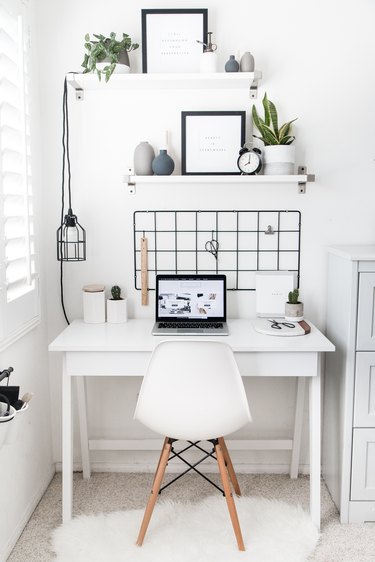 When it comes to picking a room for your minimal home office, you want somewhere that is quiet, filled with natural light, and away from the distractions of everyday life; even a bedroom will work. Don't go overboard on decking it out. A desk, office chair, and small-space storage is all you need. Andrea of The Beauty Dojo nailed all the essentials.
2. Choose a neutral color palette.
A minimal aesthetic is best kept neutral, so work with a palette of whites, creams, grays, and other muted tones. Tiffany of Curate & Display chose brilliant white for her workspace, balancing the look with pale untreated woods, a large jute rug, and a black slightly midcentury desk to add some contrast. We love a workspace upgrade like this one.
3. Think about storage.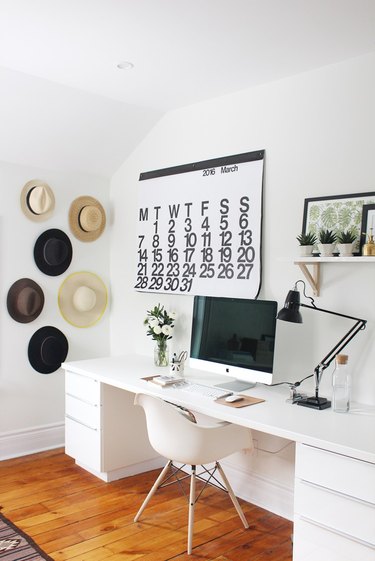 A cluttered aesthetic just won't do. So first thing's first: Get your sorting hat on. Recycle or donate any unnecessary office supplies, and think about the decor you want on display. Choose a desk with storage and any other double-duty furniture that might hide clutter. Lee Vosburg centered her office space around a calendar, but the minimal desk lamp is perfect, too.
4. Consider open shelving.
5. Make use of natural light (and greenery).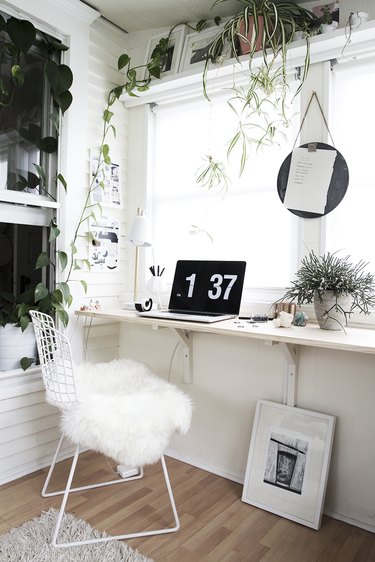 If you're blessed with large windows, take full advantage of them. Place your desk (or DIY one with IKEA supplies) in front of the window so you have a pleasant view to keep you inspired. Add lots of plants and greenery to the mix, and you'll never want to leave!
6. Accessorize sparingly.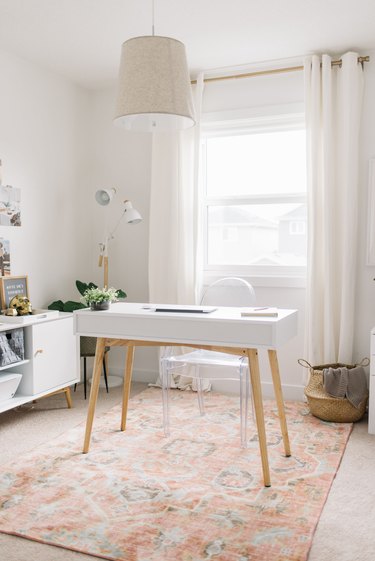 While you want your office to feel homey, you don't want to add too many pieces that aren't functional. A rug, however, can add color and pattern without being overwhelming. This Scandinavian-meets-feminine home office might just be the style you've been looking for.
7. Get your ergonomics right.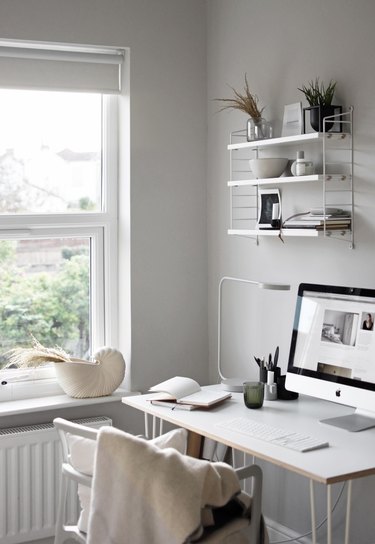 To prevent physical discomfort and to improve your performance and productivity, it's vital to make sure your work setup is ergonomic. We think that Abi Dare of These Four Walls nailed it with her stylish but practical accent chair and hairpin leg desk. The gray walls in her bedroom-turned-office are pretty great as well.
8. Make a room multifunctional.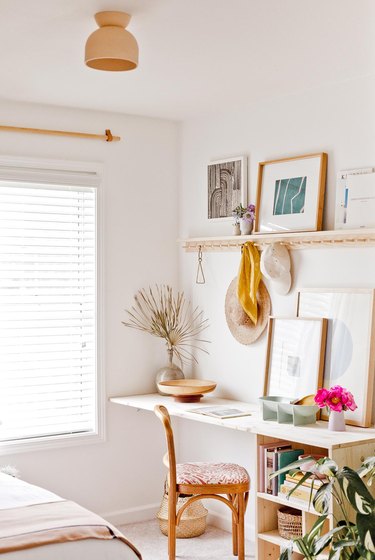 Not everyone has a separate room for their office, but don't dismay. A corner desk can work in a bedroom, living room, or anywhere! Brittni of Paper and Stitch created this desk setup in her guest room, building the boho minimal desk herself and hanging a peg rail for artwork and accessories. The easy DIY is renter and budget-friendly!