Working from home sounds like a dream if you consider the commute, the dress code, and, hopefully, ultimate control over the office temperature. (Ladies, did you know cooler temperatures have shown to affect our productivity?) But anyone who has done it for a while will tell you that it comes with many challenges, especially if space is limited. Sustaining productivity can be especially difficult when your partner or pet doesn't care you're on deadline, or when you know there's a pile of laundry waiting to be folded. While these architects can't help put your laundry away, they have 10 valuable tips to ensure your home workspace flows with creative energy when you need it most.
1. Approach your workspace differently than the rest of your home — the goal is creativity not comfort.
"Workspaces should not be too comfortable," says Clive Wilkinson, whose eponymous firm recently designed the new Santa Monica College Center for Media and Design as well as many workplaces all over the world. This can be challenging at home when your bed is only a room or a few feet away, but try aiming for a work area that you're excited to sit at each day, and that is "somewhat provocative." Whether it's a selection of books or magazines nearby or an array of artwork or a changing mood board above your desk, create a space that stimulates you. At many of the offices Wilkinson designs, his firm includes standing desks, for instance. It's hard to sleep standing up, right?
2. Choose flexible furniture.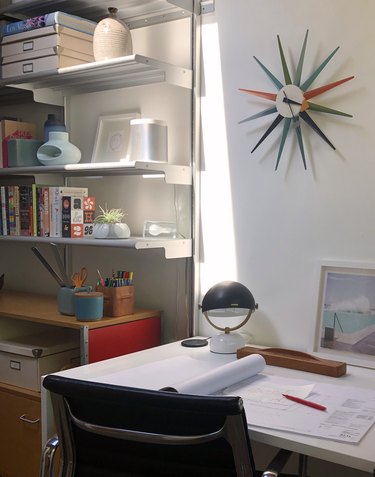 "Keep it flexible — needs change over time, so do not build in furniture," suggests Oonagh Ryan, founder of architecture and design firm ORA, whose projects include reimagining dated office buildings and workspaces. Knowing something isn't permanent can be liberating at times, keeping you open to possibilities. She also advises against "office furniture" for the home, but instead choosing pieces that are multifunctional or compact, mentioning that Blu Dot and CB2 have good options.
3. Clear your desk and mind with the help of smart storage solutions.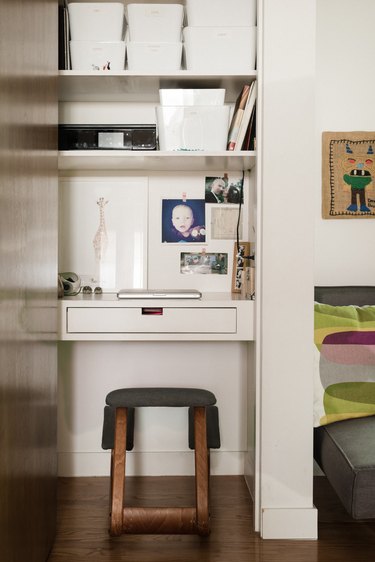 Simply making (head) space for artistic endeavors isn't easy when paperwork and various objects are competing for your attention on your desk. "Keep digital equipment (printers, etc.) in a closet so that the door can be closed when not in use," recommends Ryan. "Put office supplies in drawers and use dividers to keep things organized. Forgo a desktop computer in favor of a laptop. Try to work and store paperwork digitally as much as possible."
Perhaps you don't have a separate office at all, but a corner desk in your bedroom or another room. Married couple Mandi Roberts, senior designer at Koning Eizenberg, and John Son, associate vice president of Cannon Design, can relate. They live in a one-bedroom apartment, "so it is important for us to have a place for things to go and to minimize clutter." They share a Nelson Swag Leg Desk that is visually appealing, with colorful, small storage nooks and a shelf, "but there still isn't a lot of room for extra paperwork," Roberts says. To address, they use a Perch Magnetic Modular Wall on the adjacent wall for office supplies and paperwork to be filed. They also utilize virtual organizers such as Pinterest boards to populate with things that inspire them.
4. But — allow for meaningful distractions.
"At the office, personalization can be a bit awkward and can make an office look a bit junky. Home is another story, where you can put your unique, quirky stamp on your space with inspiring artifacts," says Son, "and you can work with your pet by your side, in our case, our cat, Soju."
Even if you can't face a window, Ryan suggests having one nearby: "Being connected to the environment, to be able to see the sunshine or the rain and time of day, makes me happy and improves my productivity."
If next-door neighbors prevent you from enjoying the view from a window in your home, Roberts and Son have a suggestion: "In our urban home office, our neighbors are 8 feet away, making privacy a bit tougher. We added a film to the glass facing the neighboring building. The film reflects the lighting in an interesting pattern, while providing privacy, allowing the shades to stay open all day and to maximize daylight."
6. A good quality chair goes a long way.
This, for Ryan, is essential. Her pick? The Herman Miller Aeron Chair. "It's a design classic. Its ergonomic features and breathable seat and back fabric provide excellent support and comfort for long hours at a desk."
7. Turn your dining room (or table) into an alternative workspace.
More and more people are saying goodbye to their dining rooms because they're rarely used. Use yours or your dining room table for additional workspace as needed. Since Roberts and Son enjoy doing arts and crafts, they often use their large, pebble-shaped dining table for projects, which is conveniently near their desk. (They also have a stocked walnut bar cart not too far away either.) Ryan also takes her laptop to her dining table when she's feeling stuck. "It has great garden views," she says, "and this small change of environment is usually enough to get my brain moving again."
8. Keep creative tools close.
There's nothing more frustrating than when an idea strikes, or you're finishing up a design, and that (fill in the blank) is in another room or simply MIA. "My tools need to always be within easy reach — pens, tracing paper, scales, etc.," Ryan says. When inspiration hits, she's ready.
9. The right soundtrack does wonders.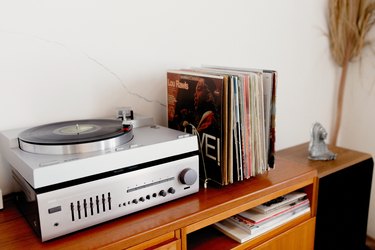 "We have a Sonos system set up in our home office and most of the day listen to music at work," Roberts and Son share. "Working at home alone during the day can get lonely, and it is easy to get distracted. Music is such a great motivator and can give the space so much energy."
10. Constantly experiment with your layout.
Move things around your space — everything — and see what happens. "I think what is valuable about rearranging the space around you is that it works as a metaphor for your life: rearranging how you are living, and consequently, where you are going," says Wilkinson, who is a strong proponent of experimentation. "Furniture arrangements can create a new geography for your life: they can reinforce a need to hunker down and retreat or to open yourself up. They can create new settlements with the tools of community, like a chair and a table. They can suggest new paths and, of course, host new conversations."
Wilkinson also warns that you should be prepared not to like it. And that's OK. The exercise itself is a creative one. "We humans loathe change because it almost always implies giving up security. But in order to survive in a fast-changing world," he adds, "we are compelled to change and adapt ourselves. So the space and the elements of our home or office serve as playing fields: they provide the opportunity to mock up, to simulate, and to test in an abstract way where we want to direct our lives."