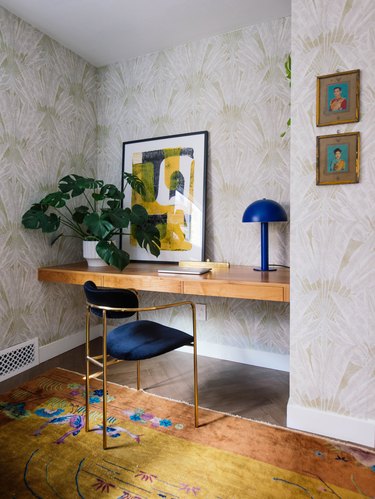 For midcentury home office ideas to feel authentic, there are a few things you'll need to consider. First of all, don't go with ordinary, everyday office lighting; instead, opt for fixtures with a mid-mod vibe. Think globe-style designs with curved silhouettes flaunting a gleaming brass finish. Another opportunity to show off midcentury style in a home office is with office furniture flaunting clean lines. For example, an antique writing desk from the 1960s rendered in walnut, showing off subtle atomic details and paired with an Eames chair would be picture-perfect.
Lastly, even though midcentury modern design often showcases a signature palette of orange, yellow, and turquoise hues, you can always turn to a neutral color scheme if that's what you prefer for your office remodel. Those quiet shades might feel more soothing, especially if your workspace is outfitted in lively midcentury decor.
Get the look in your own home with these eight midcentury-inspired office ideas that show us how to get the job done right.
1. Choose whatever colors you like.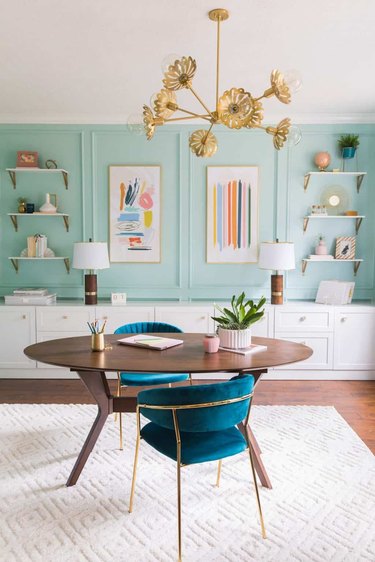 Maybe a traditional midcentury color palette, filled with shades of orange and goldenrod, just doesn't appeal to you. Well, good news: You can actually incorporate the hues you prefer while still embracing midcentury design ideas. This office by Ashley Rose of Sugar & Cloth looks oh-so-midcentury with its radiating chandelier and timeless office furniture, but weaves in a more contemporary color scheme with mint walls.
2. Pay special attention to the furniture.
If you're going for a true midcentury vibe in your home office, don't settle for modern-day furniture. Instead, go online or sift through antique shops to find real-deal midcentury pieces. In this workspace showcased on West Elm's blog Front + Main, a vintage desk and office chair bring the classic look together beautifully.
3. Don't forget curated decor.
One key aspect of midcentury modern interior design is being choosy with your decor. For example, instead of simply picking up just any artwork, be picky and go for an authentic look with actual vintage items. This office space styled by Jess of The Golden Girl has curation down to a science with a subtle-yet-special gallery wall and bygone accessories, like the leather satchel on the floor. The rich color palette and timeless furniture complete the dreamy workstation.
4. Make functionality a priority.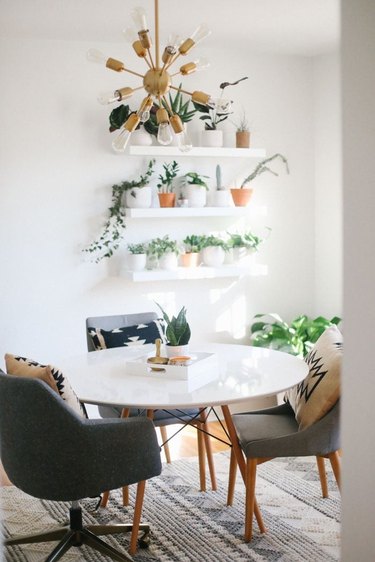 Just because an office embraces vintage style, that doesn't mean it can't be practical, too. Choose midcentury items that work double-time in your office and suit your needs. For instance, in this space used by the team at Fit Foodie Finds, a large midcentury table with multiple chairs allows for impromptu meetings. The white open shelves look modern and act as handy spots for plants to perch.
5. Carve out space for built-ins.
In any home office, built-ins are incredibly convenient. They offer great storage (you'll never need to buy a separate bookcase) and in the instance of a midcentury workspace, they provide perfectly sized cubbies to show off vintage, mid-mod decor. Just look at how Erin of Sunny Circle Studio has been able to display eye-catching tchotchkes in her built-ins.
Midcentury modern design is playful at its core, and your home office should be no exception. In your workstation, mix patterned artwork with a busy area rug and detailed wallpaper, all featuring midcentury motifs — something that's easily spotted in this small space belonging to Dabito of Old Brand New.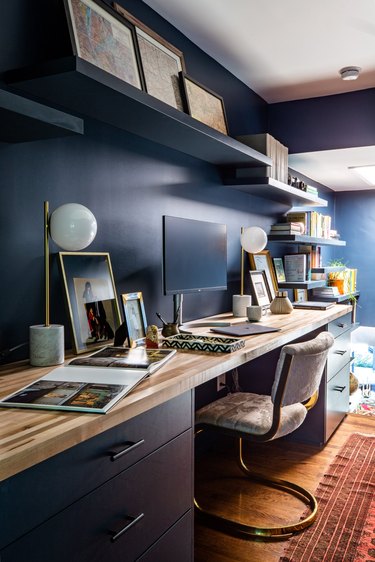 To instantly communicate midcentury ambiance in any office design, make it all about the lighting. Annette of A Vintage Splendor chose globe-style desk lamps to add some retro flair and complement her classic desk chair, illuminating the work surface and shelving in style. The same aesthetic works for floor lamps, too.
8. Don't overlook storage.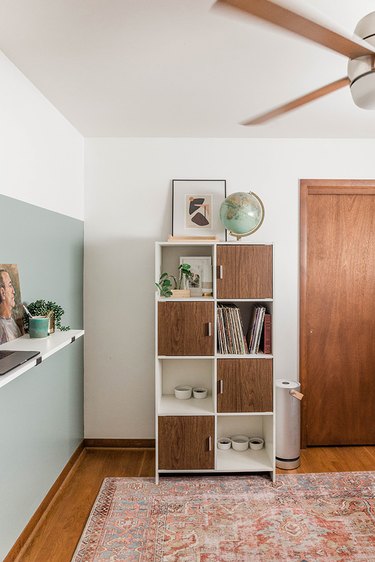 If you're aiming to create a midcentury home office, you obviously value a space that has a clear point of view and attention-grabbing touches. But that doesn't mean you should overlook function in the name of design. You can undoubtedly find bookcases and cabinets, whether they are old or new, that impart a midcentury feel ​and​ provide ample storage space, something that's seen in this office belonging to Carrie of Dream Green DIY.