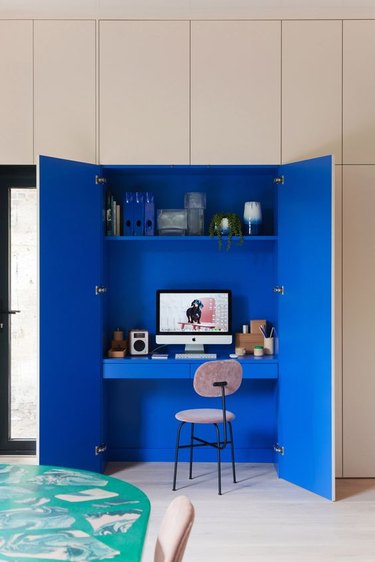 If you work remotely, you'll understand the struggles of organizing a home office, especially when it comes to chic storage options. Since when did you accumulate so many pens, right? While we wish it was as simple as popping in a desk, chair, and shelf, the professional life requires a little bit more stuff. And whether you have a dedicated room, or just an office nook, that stuff has to go somewhere. Nobody said that setting up your work zone was going to be easy, but check out these functional yet fabulous home office storage ideas to get started.
1. Embrace open shelving.
First thing's first. If you're working with a small home office, you need to make the area as efficient as possible while also keeping it cute. Think about the vertical space as well as the square footage. Opt for open shelving that will provide endless styling opportunities and storage. Dabito of Old Brand New used a wall-mounted shelving system in this minimal, boho setup. The baskets hide clutter, and lots of plants steal the show.
2. Hack an existing piece of furniture.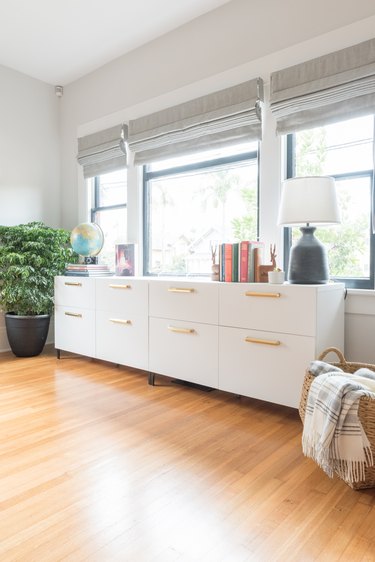 Home office storage furniture isn't always the most aesthetically pleasing, so why not hack something to suit your style? Ashley of The Gold Hive upcycled a set of IKEA Besta units by adding new handles, legs, and shelves within the design. The result is chic and unassuming but ultra functional. Check out more Besta hacks here.
3. Use hooks and drawers.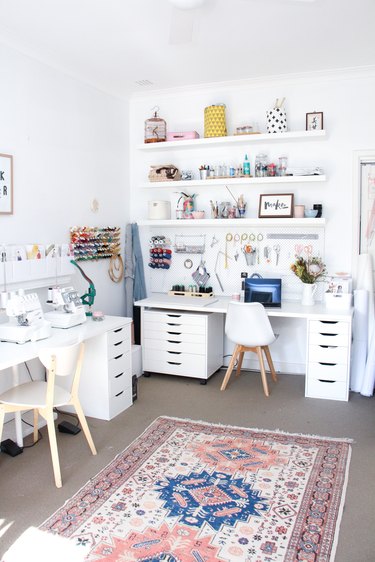 Does your home office also serve as a place to get crafty? This workspace by Megan Nielsen is about to get your mind whirring. Every spot has a bit of storage. Hooks on the wall hold the most-used tools. There's also open shelving, drawers on either side of the desk, and magazine racks that span much of the room. Working from home never looked so good!
4. Configure your cupboards.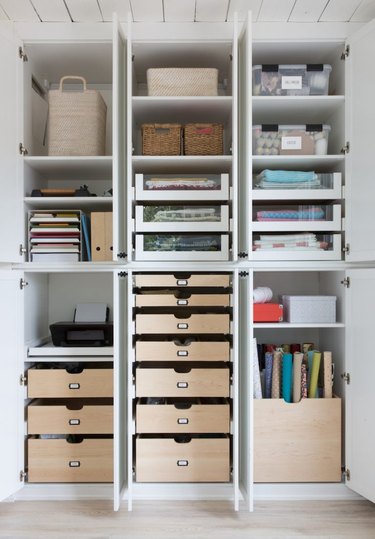 Built-in cabinets can perfectly store all of your office essentials without impacting the overall look of your space. The floor-to-ceiling unit in this work spot from Camille Styles is filled with shelves and different drawer configurations to hold everything work related, even a printer. We're a sucker for the handmade labels, too.
5. Make it multifunctional.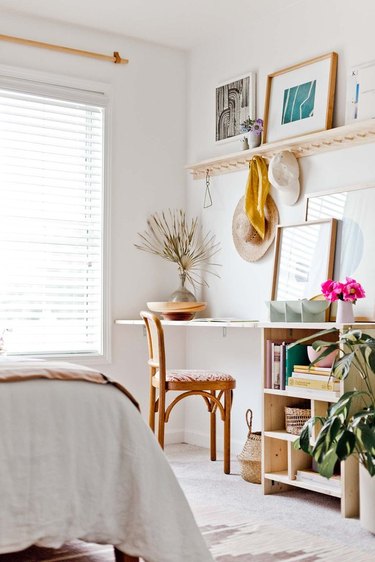 For smaller homes, your office might reside in another room. So using every inch of the space is important. This boho office-meets-bedroom created by Brittni of Paper & Stitch hits the mark with under desk storage and a picture shelf peg rail. Plus, there's the perfect spot for a lunchtime snooze.
6. Build your own storage.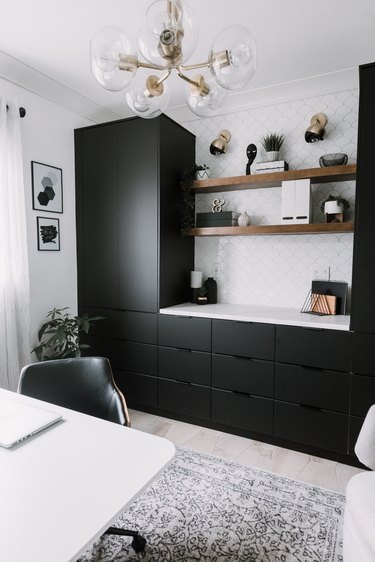 7. Make use of every area.
It's easy to forget about the storage potential of items other than cabinets and bookcases, so look around your room for items that could serve double duty. This sweet office seating area is the perfect example — rather than having a hollow base, the lower half has been turned into a place for books and baskets.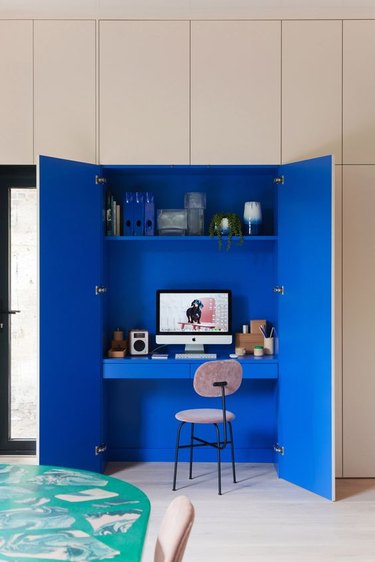 If in doubt, hide it all! We love this simple office space that's built into the London kitchen of 2LG Studio. The vibrant desk has drawers for files, while the shelf is perfect for decor and storage boxes. Plus, when things get a little bit messy, it's easy to shut the door on it all.