In the world of interiors, the color blue is a timeless and versatile staple. And with a seemingly endless spectrum of shades to choose from (each with a distinctive mood), it's safe to say that it has some serious range. Take white as an example — while it can be broken down into its own subset of neutrals (cream, off-white, bright white, eggshell, etc.), at the end of the day, it's more or less still white, evoking a light and airy scheme. Blue on the other hand can range from the sophisticated (navy blue, royal blue, sky blue) to the vibrantly playful (aqua, turquoise, cerulean) to resolute (indigo, sapphire, teal). And that's only the tip of the iceberg.
Known for its calming properties, blue is a no-brainer when it comes to the workspace. In many ways, it can be more soothing than a stark shade of white, far more approachable than gray, and a dynamic alternative to brown. Its adaptable nature means it can cater to even polar opposite aesthetics — from minimalist to boho. To showcase just how impactful the hue can be, we compiled a shortlist of our favorite blue home office ideas worth considering.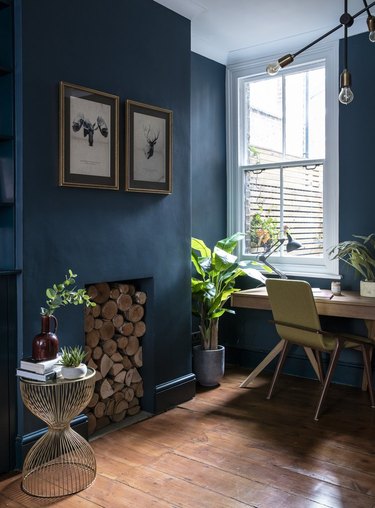 Place greenery against a blue backdrop and you'll find yourself an instant convert. The color wheel neighbors were made for one another and this lovely home office from Hello Flora is a perfect representation of how well it can be carried out. Opt for a darker shade to create optimal contrast and bring in an array of lighter-leafed plants to diversify the arrangement.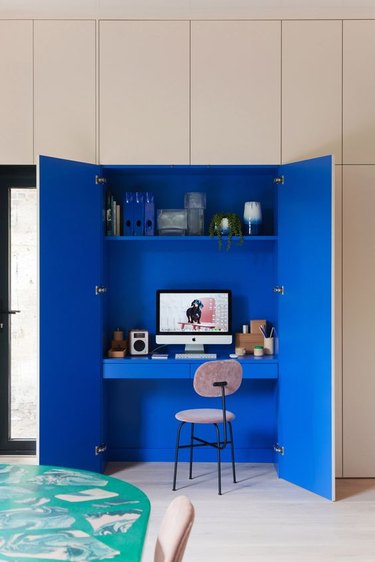 File this under one of our favorite modern home office designs, pretty much ever. Going bold is a whole lot easier when you're working with a small space, as proven by the vibrant burst of cobalt blue that reinvented this closet-turned-workspace from 2LG Studio. Keep things simple by going for a monochrome look and just paint everything from top to bottom — the shelving, desk, walls, baseboard, and all.
4. Employ a little color play.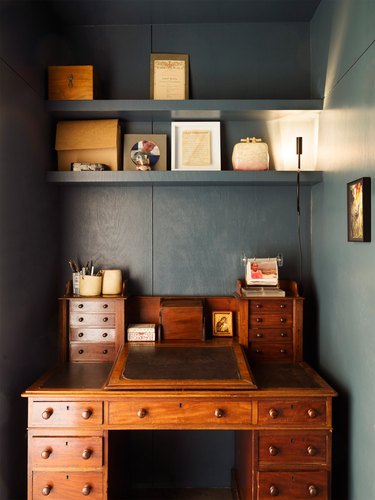 One of the more distinguishing elements of blue is its ability to seamlessly transition into black, as showcased by the backdrop of this Echo Park home office from architectural firm PRODUCTORA. The result here is a dynamic hue that's influenced by light (Dunn-Edwards Nightfall), and errs toward the moody yet still manages to retain a slightly saturated finish. Bonus points for the fact that it stands in as the perfect complement to the antique wood desk.
5. Embrace a monochrome scheme.
Blue is probably one of our favorite colors when it comes to monochrome design ideas. But don't just take our word for it, take a peek at this stunning home office from Chango & Co. where a steel blue paint color coupled with a lacquered finish leads to an elegantly refined scene that's pure sophistication. By extending to all the major elements of the room, from the built-ins to the bookcases and even the upholstery, the tint sets a captivating tone that steals the show. The natural light pouring in through the window keeps the space from feeling too dark.
6. Offset with an indigo undertone.
An accent wall (with tongue and groove wall paneling no less) is a foolproof way to introduce a splash of color to an otherwise muted palette. But it's also a good way to separate one zone from another in an open layout. The petite office nook in this laidback ranch from Raili CA Design illustrates the bold impact of a single navy wall, especially one flaunting an indigo undertone. The rich saturated shade naturally complements the neutral surroundings, yet still manages to stand out on its own.
7. Simplify with intention.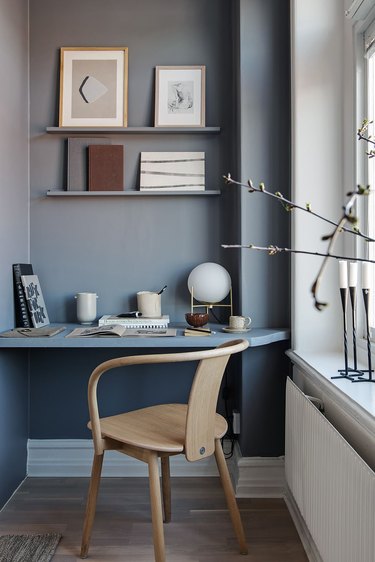 If you're going for a blue home office that's a step beyond the traditional, this minimalist take from Alvhem is the way to do it. Somewhere between periwinkle and grayish-blue, you'll find this inspired shade that's prime for achieving the effortless cool of Nordic design. In this setup, the built-in shelving and wall-mounted desk are coated in the same dreamy hue, transforming the nook into a certifiable style moment.
The navy blue walls of this light-filled workspace featured on Emily Henderson, are a lesson in working with a dark hue. The key to not overwhelming the room was to keep the ceiling, trim, and window treatments white. Additional details, such as the wood floors and furniture, inject a pop of color and warm up the interior.