When we picture a home office, it's often a light-filled room with white walls, a modern desk, and a few potted greens on a bookshelf. Needless to say, the scheme has become a bit expected. But the good news is, there are a multitude of different ways to spice up your workspace. Consider changing the style (such as midcentury, boho, or farmhouse) or the color (maybe blue, pink, or green). And if you're looking for something a bit more daring, cue the depth-defining hue that always makes us swoon: black.
Bold, dark, and effortlessly moody, black walls in an office can undoubtedly be intimidating and a little challenging to pull off. But we're here to guide you through the ins and outs of making it work and doing so with flair. Read on to see why it's worth exploring a more dramatic approach when it comes to designing your workspace.
Having access to natural light is probably the most important prerequisite when it comes to pulling off a black home office. Without it, you would be working with an all-too-dark color scheme that would result in a space that feels cramped and overly confined — regardless of how many light fixtures you own. Note how bright and open this home office designed by Kate Marker Interiors feels despite the inky walls, thanks to the large windows in front of the desk.
If you're intent on using the hue and turning it into a monochrome moment, ironically enough, doing so in a subsection of a larger zone might be your best bet. Think a closet-turned-workspace, or even a nook, where you can limit the dark color to a small area. The lighter surroundings will offset the dramatic tone as seen in this beachside home by MIM Design. The all-black niche is a prime example of making it work with custom-stained built-in cabinets that reveal a matching home office desk and stool.
Black and white are as classic as it gets and when it comes to home office ideas, the duo does not disappoint. This gorgeous setup, spotted on The Faux Martha, is all the proof we need. In lieu of going all out with the paint, the creatives opted for a bold accent wall to set a defining backdrop. To complete the look, they added contrast with a white, contemporary desk and matching file cabinets, resulting in a dynamic color scheme that's pure sophistication.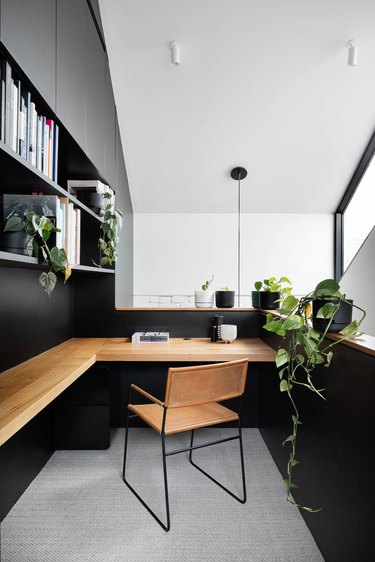 Offset the intensity of dark walls by opting for a home office design scheme that includes furniture and decor in a lighter shade. Note how the floating corner desk is made of a light wood finish that lends a generous touch of warmth to this minimalist landing-turned-workspace from Barnaby Lane. A leather desk chair, in a complementary shade, completes the streamlined look.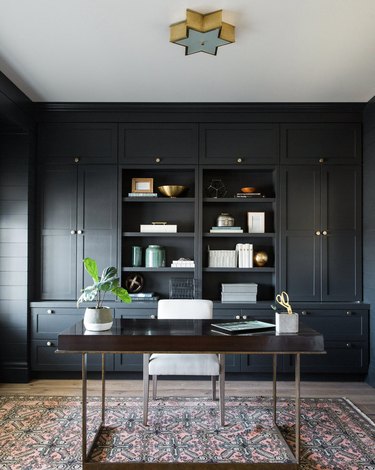 A few metallic accents here and there never hurts, and in an interior design palette that revolves around a dark shade, a little can go a long way. Bronze details, brass accents, and a lustrous ceiling fixture (such as a chandelier or flush mount) are great places to start. Studio McGee demonstrates just how beautiful a combo of black walls and warm metals can be in this striking contemporary home office with a sleek desk and white chair.
7. Don't overlook the floor.
It may be tempting to run with the black home office idea by installing an equally inky rug or going for dark wood floors, but try to resist the urge. Instead, opt for contrast as seen in this streamlined workspace spotted on LED Outdoor. The warm wood flooring, shelving, and desk not only brighten up the charcoal walls but also create a grounding effect that pulls the room's decorative elements together.
A black home office doesn't mean that you have to take the jet black route. Instead, opt for a less saturated shade — think charcoal or graphite — to achieve the desired effect. In this midcentury modern workspace, walls flaunting a grayish-black hue make a striking backdrop for a light wood bookcase and writing desk without overwhelming the room.