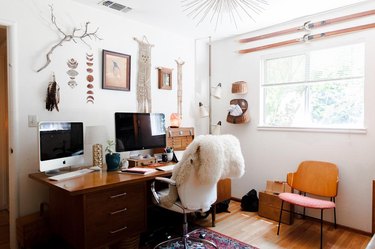 When it comes to home office style ideas, we've got plenty. From minimalist to midcentury, there's an interior aesthetic to suit everyone. And if you're thinking that injecting personality into your remote work area is hard to do, you're wrong. Whether you are working with a small space in the living room or a grand study, there are easy ways to make it your own. Luckily, we've put together this handy guide full of office design ideas to help you create a setup that is functional ​and​ feels like a representation of you. Ready to get started?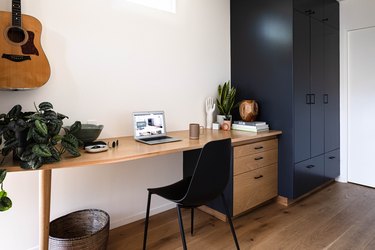 If clean lines and neutral palettes are your jam, then a modern workspace is definitely for you. But that doesn't mean it has to feel stark or boring, it just means that you'll need to be more thoughtful about the overall design. Avoid furniture and decor with fussy details that will distract you. Instead, create visual interest with a contrasting color scheme or a sleek desk lamp, and liven things up with a warm wood finish and a little greenery. These modern office ideas will get you started on the right foot.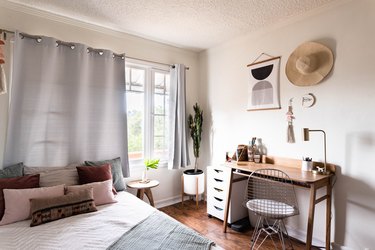 While contemporary interior design is influenced by modern design, there is actually a difference between the two: The latter is rooted in history, while the former is more fluid and dictated by what's current and trending. Whether you're styling a dining room, guest room, or office space, the same rules apply. You want to incorporate patterns, colors, and materials that feel of the moment. Here's some drool-worthy inspo.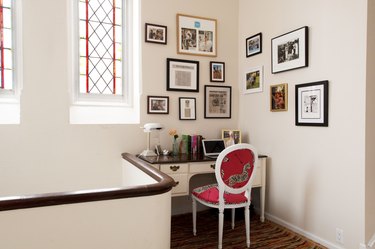 On the complete opposite end of the spectrum, you'll find traditional style. This design aesthetic is as timeless as it gets, showcasing intricate details and curved silhouettes reminiscent of 18th and 19th century furniture and decor. Give your office makeover a sense of history with the help of a vintage chandelier, cabriole leg desk chair, and an oil painting or two.
Obsessed with all things Chip and Joanna Gaines? You're not alone. And it probably also means that a farmhouse style WFH setup is just what the doctor ordered. In addition to the essentials, like office furniture, cabinetry, and bookshelves, consider a neutral palette, shiplap wall paneling, exposed ceiling beams, and a barn-style door. And while you're at it, throw in a few vintage pieces and industrial accents to tie the whole look together. You can see more here.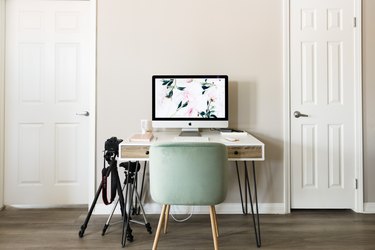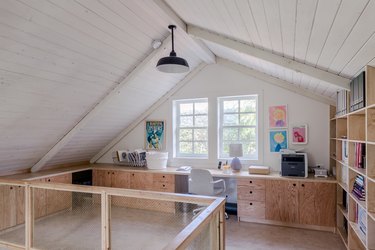 Scandinavian design (or Scandi style if you're down with the lingo) is all about minimalism with a softer edge. Think about a neutral color scheme — particularly white, gray, and beige — but try adding in soft wood tones for more dimension. And don't forget to add in a dash of greenery, too. Pro tip: IKEA is a great source for Nordic inspiration as well as a budget-friendly home office decor and furniture. These Scandi-chic designs will drive you to distraction.
For those with a carefree aesthetic, a boho home office design idea is the obvious choice. With nods to warm hues, layered textures, and all things handmade, bohemian life is all about expressing your creativity. You can keep it neutral with woven wall hangings (like this dip-dyed yarn DIY) yarnand a mixture of boho furniture, or splash out with a pop of color by adding lots of greenery and intersting artwork in the form of a gallery wall. Here are a few bohemian spaces that we can't get enough of.
Midcentury Modern Home Office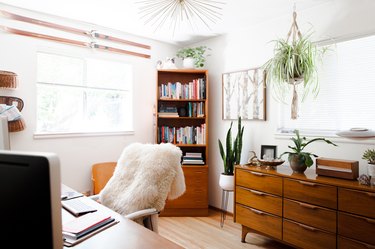 To nail a ​Mad Men​ style decorating idea you don't need to hire an interior designer, look to the '50s and '60s for your inspiration. Incorporate sophisticated materials with moody colors. Leather, brass, and wood will do the trick, while unusually-shaped pieces, such as a midcentury desk, cantilever office chair, and globe-style sconces, will add to the sultry vibes. Check out these mid-mod designs that offer up some major retro inspo.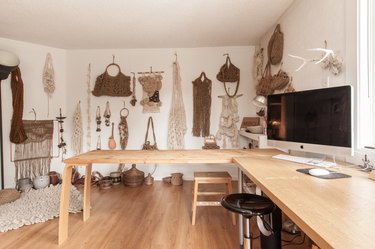 Desert style is all about celebrating earthy materials and original details in order to create an inviting and soothing space. And here's our mantra: The more wood and natural light, the better. In your office space, consider exposing the room's architectural details if you're lucky enough to have them (think wood ceiling beams), but also bear in mind that a neutral color palette, warm metal finishes, rustic furniture, vintage or industrial accents, wall hangings, and dried florals, can bring your idyllic workstation to life.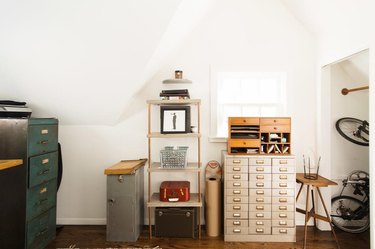 With efficiency at the forefront of any workspace design, it's no surprise that many look to the industrial aesthetic when they need a functional home office. The style tends to lean a bit masculine thanks to raw materials such as concrete, metal, and wood. Opt for neutral or dark paint colors and factory-inspired accents. And if you really want to up the ante, consider a vintage card file cabinet for extra storage space and an architect table lamp. Now, these ideas are what we call hard-working office spaces.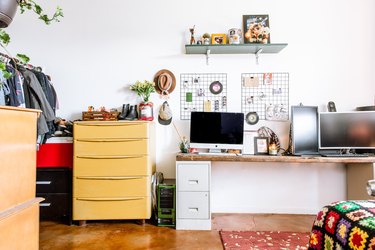 If you favor multiple design styles, a maximalist setup might be the home office design idea you've been looking for. Go bold with your color palette (maybe paint a wall black), and don't be afraid to add luxe touches. Mix and match textures and patterns with the help of furniture, wallpaper, and an assortment of different light fixtures to create a space that wows. Just be sure to thoroughly consider your home office organization so your workstation feels wonderfully layered and not cluttered.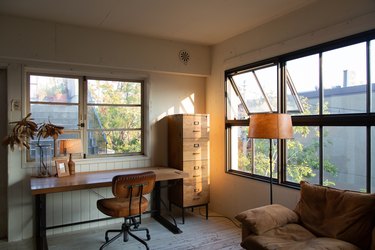 We didn't forget about rustic. If you're especially into warm, worn woods (think wood flooring, built-ins, shelving, and a reclaimed wood office desk), this is the design aesthetic for you. Just imagine you're working from your cabin up in the mountains — you have a picture window looking out at the picturesque views and a crackling fire with a stone hearth keeping you warm. In addition to that imagery, employ neutral color palettes, reclaimed wood, leather accents, and maybe a bit of wrought iron or oil-rubbed bronze for good measure. Cozy up with a blanket and a cup of joe as you browse through these home offices.