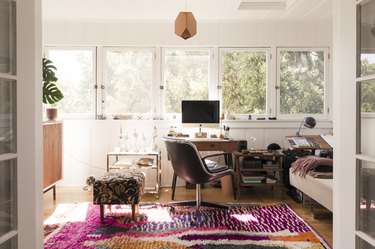 Here are our favorite ways to combine office function and home fashion.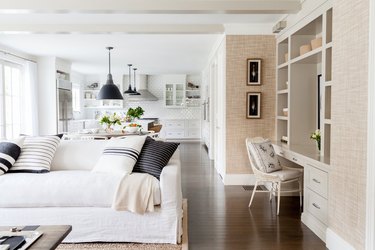 If you have the space for built-ins in your living room, center your office around the automatic storage solution. In this breezy, coastal setup from Chango & Co., a whole chunk of the wall is dedicated to built-ins and outfitted with subtly-patterned wallpaper. If your space is smaller, you can do a more compact bookshelf situation with an accompanying desk.
In this home office and living room combo, the desk and storage area are very neutral, so they seem to blend right into the corner. However, the addition of a bold accent chair keeps the space from feeling basic. In fact, the black and white animal print theme is echoed throughout the room.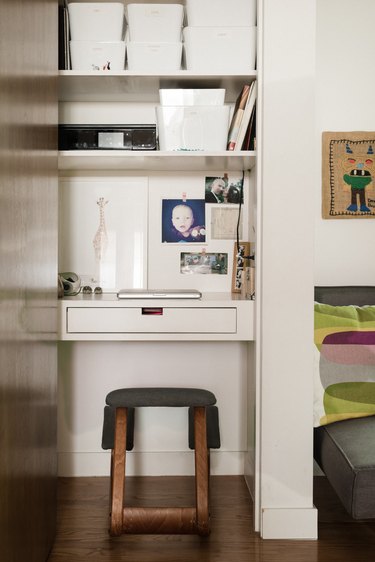 If your living room has a nook, that's where you should consider tucking your home office. In this room, there's an unobtrusive corner just big enough for a minimalist desk and some shelves. This idea works especially well if you're in an apartment with a challeging layout.
4. Keep the colors neutral.
If you have a small space, keeping the colors neutral will create a sense of openness. We like this minimal room that prioritizes texture over pattern and color. And the office accessories — a vintage chair, desk, and filing cabinet — make things feel interesting and layered.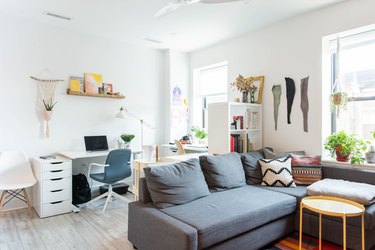 In this living room home office, the two areas feel distinctly separate. Create a line of division in your own space by having the couch and the desk face different walls. Doing this will also help to keep your work from overflowing into the space designated for rest and relaxation.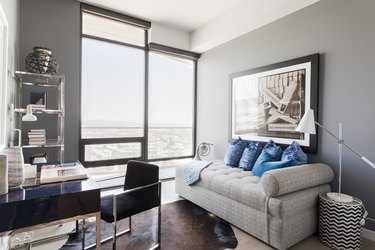 At the end of the day, your home office is in your living room, so you might as well make the whole space cozy. Find office furniture and decor that's less stuffy and more casual. Then add comfy pillows to the couch so that as soon as you're done working, you can throw yourself down and relax.
7. Put the desk against a window.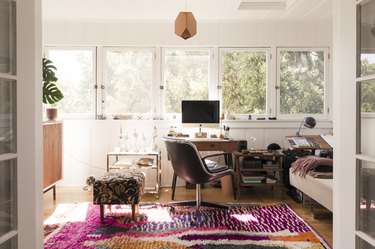 If you can, put your home office in the living room near the window so you have something to look at when your eyes need a break. This small change can trick your mind into thinking you're in a larger space. And as a bonus, you'll have tons of natural light.